Germania to supplant 10 Boeing 737-700s with 25 Airbus A320neo aircraft by 2020
January 18, 2018: Independent German airline, Germania is all set to put into action its proposed comprehensive fleet replacement measures in its corporate history from 2020. According to reports, Germania has set the ball rolling to standardise its fleet. Over the next 15 months, the 10 Boeing type 737-700s freighters in its fleet is expected […]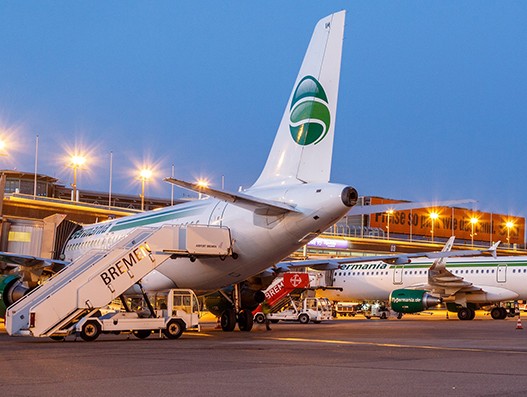 January 18, 2018: Independent German airline, Germania is all set to put into action its proposed comprehensive fleet replacement measures in its corporate history from 2020.
According to reports, Germania has set the ball rolling to standardise its fleet. Over the next 15 months, the 10 Boeing type 737-700s freighters in its fleet is expected to be retired, and subsequently replaced with Airbus aircraft.
The first three Boeing aircraft will be leaving by the end of April, while the last Boeing plane will leave Germania during early 2019 summer season.
Collectively, with Airbus and additional flight training schools, Germania is organising an in-house training for all Boeing pilots to be retrained to fly Airbus planes and obtain a type rating for their new workstations. The aim is to pave the way for 2020 for seamless integration of 25 Airbus A320neo aircraft that have been ordered.
"The modification of our operational basis is to gear up for the new chapter featuring A320neos, which represents a major project for Germania. We are quite proud of the fact that retraining of our Boeing pilots mark the start of an important phase in our fleet conversion," said Karsten Balke, CEO of Germania.
The conversion not only will affects cockpit personnel, but also numerous processes in technology and maintenance, flight planning and purchasing.
In July 2016, Germania signed a contract for the delivery of 25 Airbus A320neos with an option on 15 additional aircraft of the same type.
The Airbus aircraft will have 180 seats, and would be equipped with the latest generation of Pratt & Whitney PurePower Geared Turbofan engines. High level of fuel efficiency and low noise emissions are some of the salient features of the modern aircraft.
Established three decades ago, Germania is an independent German airline. On short-haul and medium-haul flights, the airline with its distinctive green and white livery, carries over three million passengers every year.
Germania offers connections from 20 departure airports in Europe to over 55 destinations within the continent, North Africa and the Middle East.