Emirates SkyCargo's pharma corridors initiative grows to 25 stations
Nov 12, 2019: Emirates SkyCargo, over the years, has been stepping up its capabilities for flying temperature-sensitive pharmaceuticals from origin to destination. During financial year 2018-19, the air cargo carrier transported over 75000 tonnes of pharmaceuticals, making it one of the leading players in the pharma transportation business. In these years of flying pharma, Emirates […]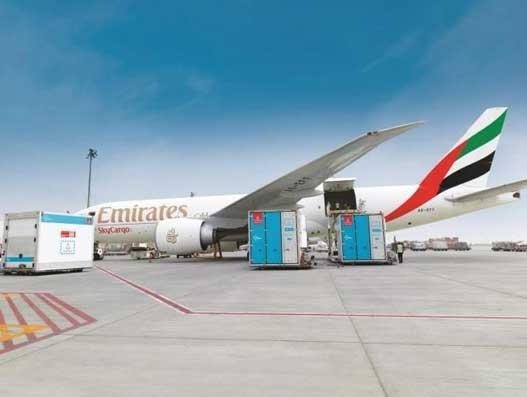 Nov 12, 2019: Emirates SkyCargo, over the years, has been stepping up its capabilities for flying temperature-sensitive pharmaceuticals from origin to destination. During financial year 2018-19, the air cargo carrier transported over 75000 tonnes of pharmaceuticals, making it one of the leading players in the pharma transportation business. In these years of flying pharma, Emirates SkyCargo has marked three important milestones, which has transformed its pharma transportation journey.
GDP certification for Chicago pharma facility
As part of its pharma corridors initiative, Emirates SkyCargo opened a 1000 square metre facility at Chicago airport to offer increased protection for temperature-sensitive pharma shipments. The facility is now EU GDP-compliant as certified by leading certification services company SGS. The GDP certification validates the high standards adhered to by the carrier when transporting temperature sensitive pharmaceuticals.
Developed alongwith ground handler Maestro, this pharma facility has a total capacity of nearly 15,000 tonnes of pharmaceuticals annually. It offers pharma corridor temperature-controlled zones for acceptance and delivery, cargo build up and break down, storage and direct ramp access. Since its launch, the facility has handled close to 6,900 tonnes of pharma.
Move to GDP certified pharma facility in Copenhagen and expansion of pharma corridors
In line with its focus on fit-for-purpose facilities and development of pharma corridors, Emirates SkyCargo has also moved its pharma handling operations at Copenhagen to a dedicated GDP certified facility for pharmaceuticals developed by WFS. The facility offers complete handling of pharma cargo with two separate temperature ranges of 15-25 °C and 2-8 °C. The facility is expected to boost the cargo carrier's pharma handling operations in Copenhagen.
Henrik Ambak, Emirates senior vice president, cargo operations worldwide, said, "Copenhagen is an important pharma station for Emirates SkyCargo and the move to a facility that provides dedicated pharma handling is aligned with our customer requirements for protecting the integrity of valuable pharma cargo while also ensuring that cargo is transported rapidly and efficiently.
"Our current priority is to strengthen our Pharma Corridors programme. We have done this by adding more relevant pharma origin and destination stations to the initiative - we have expanded the initiative to 25 stations globally from the 12 we started with initially. We're also working to ensure that the capabilities we are developing with support from our ground handlers are fit-for-purpose. The Chicago GDP certification is also part of our overall plan to connect pharma cargo efficiently and securely," he added.
State-of-the-art infrastructure in Dubai
With a total GDP-certified space sprawling over 8600 square metres, Emirates SkyCargo handles pharmaceutical shipments at Dubai International Airport and Dubai World Central. The carrier operates a fleet of 50 Emirates Pharma Cool Dollies which facilitate transport of pharmaceuticals on the ramp. Apart from this, Emirates SkyCargo has partnered with DuPont for the use of innovative thermal blankets namely the Emirates White Cover. These covers offer initial level of protection against external temperature fluctuations for cargo.