Emirates SkyCargo launches e-commerce platform Emirates Delivers
Oct 15, 2019: Emirates SkyCargo, the freight division of Emirates, is venturing into the delivery space with Emirates Delivers, an open e-commerce fulfilment platform that can also be used by other e-commerce businesses and logistics integrators. Emirates Delivers is targeted both at individual customers, as well as small businesses who regularly shop online for their […]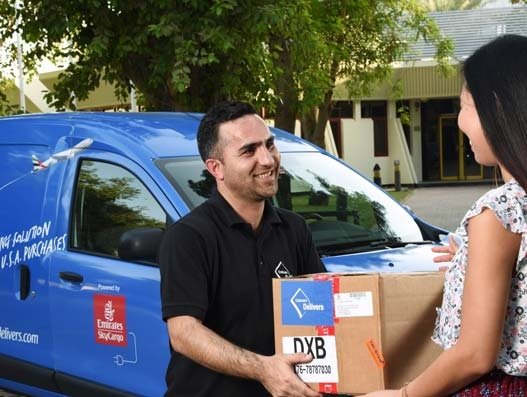 Oct 15, 2019: Emirates SkyCargo, the freight division of Emirates, is venturing into the delivery space with Emirates Delivers, an open e-commerce fulfilment platform that can also be used by other e-commerce businesses and logistics integrators.
Emirates Delivers is targeted both at individual customers, as well as small businesses who regularly shop online for their personal or business needs. It will allow customers shopping from multiple online retailers in the US to consolidate their purchases and have the goods delivered to a home or office address.
Speaking to STAT Times on the sidelines of Air Cargo Europe in Munich, Germany in June this year, Nabil Sultan, Emirates divisional senior vice president, cargo, had acknowledged the opportunities in the e-commerce space.
"To start with, e-commerce is the biggest emerging verticals. E-commerce in our part of the world - Middle East, Indian Subcontinent, Africa - continues to grow exponentially. We believe that with such a high growth, there will definitely be new commerce, emergence for e-commerce in these areas that understand the geography, psyche of the customers. With all of these new upcoming e-commerce companies, I think there are a lot of opportunities for being able to create the right product to fill in the gap and ensure that a lot of these companies coming with less investment in infrastructure and more on the marketing side, we need to work jointly so that we have a complete end-to-end product offering for these business partners," he told STAT Times.
Users can register for free on www.emiratesdelivers.com. On completion of registration, members are allocated a unique and free Emirates Delivers mailing address in the USA. Customers can have their online purchases from US e-commerce retailers delivered to this address where the goods can be stored free of charge for up to 30 days. Customers have the flexibility to create a shipping request anytime within these 30 days and have their purchases consolidated into one parcel and have this delivered to their designated UAE address. The packages will be transported to Dubai on Emirates SkyCargo's flights from the US and will then be delivered to the shopper's doorstep within 3-5 days of the creation of the shipping request.
Sultan said, "Emirates SkyCargo is delighted to be the first international cargo airline in the world to develop a dedicated e-commerce delivery platform. Currently, Emirates Delivers enables consumers to purchase their favourite products from any US based online retail store and have it delivered in the UAE."
"The launch of Emirates Delivers is in line with our strategy to roll out specialised and innovative air transportation products targeted at industry verticals and with our efforts to position Dubai as a global e-commerce fulfilment hub for customers based in the Middle East, Asia and Africa. This is line with the Dubai Silk Road Strategy announced earlier this year by Sheikh Hamdan which aims to strengthen Dubai's position as a key trade and logistics hub," added Sultan.
Emirates SkyCargo offers cargo capacity on Emirates' fleet of over 265 modern wide-body aircraft including 12 freighters - 11 Boeing 777-Fs and one B747F. The carrier operates to 13 destinations in the US, offering cargo capacity on over 100 weekly flights including scheduled freighter services to destinations including Columbus, Chicago, Houston and New York.