Emirates orders 30 Boeing 787-9 Dreamliner airplanes at Dubai Airshow
Nov 20, 2019: Emirates has finalised a purchase agreement for 30 Boeing 787-9 Dreamliner airplanes, valued at $8.8 billion according to list prices. The agreement, signed at the 2019 Dubai Airshow, adds adds a medium-sized widebody airplane to complement the airline's larger 777 aircraft. Sheikh Ahmed bin Saeed Al Maktoum, chairman and chief executive, Emirates […]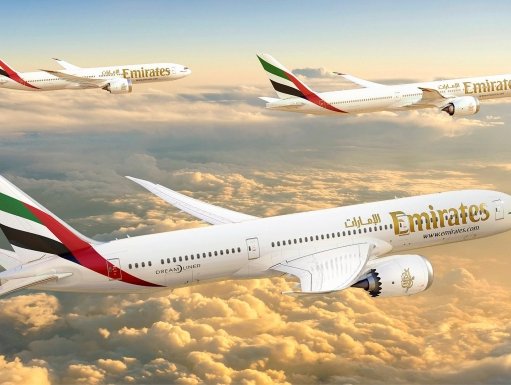 Nov 20, 2019: Emirates has finalised a purchase agreement for 30 Boeing 787-9 Dreamliner airplanes, valued at $8.8 billion according to list prices. The agreement, signed at the 2019 Dubai Airshow, adds adds a medium-sized widebody airplane to complement the airline's larger 777 aircraft.
Sheikh Ahmed bin Saeed Al Maktoum, chairman and chief executive, Emirates said, "I am pleased to announce a firm order for 30 Boeing Dreamliners. This is an important investment and addition to our future fleet and it reflects Emirates' continued efforts to provide the best quality air transport services to our customers. The 787s will complement our fleet mix by expanding our operational flexibility in terms of capacity, range and deployment. We are also pleased to reaffirm our commitment to the Boeing 777X programme and look forward to its entry into service.
.@emirates orders 30 787 #Dreamliner jets to complement its #777X family. This winning selection showcases the most efficient, capable fleet combo—a win for passengers too with innovations that create the ultimate flying experience. #DubaiAirshow

RELEASE: https://t.co/4I5ZZxU2Il pic.twitter.com/YzR3Xle5d1

— Boeing Airplanes (@BoeingAirplanes) November 20, 2019
As part of the agreement, Emirates will update a portion of its large order book by exercising substitution rights and converting 30 777 airplanes into 30 787-9s. With this conversion, Emirates remains the world's biggest 777X customer with 126 airplanes on order and the largest 777 operator with 155 airplanes today.
Emirates, Air Arabia make big Airbus deals on Day 2 of Dubai Airshow
"We are excited to finalise this important order from one of the world's leading airlines. Our agreement solidifies Emirates' plan to operate the 787 Dreamliner and the 777X, which make up the most efficient and most capable widebody combination in the industry. It is an honour to build on our successful partnership with Emirates and continue to sustain many jobs at Boeing and our supplier partners," said Stan Deal, president & CEO, Boeing Commercial Airplanes.
To support Emirates' current-generation 777 airplanes in the coming years, the companies announced that Boeing Global Services will leverage its worldwide supply chain to provide timely replacement parts, reducing maintenance times and keeping aircraft in service.