FROM MAGAZINE: East Africa, rising like a phoenix
While global economies had a tough time in 2016, Africa comparatively fared well. Much of the continent's growth was however, driven by East Africa. Riding on this positive growth rate, the regional as well as foreign air cargo industry players have intensified their competition, as each positions itself to dominate the most lucrative routes from […]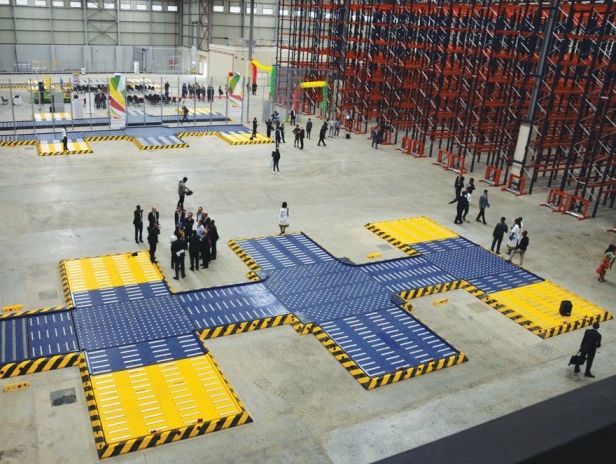 While global economies had a tough time in 2016, Africa comparatively fared well. Much of the continent's growth was however, driven by East Africa. Riding on this positive growth rate, the regional as well as foreign air cargo industry players have intensified their competition, as each positions itself to dominate the most lucrative routes from the region.
Shreya Bhattacharya
Africa has proven on more than one occasion that it can rise from the ashes. The continent's ability to rebound its growth rate, while other regions struggled to pull out of the economic slowdown last year has restored its reputation as the land of opportunities for business and investment.
According to Ernst & Young's Attractiveness Programme Africa May 2017, Africa's growth will improve off 2016 – the worst year for the continent in nearly 20 years. The report mentions that the low growth was largely driven by external factors, particularly oil prices as well as domestic insurgency in some regions. The report also acknowledged the criticality of commodity prices and political upheavals that affected many economies in the continent. However, it points out, "East Africa remains the most buoyant of all, with the four key economies (Kenya, Ethiopia, Tanzania, and Uganda) all poised for growth of above 6 percent for the rest of the decade." This, according to many experts, can be attributed to favourable fiscal policies in the region, infrastructure projects, robust private sector consumption and oil import by East African countries such as Kenya, Rwanda, and Tanzania.
While the sub-region is on a growth trajectory, a well developed aviation industry would only pace up the development by boosting international and intra-Africa trade. The correlation between infrastructure development and economic growth is well documented. Riding on the positive growth rate, the regional airlines have also intensified their competition, as each positions itself to dominate the most lucrative routes.
RwandAir, the flag carrier airline of Rwanda, launched its first service to Europe in May when it began three weekly flights from Kigali to London's Gatwick Airport flying its newly acquired Airbus A330s. This new service has not only received a thumbs up from the passengers, but its huge cargo capacity has also brought smiles on the faces of Rwandan exporters, who look forward to taking full advantage of the opportunities.
In the past, many attempts were made to exploit the Rwandan market, but failed due to high cargo fees and resultantly lower volume of cargo, forcing many players like Turkish Airlines and Emirates SkyCargo to wrap up business from the region. However, with this new endeavour, the Rwandan government is once again setting up the stage for enhanced trade with UK, laying its competitive hand on cargo handling, where it doesn't have any direct competition currently. The environment becomes all the more conducive firstly in wake of Brexit following which the UK is free to trade with nations outside of EU and secondly as the British Airways curtails its coverage of East Africa. The only other airline linking Kigali to Europe is Brussels Airlines which operates a six times weekly service from Brussels. To make the deal even more attractive, RwandAir has already offered to cut freight charges for exporters to as low as $0.95 per kilogram.
Another bright spot in the region is Ethiopia, whose air transport market has seen tremendous improvements in the past few years. Considered as one of the dominant carriers in the African continent, Ethiopian Airlines continues to foray into new routes. The airline currently operates in the major trade lanes between Africa, Europe, Middle East and Asia. Recently by adding Ahmedabad to its freighter service network in May, the airline now connects five Indian cities with Ethiopian capital Addis Ababa. Talking about the airline's business in the current year, Fitsum Abady, managing director, Ethiopian Cargo & Logistics Services says, "The first half of 2017 was a remarkable period for the industry as well as for Ethiopian Airlines in terms of cargo volume growth, yield improvement and better asset/aircraft utilisation. The semi-annual has registered a 33 percent increase in Y-o-Y uplift comparison."
The airline also inaugurated its state-of-the-art $150 million Cargo Terminal-II facility at home hub Addis Ababa this year. According to the authorities, the new Cargo Terminal-II combined with its existing Terminal-I will give the company a total tonnage capacity of around one million per annum which is the largest in the continent of Africa. Covering a total area of 150,000 square metre, the new facility includes a dry cargo terminal warehouse, a perishable cargo terminal with cool chain storage, fully automated with elevating transport vehicle (ETV) technology and an apron area for five additional large freighter aircraft.
The regional player is not only expanding its network and infrastructure but is also upgrading technology. Abady shares, "Ethiopian cargo services is automating its entire cargo business process with one of the best cargo IT systems – SITA Champ Cargo Spot, with the aim of providing one of the most efficient air cargo services within, to and from Africa. It is moving to a completely paperless environment and is using latest technologies for data, information and market intelligence with 100 percent e-AWB from its main hub in Addis Ababa and recorded 92 percent international e-AWB penetration while industry average is only 48.9 percent as per IATA e-AWB penetration report of December 2016."
While Ethiopian is on a growth track, not all regional players are faring well. Kenya Airways, the flag carrier of Kenya, which otherwise is being considered as a potential powerhouse in the region, has been incurring continuous loss over the past four years. The airline reported a net loss of Ksh 26.2 billion for 2015-16, up from Ksh 25.7 billion in the previous financial year, breaking its own record. The business was hit apparently due to a few wrong decisions of the airline such as charges linked to a poor fuel hedging policy, aircraft leasing and buying through third party companies which ultimately proved costly to Kenya Airways. The airline, however, is seeking to recover from a failed expansion strategy, and, in spite of the record-breaking loss, analysts draw encouragement from an improvement in the company's underlying performance. It also recently appointed Sebastian Mikosz, who earlier oversaw the turn round of Polish flag carrier Lot Airlines, to be its new chief executive, replacing Mbuvi Ngunze.
According to experts, the airline needs $1 billion to restore its balance sheet. However, the reforms brought by the previous chief executive have also started to show results. After two years of record-breaking losses, the company reduced its net loss to Ksh 5 billion in the first half of this financial year, down from Ksh 12 billion in the same period last year.
Nevertheless, the massive losses have reignited a debate on opening up the African skies, to give a fresh lease of life to the continent's major airlines. It is high time for African governments to scrap protectionist policies and fully implement the Yamoussoukro Decision 1999. In fact, according to International Air Transport Association (IATA), one of the reasons for Ethiopia particularly faring well is because of it being an early adopter of the Yamoussoukro Decision 1999. The Ethiopian economy benefits from some of the best intra-Africa connectivity. Ethiopia is now the fourth-best connected country on the continent, up from 11th in 2007.
The Yamoussoukro Decision is aimed at opening the African skies for mutual benefit. IATA has earlier predicted that opening the airspace could create up to 16,000 jobs and an astounding Ksh 7 billion injection into Kenya's GDP.
The Yamoussoukro Decision, if fully implemented, will ensure that African carriers could fly to, from or between any combinations of cities in any African country that is a signatory of the pact. However, even after more than 17 years, countries are yet to fully commit to the declaration. Experts believe, the move is indeed an important one as African businesses look forward to expand their reach throughout the continent. It will simply increase the air service levels, reduce the fares and in turn increase the traffic volume.
Recently, at the 10th Joint Meeting of the Committees on Transport and Communications, Information Technology and Energy held in Lusaka Zambia, the Common Market for Eastern and Southern Africa or COMESA infrastructure ministers also agreed on the need to fast-track the liberalisation of air space in the region to increase connectivity and boost trade. In 2015, the COMESA Secretariat had secured approximately $10 million from the African Development Bank to implement the Airspace Integration Project. According to COMESA officials, there is lack of harmonised regulations to facilitate the implementation process. There is still continued use of bilateral air service agreements among member states.
Apart from an open market, industry stakeholders in East Africa have also highlighted lack of integrated multi-modal system for efficient transportation and interconnectivity, political turmoil, security issues, infant technology advancement, longer bureaucracy and process inefficiency as well as corruption as some of the challenges in the sector. They have called for better airport, road and ICT infrastructures and handling facilities.
"Africa is a continent of opportunity for aviation and especially air cargo. It is projected that freight to, from and within Africa will be growing at a pace faster than the rest of the world, with emphasis on international traffic. African governments across the continent are focusing on the upgrading and expansion of their transportation infrastructures in order to improve international and intra-regional trade. The biggest challenge is to maintain the cool chain throughout the transportation at airports that do not have dedicated facilities but still import and export perishables. In such cases, we work with all parties involved to come up with best solutions for our customers," shares Ulrich Ogiermann, chief officer cargo at Qatar Airways.
Keeping in line with demands, many East African airports are undergoing expansion projects to cater to the rapidly growing cargo traffic volumes in a better manner. Uganda, for example, is taking significant measures to establish itself as a regional business hub for the East African Community (EAC). The country's Entebbe International Airport is being expanded to handle about 150,000 operations a year. The new expansion plan, funded by the US government, is also likely to increase its air cargo handling capacity which is of paramount importance for a landlocked country like Uganda. Goods are generally flown in to Uganda for further distribution within the country. Also coffee, which is the main agricultural export commodity and is vital to the economy, is flown through air to reach international markets.
The country has been able to attract foreign direct investments from around the world by maintaining an impressive GDP growth rate and keeping inflation in check.In order to boost airfreight at this crucial juncture, the Ugandan government has even changed the basis for taxation of air cargo from CIF to FOB. [Cost, Insurance and Freight (CIF) and Free on Board (FOB) are international shipping agreements used in the transportation of goods between a buyer and a seller. They differ in who assumes responsibility for the goods during transit.]
Further, the government has also ended the monopoly of Entebbe Handling Services (ENHAS) in a bid to increase competitiveness in the sector and eliminate inefficiencies.
Rwanda's Bugesera airport which is currently under construction is likely to be the country's largest international airport. Apart from its passenger terminal that would handle 1.8 million passengers annually, a special cargo terminal would also be constructed to cater to the growing cargo transportation requirements. The second phase of the construction will see expansion of its cargo handling facilities.
This sense of urgency to upgrade the regions' infrastructure is instilling confidence in the foreign players who are expanding their network in the region. "We have seen strong performance from the East African countries we operate from, with some small hiccups related to political situations. But overall the balance is positive with double digit growth year on year since 2012," says Alban François, vice president Global Cargo for Brussels Airlines. François further adds, "Uganda and Kenya are the bright spots for us. We just announced a daily flight to Entebbe with direct connection to Brussels (while today we fly via Kigali) so yes expansion is a continuous topic."
Meanwhile, Khalid Mohd Al Hinai, Emirates vice president Cargo Commercial for Africa, said, "Emirates SkyCargo operates to a number of points in East Africa. These include bellyhold cargo capacity offered on passenger flights as well as main deck capacity offered on freighters. From Addis Ababa to Lusaka, Emirates SkyCargo connects numerous commercial centres in the East African region. Our freighters operate scheduled services to Addis Ababa, Djibouti, Eldoret, Entebbe, Lilongwe and Nairobi in the region. We offer extensive cargo connections out of Kenya with a daily freighter service out of Nairobi to Amsterdam and twice a day passenger operations to Dubai to transport flowers, fruits and vegetables, seasonal produce including avocadoes and mangoes. We also operate daily flights out of Addis Ababa Bole International Airport, Julius Nyerere International Airport and Entebbe International Airport."
Talking about the change in trends, in terms of freight weight or volume, observed by Qatar Cargo in East Africa, Ogiermann says, "East Africa represents a large and important market for us. We have seen tremendous growth in the last five years from Nairobi and Entebbe with scheduled freighter flights operating to both Europe and the State of Qatar from these East African destinations. From our hub in Doha, we connect our customers to over 150 destinations around the world. Our year-on-year tonnage growth of 18 percent from East Africa exceeded the market growth of 1 percent, thus increasing our market share by one percentage-point year on year."
He further says that belly flights were also upgraded to wide body flights from both Nairobi in Kenya and Entebbe in Uganda offering businesses significant capacity increase for their cargo exports. "We also operate regular flights from Addis Ababa, Ethiopia; Khartoum, Sudan; and Dar-es-Salaam, Tanzania, offering cargo space on the lower deck of passenger aircraft. We witnessed 15 percent growth (financial year 2016-17), in our combined tonnage out of Nairobi, Kenya and Entebbe, Uganda compared to 2015-16."
It is therefore beyond doubt that linear sky policies, foreign investment and better trade agreements are way forward to bring out the full potential of the aviation sector. Rapid advances in technology will further give a significant boost to Africa's business growth, but efforts need to be taken on a constant basis by both African companies and governments to translate opportunities into tangible economic benefits.
Ulrich Ogiermann recently left Qatar Airways as chief officer cargo. Guillaume Halleux , currently the senior VP, Cargo for Asia Pacific, has been appointed as Acting Chief Officer Cargo effective October 12, 2017.