Ethiopian Airlines inaugurates three wide-body hangars
<p dir="ltr" style="text-align: justify;">Apr 10, 2017: Ethiopian Airlines has recently announced the inauguration of three more wide-body hangars during the ICAO Symposium which Ethiopian is hosting from <span class="aBn" tabindex="0" data-term="goog_1618494290"><span class="aQJ">April 11-13, 2017</span></span>.</p> <p dir="ltr" style="text-align: justify;">Equipped with state of the art tele-platforms and tail docks. A full Paint and General Maintenance hangar along […]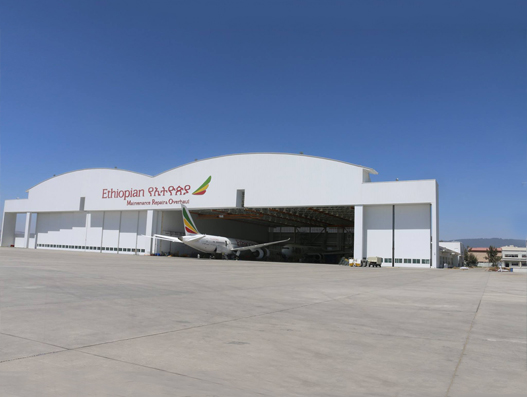 Apr 10, 2017: Ethiopian Airlines has recently announced the inauguration of three more wide-body hangars during the ICAO Symposium which Ethiopian is hosting from April 11-13, 2017.
Equipped with state of the art tele-platforms and tail docks. A full Paint and General Maintenance hangar along with 15,000 square meter backside offices, different shops and 105,000 square meter hangar apron area, each facility are capable of accommodating 1-B747-800 (the biggest Boeing aeroplane) at a time or more other types of aircraft in different arrangements. The third hangar is also capable of accommodating 1-B777-200 or 3-B737 Aircraft at a time.
Tewolde GebreMariam, CEO, Ethiopian Group, said, "Foundational Infrastructure development is one of the four pillars of our fast, profitable and sustainable growth strategic roadmap, vision 2025. Hence, to further complement our steady growth and attain our goal in remaining to be the leading MRO service provider in Africa, we have been making massive infrastructure development projects to modernise and expand existing MRO facilities at a total cost of USD 115 million. Beyond ensuring self-sufficiency, completion of these maintenance hangars will surely enhance our capability to cope up with the 21st-century new aviation developments and offer third-party services."
"Currently, we are providing complete total care maintenance service for ASKY, Malawian, RwandAir, Congo Airways, Ceiba Intercontinental, CamAir-Co. and Jambojet Airlines. We have also extended our services to a number of operators based in Africa, Middle East, Far East and Central Asia. Moreover, this milestone is also a symbol of our successful partnership with AVIC International and EXIM Bank of China and I hope this accomplishment will be replicated in Ethiopian 5-Star Hotel project which is now 40% complete."
Ethiopian MRO is accredited by FAA, EASA, and ECAA and is currently offering dependable services; Base Maintenance, Line Maintenance, Engine Maintenance, Component Maintenance, Calibration Services, Engineering Services, Structure & Composite Maintenance, Aircraft Stripping & Painting, and Wire Harness Manufacturing.
Furthermore, Ethiopian MRO is Boeing and Bombardier approved facility and proved its performance excellence by securing Bombardier's Airline Reliability Performance Award for 5 years in a row. The facility is also an approved maintenance facility by General Electric for overhaul maintenance of CFM56-3 and -7B engines.