Drones - a game changer for logistics industry
For logistics companies, the first and last-mile constitute the most expensive and least efficient part of a delivery, requiring significant manpower, vehicle numbers and time. Therefore, they view drones as ripe for automation.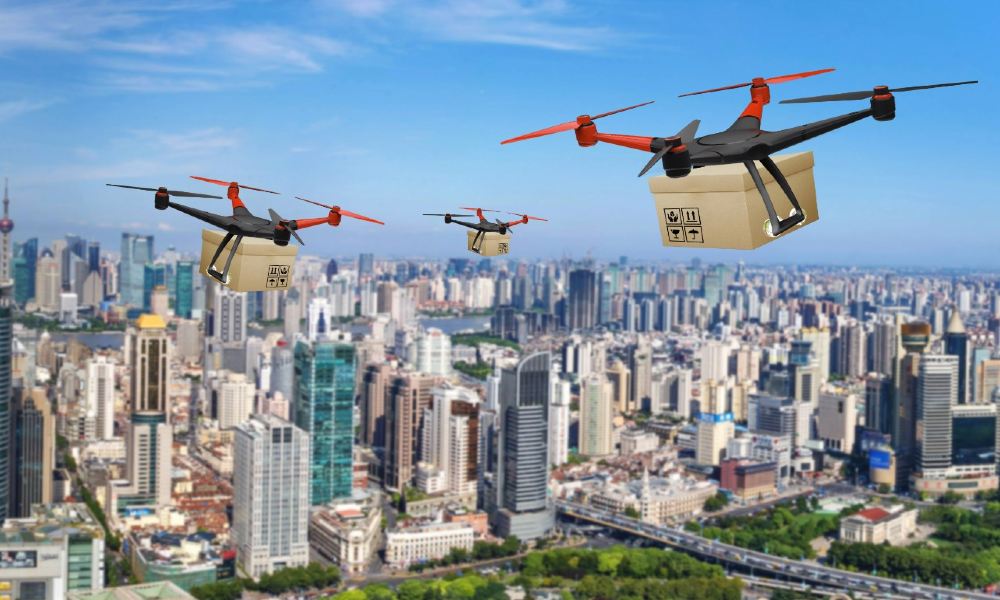 In recent years, cargo drones have been making headlines with their ability to carry cargo to remote locations in various conditions. Experts from the world over would agree that the unmanned aerial vehicle (UAV) industry is the future of aviation and there is so much underutilised potential in utilising the skies for transporting cargo and passengers, that it would significantly change the way everything moves.
The logistics industry is blazing a trail in the use of unmanned aerial vehicles. For logistics companies, the first and last-mile constitute the most expensive and least efficient part of a delivery, requiring significant manpower, vehicle numbers and time. Therefore, they view drones as ripe for automation.
As per a study by Research and Markets, the global UAV market is estimated to be $27.4 billion and is expected to reach $58.4 billion by the year 2026. The commercial drone segment, however, is expected to be the fastest-growing at 28 percent. What's more, India is expected to lead the pack and become one of the fastest-growing drone markets at a CAGR of 14.61 percent respectively.
In line with this, this August saw DRONAMICS and DHL agree to develop solutions and offer same-day cargo drone deliveries to customers using its Black Swan drones. Svilen Rangelov, CEO and founder of DRONAMICS, says, "We are aiming to address €1.86 billion in revenue annually by 2030, only for DHL's customers. For that magnitude, we are aiming to provide solutions for 4,000 cargo drones to support the partnership in the coming years, which is a significant opportunity for us. With the rapid development of the ecommerce market, solutions such as ours would be soon more sought after."
Similarly, Drone Delivery Canada and Air Canada have entered into multiple commercial agreements on July 8, with each of Edmonton International Airport, Apple Express Courier and Ziing Final Mile Inc to deploy DDC's patented drone delivery solution at the Edmonton International Airport.
"We are aiming to address €1.86 bn in revenue annually by 2030 only for DHL's customers."
Svilen Rangelov, DRONAMICS
Commenting on the development at Edmonton International Airport, Michael Zahra, president and CEO of Drone Delivery Canada, notes, "Implementation of the project at Edmonton International Airport is underway. It will be a Sparrow drone project flying to/from airport property from/to an industrial business area east of the airport. It is a very exciting project as it is complex and has never been done before, but DDC has the technology and experience to do it. It is expected to be the first step of a larger multi-drone network connecting the airport with all the neighbouring commercial and industrial companies in the area and potentially to smaller regional local airports. Other airports in Canada have expressed an interest in similar projects. The company expects the project to be operational near the end of October."
Investors evince interest
In recent years, it has been quite evident that investors are actively seeking and are interested in investing in drone companies. Eleven Ventures, a venture capital (VC) company in Bulgaria, has been investing in startups since 2012. With 150 collective investments over eight years, Eleven's team has been instrumental in catalysing the regional startup ecosystem. The VC supports tech companies in four priority verticals - fintech, healthcare, future of work, and the future of food.
Daniel Tomov, the founding partner at Eleven Ventures, states, "Compared to many other sectors the interest of investors is not that evident in this one although there have been a few bold bets in recent years. VCs in particular tend to shy away from the sector. There is a saying in the VC world that "Hardware is hard" and drones are perhaps the hardest of them all- with the additional layer of autonomy and in many cases regulatory complications. However, the day when drones become ubiquitous is just around the corner and some of these early bets will pay off handsomely."
In April this year, Eleven Ventures decided to make a follow-up investment of $117,000 in Dronamics. Commenting on the growing investor interest in drones for creating a better delivery ecosystem and how the funds will be utilised, Rangelov explains, "Despite massive investor interest in the EVTOL air-taxi space, most of the aviation industry looks up to cargo drone developers to take the challenge first as a lower risk segment. With our current plans for international expansion and customer interest, we will be looking for a larger investment round that would allow us to ramp up our manufacturing capacity to build a significant fleet of our drone aircraft and start serving the routes we have already developed."
The 'Medicine from the Sky' programme has been one of the flagship initiatives of the World Economic Forum (WEF), which began in Rwanda and was the first country to reach national scale drone delivery. In 2018, WEF's India Centre was launched for the same programme. On September 11, India saw the first beyond visual line of sight (BVLOS) drone taking off in the skies of Telangana to deliver Covid-19 vaccines. Additionally, the Indian government has recently sanctioned Rs 120 crore over the next 3 years, under the production-linked incentive (PLI) scheme for drones and drone components.
"One way to ascertain the traction of this sector is to observe the amount of venture capital that drone startups have raised. Investor sentiment is a key indicator of the trajectory of the drone sector. While raising capital has helped several drone companies make strategic decisions and scale-up engineering and resourcing, ambiguity around regulations have often raised questions on the potential of the sector. Further, many may see drones as an unproven business model. With a maverick approach to policy, India has set the stage for greater investor confidence," mentions Vignesh Santhanam, India Lead, Aerospace & Drones at WEF.
Meanwhile, Drone Delivery Canada has historically raised funds in public capital markets as such when needed. Currently, the company is satisfied with its $32 million in cash and there is no debt situation as of Q2 2021.
"The day when drones become ubiquitous is just around the corner and some of these early bets will pay off handsomely."
Daniel Tomov, Eleven Ventures
Towards the end of 2020, drone companies globally did see a slew of investments – like Flyability raised $8.5 million in its Series C, while Iris Automation raised $13 million in its Series B round. More recently, Zipline upped its valuation to $2.75 billion with a $250 million investment to ramp up on instant logistics.
Droneports
Droneports usually provide a fixed or mobile location for the housing, maintenance, piloting and fueling for a commercial fleet of drones and are certainly a sub-industry. However, it's fortunes are linked to the growth of the drone industry. Santhanam believes, "As the technology matures and confidence builds among end-user groups, we will certainly witness and push towards infrastructural developments for drone logistics that would involve drone ports."
Along similar lines, Rangelov notes, "In our case, we try to utilise as much as possible from the existing airports' infrastructure. With so many regional airports out there, with little to no traffic, our solution can act as a vital enabler of regional connectivity and economic empowerment of the communities we will be able to serve. The droneports for VTOL solutions is something we are yet to see as an integrated solution for our cities and airports."
Certainly, there will be challenges when the bigger drone takes-off, unlike the smaller ones. Responding to the additional infrastructure needed to resolve the landing of bigger drones, Rangelov adds, "In our case, every airstrip that has at least 400 metres of the runway, even unpaved, could be converted into a droneport. Our droneport solution is quite efficient as it is low-cost and easy to deploy and can start servicing flights with the Black Swan. This gives us the possibility to be extremely flexible in our coverage of remote locations. Currently, our sweet spot is already existing and functioning airports that are either entirely purposed for air freight operations or are regional hub airports. These airports give us the advantage of already existing infrastructure, but also allow us to have great flexibility in terms of time slots for flying in and out of the airfield."
Revenue generation
DDC started generating early-stage revenue in March 2020 as it transitioned from a start-up to a commercialised business. In 2020, early-stage revenue was approximately $265k and it is expected that the company will see growth in 2021 revenue and onwards. The company is currently operational with its smallest drone, the Sparrow and is planning to launch the next-generation Sparrow and Condor drone in the future. The Condor has a range of 200 kilometres with a cargo capacity of 180 kilogrammes. Initially, the primary focus is on Canada but the company has signed letters of intent (LoIs) with partners in India's CSC Group and Africa's Astral Aviation for international expansion.
Developments
As the pandemic has given a lot of push to the drone industry, and regulations have become more relaxed compared to the past, there are still challenges that plague this industry.
Zahra says, "The pandemic has certainly raised the profile of the drone delivery industry and DDC. The company had two projects which were a result of the pandemic. Customer awareness and acceptance for drone delivery continue to be strong, with the justification being not only economic but also healthcare, quality of life and societal needs. Regulations related to airspace and ground safety, were implemented within a set of operational guidelines and technology. One challenge is that this is a nascent industry and so much of the development is being done for the first time- so it takes time to develop, to test and to refine processes."
Although regulations are moving forward, not many drone developers and operators are flying at high frequencies yet. "The developments in UTM technology and regulations are vital to the emerging drone industry. All the services for moving passengers and cargo with unmanned vehicles that are currently under development would not be possible at a large scale if we do not have an efficient traffic management system that manages to safely integrate manned and unmanned vehicle traffic," Rangelov explains.
The WEF's Centre for the Fourth Revolution network focuses on helping countries maximise the benefits and mitigate the risks of emerging technologies. The forum started its drone programme in 2017 to ensure that people in remote areas could have access to essential goods, decarbonise the transport sector, and promote economic growth.
"With a maverick approach to policy, India has set the stage for greater investor confidence,"
Vignesh Santhanam, World Economic Forum
Santhanam states, "Perception of this technology is one of the bigger challenges that the sector faces. If drones are used in medicine delivery, vans and two-wheelers will continue to exist and even supplement drone deliveries, wherever possible. In some sectors, there is a supply-side constraint e.g., heavy lift, long-range drones are not the most easily available means globally. For cargo delivery solutions, this form factor might be the most feasible economically. Drones need to be as mistake-proofed as possible. The solution to avoid drone accidents is standardisation and gaining extensive user acceptance testing before aggressively going to market. The 'Medicine from the Sky' programme is one such sandbox where delivery drones are being tried out to build a safety case for drone deliveries nationally. Further, insurers have a big role to play in underwriting the risks involved in drone operations."
Tomov has been investing in some of the most promising and exciting tech startups in Southeast Europe since 2012 and has completed over 130 to date. Speaking on investing in Dronamics, he says, "Dronamics by two young brothers was trying to address a real problem and the market potential was huge when we invested. In the early days, many startups focused on the consumer market with quadcopters. Nowadays, there is a lot of hype about passenger drones and last-mile delivery, and almost nobody pays attention to the mid-mile segment where Dronamics is focused. Unlike the quadcopter market, where DJI quickly became the dominant company, I believe the playing field will be more diverse when it comes to bigger drones. On one hand, it takes 5-10 years to develop a bigger UAV, similar to what would take to develop an airplane. On the other hand, not only startups but also traditional car manufacturers and of course the aircraft industry are interested in taking a piece of the action."
DHL and Hellmann are a great validation of the market need for efficient same-day delivery service for DRONAMICS. "Our first target market is in Europe with the European Union Aviation Safety Agency (EASA) regulations that give us a clear path to authorisation of our operations, with the first two countries - Malta and Italy, that will take a test trial of the service. Beyond Europe, we are looking at projects in other geographies such as Australia and Canada, where there are large distances between metropolitan areas and long transit times in order to connect to offbeat locations in the countryside," Rangelov concludes.