FROM MAGAZINE: Digital transformation reimagined with ACL Airshop's FindMyULD
Responding to the demand for more transparency, speed, and efficiency in handling cargo and ULDs, ACL Airshop introduced FindMyULD in June this year. Within four months of its launch, the cutting edge mobile app is not only bringing operational efficiencies but significant cost saving as well. Business mobility is the growing trend of businesses. It […]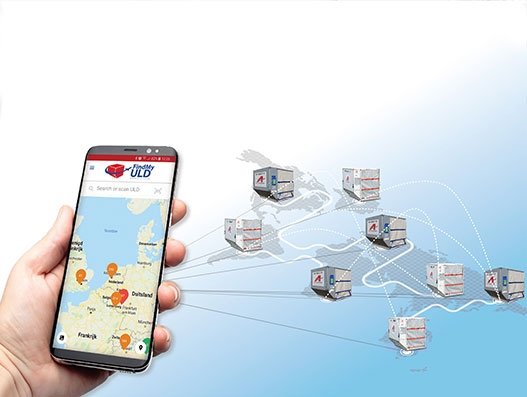 Responding to the demand for more transparency, speed, and efficiency in handling cargo and ULDs, ACL Airshop introduced FindMyULD in June this year. Within four months of its launch, the cutting edge mobile app is not only bringing operational efficiencies but significant cost saving as well.
Business mobility is the growing trend of businesses. It offers remote working options and allows the use of mobile devices to carry on your businesses uninterrupted and seamless using cloud technology to access business data.
Last few years ACL Airshop, a steadily growing leader in products and services for the global air cargo and airlines industry, has been investing in new technologies to allow its customers to be more efficient with their cargo fleet. It's ULD Control software is a completely web-based solution for controlling ULDs anywhere, anytime. But in June this year, ACL Airshop announced a cutting edge technology solution to enhance the ULD Control software and lunched FindMyULD, a mobile app that would allow you the complete control of your ULD fleet seamlessly.
It's just about four months since the launch and the app has been well received by ACL Airshop's ULD Control, Leasing and ground handling customers. "They feel that we are clearly on the path to total digitalization. We have created a platform where all customers and handlers have valuable, real-time information on the whereabouts of their ULDs. We are ahead of the pack with these developments; already implementing with multiple airlines," said Jos Jacobsen, chief technology officer of ACL Airshop.
Jacobsen, who was at the annual ULD Conference in Montreal, Canada, last month, said that FindMyULD is one of the many solutions that ACL Airshop is working on to add value to customers and the company is always looking at new ways to bring innovations in the constantly changing digital era. "We have all arrived at a new era for real-time air cargo visibility. Despite current tariff wars, long-term the air cargo sector is increasing in volume, value, and even as a percentage of total world trade shipments. Tracking ULDs and their contents in real-time not only can reduce cost, it helps answer shippers' questions about where their goods are, and their status along the supply chain," he said in Montreal.
For several years, ACL Airshop has been investing in new technologies aimed at answering airlines clients' needs for more transparency, speed, and efficiency in handling cargo and ULDs themselves. Airlines, cargo centers, ground handlers, freight forwarders, airport storage facilities, equipment manufacturers, and other players in the ULD transport chain are calling for faster digitalisation in the air cargo sector. ACL Airshop was first-to-market in its niche with Bluetooth real-time tracking and tracing, and is already assisting several large airlines clients with actual implementation on 3 continents.
FROM MAGAZINE: Boarding ULDs digitally

The trademarked FindMyULD app is specifically designed to enhance every data requirement end-to-end in air cargo transactions, across the entire worldwide ecosystem of the air cargo industry. From location and status accuracy to barcoding and Bluetooth scanning and tracking, FindMyULD pulls together all of ACL Airshop's ULD management services in one seamless tool. By combining its proprietary ULD Control logistics management programmes with Bluetooth and barcoding, ACL Airshop achieved the ability to tie ULD serial numbers to tagging device serial numbers, with linkage to the airway bill itself.
In a paper-heavy industry that is not historically known for consistency, creating uniformity in an innovative way, according to Jacobsen, is the biggest challenge. "Because ACL Airshop has a network presence at more than 50 of the world's top 100 air cargo hubs and over 60,000 ULDs, we are uniquely positioned to quickly implement new technology on a large scale. We have invested heavily in technology to become a leader in this industry segment…boldly moving forward while others are still talking about it," he added.
ACL Airshop aims to have over 100,000 ULDs in the ULD Control system before the end of next year. Bluetooth tracking follows incrementally with that.
By using the FindMyULD application, ACL Airshop customers have unlimited sharing and insight capabilities in the palm of their hand. "We can even integrate an airline's existing ULD management system with our application. This gives our customers the opportunity to give real-time, end-to-end visibility to their customers," said Wes Tucker, Executive Vice President of ACL Airshop. "Transparency is a key factor in this industry. By connecting all objects like ULD, cargo, airline, transporter, agent, shipper, we are able to provide a level of transparency not previously possible. Airlines customers feel that by controlling their assets, they can give their customers better service," Tucker added.
In fact FindMyULD was a solution in response to customer demand. There was a demand for more transparency, speed, and efficiency in handling cargo. Within four months of its launch, the cutting edge mobile app has not only brought operational efficiencies but significant cost saving as well. "Although we cannot name the airline, one of our significant clients stated that we have saved them approximately $1 Million since implementation began with ULD Control and other logistics innovations. We work together with the airlines as a true partner," Tucker said.
ACL Airshop estimates that over a 3 to 5-year period, these technology tools can save a typical airline 6 to 10 percent on the overall life cycle cost of its ULD fleet. For example, if an airline has 5,000 ULDs in its fleet, ACL Airshop forecasts that its array of technology efficiencies can yield the same cargo capability with 4,500 ULDs, especially when coupled to ACL Airshop's growing international network at so many major hubs. "The bigger we get, and the more we invest in technology, the more efficient we are for our customers," Jacobsen said while launching the app in June at the Air Cargo Europe exhibition and conference in Munich, Germany.
ACL Airshop has more than doubled in the past three years, with twice the number of airport locations, over twice the number of ULDs, and significant expansion of its global supply chain. Its new state of the art factory in the US is a vivid example of the company's continuous improvement programmes on six continents.
"We heard the voice of the customer, and it was clear we needed to expand the network, improve our logistics efficiencies, and invest in fresh technologies, all the while taking very good care of our people," Steve Townes, CEO of ACL Airshop and founder of Ranger Aerospace, said at the Munich launch of FindMyULD.
ACL Airshop is a wholly owned subsidiary of Ranger Airshop Holdings, the latest aerospace consolidation platform created by Ranger Aerospace and its four large institutional investment partners.
This feature was originally published in STAT Trade Times' October 2019 issue.