Delta, Korean Air to jointly increase belly cargo alliance across trans-Pacific
March 30, 2018: In order to increase belly cargo cooperation, and offer world-class travel benefits to its customers, Delta Air Lines and Korean Air will soon forge a new joint venture partnership in the trans-Pacific market. Regulatory authorities in the US and Korea have approved the joint venture, including the US Department of Transportation, and […]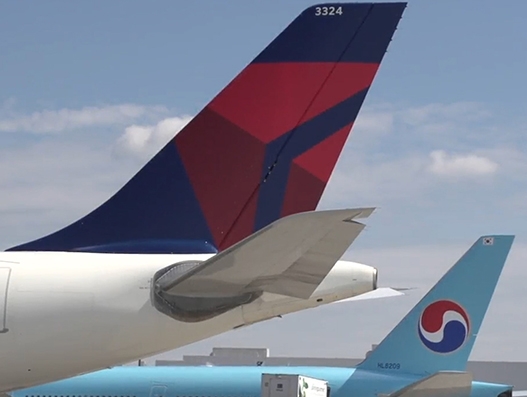 March 30, 2018: In order to increase belly cargo cooperation, and offer world-class travel benefits to its customers, Delta Air Lines and Korean Air will soon forge a new joint venture partnership in the trans-Pacific market.
Regulatory authorities in the US and Korea have approved the joint venture, including the US Department of Transportation, and the Korean Ministry of Land, Infrastructure and Transport.
"It's an exciting time for customers of both Delta Airline and Korean Air, as we launch our trans-Pacific partnership," said Ed Bastian, CEO, Delta Air Lines.
"Our expanded partnership will include a host of new destinations and travel options across Asia and North America, with seamless connectivity, world-class reliability, and the industry's best customer service," said Bastian.
"We are delighted to announce the launch of our partnership with Delta Air Lines. The partnership will bring more comfort to our customers flying between Asia and the Americas," said Yang Ho Cho, chairman and CEO, Korean Air.
"With the recent relocation to Terminal-2 at the Incheon Airport, along with Delta Air Lines, we will be able to provide seamless service to our customers. Korean Air will provide extensive support to develop a successful partnership with Delta Air Lines," said Cho.
The expansive combined network formed by this partnership will offer Delta and Korean Air's shared customers with seamless access to over 90 destinations in the Americas, and more than 80 destination in Asia.
The airlines will work closely to offer full benefits to its customers, which includes joint growth in the trans-Pacific market, optimised schedules, seamless customer experience, improved loyalty program benefits, integrated IT systems, joint sales and marketing activities, and co-location at key hubs.
STRATEGIC PLAN
Delta and Korean Air will jointly implement full reciprocal codesharing with their network, and work together to provide the best travel experience for customers flying between US and Asia.
It will also offer improved reciprocal loyalty program benefits for its customers, and the ability to earn more miles on Korean Air's SKYPASS program, and Delta's SkyMiles program.
Besides, it will implement joint sales and marketing initiatives, and enhance belly cargo cooperation across the trans-Pacific region.
The new joint venture has been built on two decades of close partnership between Korean Air and Delta. Both were founding members of the SkyTeam alliance, and have offered customers an expanded codeshare network since 2016.
Earlier this year, Delta and Korean Air co-located to the new state-of-the-art Terminal 2, at Seoul's Incheon International Airport (ICN), which substantially reduced connecting times for customers.
One of the world's largest airports, ICN has among the fastest connection time in the region. It has been named among the best airports in the world, for more than a decade, by Airports Council International, as well as the world's cleanest airport and the world's best international transit airport by Skytrax.
Delta is expecting Seoul Incheon to grow as a major Asia gateway for Delta and Korean Air.
Delta is the only carrier to offer nonstop service to three major US gateways, including Seattle, Detroit and Atlanta from ICN, while Korean Air is the largest trans-Pacific carrier.