Dad is not only my role model but my mentor: Maik Zimmer
On the occasion of Father's Day, Maik Zimmer, son of Ingo Zimmer, CEO of ATC Aviation is all praises for his father who has been his role model and mentor.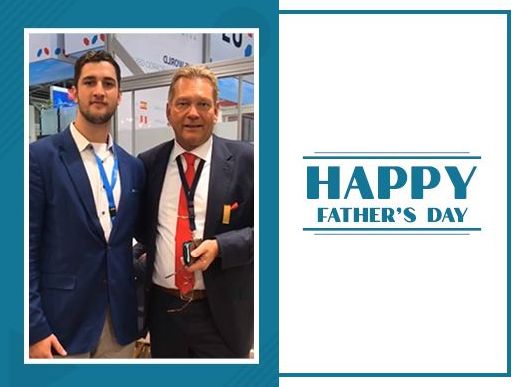 Anyone can father a child, but being a dad takes a lifetime. Fathers play an important and special role in every child's life that cannot be filled by others. On the occasion of Father's Day, Maik Zimmer, son of Ingo Zimmer, CEO of ATC Aviation is all praises for his father who has been his role model and mentor. Maik, who has, in recent years, set his foot in the air cargo industry, cannot thank his father Ingo enough for helping him define his career path.
How did your father bring the company together and make it what it is today. What drove him, and what qualities you think helped him get here?
My father started to work very early; when he was 15, he worked in the regional beverage market to earn his own pocket money. In his free time, he didn't like studying for school but his results were always very good because he was a very creative and smart person who could improvise well. After school, my father served in the German military, where he learnt discipline, order, and the coordination and leadership to lead his comrades. After his time in the military, he did an apprenticeship as a forwarding agent at Röhlig and he did his high school diploma at the same time. He was much more ambitious and motivated at the time because he enjoyed his work and his career was very important for him. After completing his apprenticeship, he continued to work in the company for several years until he got a job offer as department head in a Munich branch when he was 25 years old. My father had declined the offer because he saw the opportunity in a small new company called ATC Aviation. His former boss couldn't understand his decision. But my father recognized potential in this company and once he makes a decision he persists. My father has worked at ATC for more than thirty years and has helped build and grow it from the beginning. It was his passion and he worked his way up to leadership as CEO. What helped him to do this was his ambition, his commitment, patience, his self-confident, strong demeanor and the ability to lead and appreciate the work of his employees.
What are some of the qualities, picked from your dad that really helps you in making better decisions or handling tough situations?
From an early age, my father was a role model for me; I liked going to work with him as a child, and often, looked over his shoulder at work. Today, as a young man, my father is not only my role model and friend, but also my mentor; whenever I need help to define my career path, he helps me. He likes to observe me and comment on my behaviour afterwards; explains the experiences behind it, conveys values, working methods and leadership styles. As a counselor, he gives me specific tips for solving problems, checks and criticizes my performance and gives me constructive feedback. Furthermore, my father always supported me both at school and on the professional front. Since my father is a well-established and well-connected person in the logistics and air freight industry, he has provided me with useful contacts for my future career to open doors that would otherwise be closed to me.
Tell us about an occasion when you and your father worked together and delivered on a project. An occasion that has stayed with you?
Unfortunately, I am not professionally capable to work with my father at the same level. However, I was able to gain a lot of experience at international logistic trade fairs and what my father taught me in my current vocational training and studies. Now, I work with Expeditors in the neighbouring building to his office; who knows what the future will bring us? Thank you, Dad, and all the best for Father's Day.