Covid-19: Expediting cargo delivery amid crisis
To address the upcoming demand for Covid-19 vaccine, JIT solution providers are developing a constructive base to serve 7.8 billion people. On the other hand, logistics players have been getting requests to handle fashion, e-commerce, aerospace parts shipments, which are boarding flights slowly after the lifting of lockdown. Even though medical goods have gained importance since February, a tentative recovery due to the gradual opening of borders in June reflects a positive scenario. Nevertheless, the available freight capacities are still tight and the markets are still under-recovery. 
From England's Gloucestershire Airport, one can fly cargo to Bristol in 40 minutes, Cardiff and Oxford in an hour and Derby in 1 hour and 30 minutes. In response to an alternative airport for urgent automotive and just-in-time (JIT) logistics, the airport in September welcomed its first cargo operator - Global Airlift Solutions, which operated its PC12NG cargo aircraft. The ground handler Weston Aviation, which has its fixed-base operator (FBO) facility and ramp, adjacent to the airport, finds enormous potential for developing cargo handling for JIT operations from the airport.
On the other hand, focusing on the current crisis, the International Air Transport Association (IATA) director general and chief executive Alexandre de Juniac has addressed that transporting Covid-19 vaccine will require 8,000 B747Fs, thus making it necessary for JIT logistics providers to gear up for this historical event to treat billions around the world.
Initially, American Airlines Cargo moved a lot of PPEs and medical equipment, but now it also has Covid-19 test kits, vaccine trials and other highly important trials such as antibody testing, which is being carried out both domestically and internationally.  
Lisa Oxentine, managing director global cargo sales, AA Cargo, says, "In terms of Covid-19 vaccine preparation, we are preparing to support any industry-wide effort to mobilise a potential vaccine around the world. American has already been active in shipping Covid-19 vaccine trials and our ExpediteTC service provides customised temperature-controlled handling, which is often needed when transporting vaccinations and other sensitive pharmaceuticals." She adds, "While our increased cargo-only service is not directly correlated to vaccine trials, our ability to scale our cargo-only operation to meet increasing demand helps us stand ready to meet the world's health care needs should a vaccine become available."
As the world's largest vaccine manufacturer by volume Serum Institute of India (SII), Gavi, The Vaccine Alliance and Bill & Melinda Gates Foundation partnership is ambitiously working on delivering up to 200 million doses of vaccines, the aviation sector is also busy accelerating its pace to provide adequate vaccine logistics. The vaccine will be distributed in India and low- and middle-income countries (LMICs) as part of the Gavi COVAX AMC, a mechanism within the COVAX Facility. Priced at $3 per dose, AstraZeneca's candidate vaccine will be available to 61 Gavi-eligible countries and Novavax's candidate vaccine to all 92 countries supported by the Gavi COVAX AMC if they are successful in attaining full licensure and WHO prequalification. 
Being one of many, Alexander Kohnen, CEO of time:matters, a wholly-owned company by Lufthansa Cargo, anticipatingly states, "The global delivery of Covid-19 vaccine will be one of the biggest logistical challenges. We will be in the process to support our customers in the best way with the development of a robust supply chain based on their demands, expectations regarding trade lanes, capacities, handling, storage as well as track and trace of the shipments. The current challenge is the existing level of ambiguity regarding the future demand and production units, respective detailed handling requirements and timelines."  
The current challenge is the existing level of ambiguity regarding the future demand and production units, regarding handling requirements and timelines.
Alexander Kohnen, time:matters
During the on-going pandemic, the German time-critical logistics company in consultation with the local authorities and the donor organisations has also successfully implemented a freighter solution for stem cell courier service. Cargo pilots assumed the role of couriers in delivering urgently needed stem cells to blood cancer patients all over the world. The box containing the precious cargo is stowed in the cockpit and transported to the destination airport, where a local courier is already waiting to take the sensitive shipment to the respective hospitals. 
Similarly, Air Charter Service, while assisting, has performed over 800 charters carrying PPEs, Covid-19 test kits and samples. Dan Morgan-Evans, group cargo director, ACS, notes, "The demand is going to be like something never seen before, assuming that a vaccine makes it to market. There isn't the capacity in the market to cope with it, however, as we have seen with PPE, the air freight industry is fast-moving and dynamic – we will find solutions to cope. The variety of solutions put together by ACS brokers around the world from all our divisions and our partner airlines meant we were able to provide customers with real options. We will continue to do this as the pandemic moves forward into the vaccination stage."
Chapman Freeborn believes out-of-the-box thinking is needed for JIT shipments to help get the requested and required capacity, as they had difficulty in finding them because every carrier was sold out. The situation did improve but is now changing again simply because there is a reduced capacity for the remainder of the year. There are fewer pax belly aircraft available and most of the freighter capacity is almost sold out. This will create a high demand again which can be only partly covered by the available capacity. Reto Hunziker, group cargo director, Chapman Freeborn, states, "We have worked out some different scenarios to be prepared as much as possible. Having our controlled fleets in the group (Magma, Arcus, Bluebird, SmartLynx, KlasJet, etc.) will give us the chance to react quickly to the demand and to add value to our customers."
Since the spring season, Vienna-based logistics provider cargo-partner has received many ad-hoc requests for full and part-charter flights of urgently needed goods, the majority of which came from the pharmaceutical, healthcare and PPE sectors. They have transported hundreds of tonnes of these shipments to various destinations, including the Czech Republic, Germany, Serbia, Slovenia, South Africa, and the US. In addition to these solutions, cargo-partner has been offering weekly or more frequent charter flights from China via Hong Kong to Europe since March. The service includes trucking from Mainland China, including the key gateways Shanghai, Beijing, Qingdao, Shenzhen, Xiamen and Guangzhou, as well as on-carriage from Budapest to the final destination anywhere in Europe.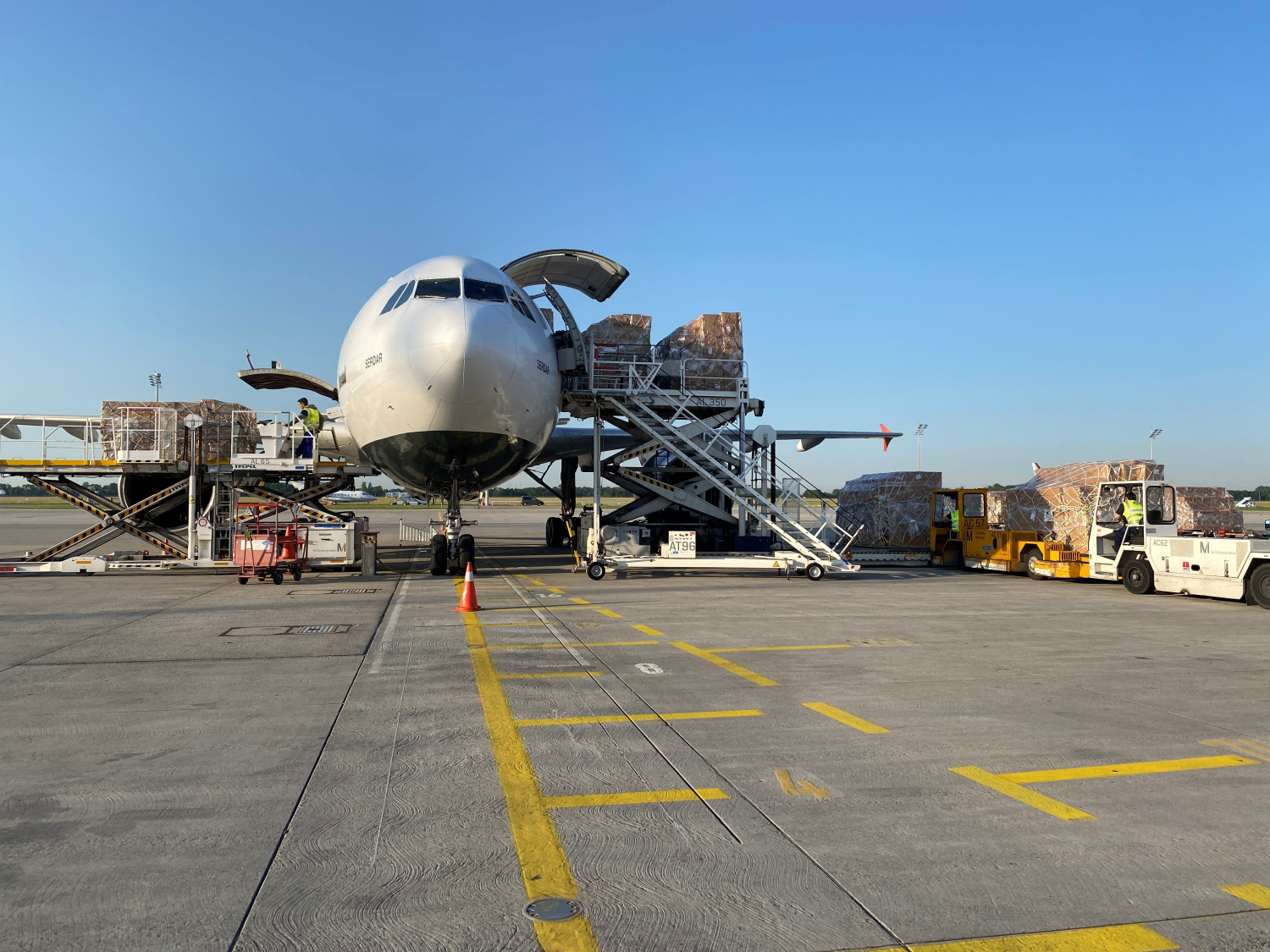 Photo: cargo-partner
Speaking about the changes it could bring about, Jo Feiks, director corporate product management air cargo, cargo-partner, says, "This will be a real game-changer, again due to the massive need for freighter aircraft and a scheduled shift to the production sites of the vaccines and related medicals. This will have a grave effect on all other industries, customer contracts and significantly increase the need for emergency solutions. Furthermore, there will be a run for cooling units and cooling facilities on the ground." 
During the last few months, Lufthansa Cargo has noticed an increased use of all of its digital sales channels and platforms. The company also recently opened its new pharma hub at Munich Airport in August to accept pharmaceutical shipments. It offers space for up to 96 pallets and loose cargo in two different temperature ranges (+2 to +8 °C and +15 to +25 °C) and a freezer (down to -18 °C) on almost 1,000 square metres and several levels. In June, it opened at Chicago O'Hare Airport and has 750 square metres with 54 pallets and 102 cool containers there.
Katharina Stegmann, senior manager communications, Lufthansa Cargo, talking about their latest developments says, "With our recently expanded and upgraded pharma infrastructure in Munich and Chicago as well as our state-of-the-art pharma hub in Frankfurt, we are well prepared for the distribution of a future vaccine. Besides a strong freighter network, we can offer our customers a global network of pharma stations, of which 29 already received a CEIV Pharma certification yet. Additionally, we have our task force at Lufthansa Cargo to prepare the distribution of a Covid-19 vaccine."
The coronavirus pandemic imposes immense challenges on the global logistics industry as numerous airlines have drastically reduced or completely suspended passenger flights. Even all-cargo aircraft were subject to dynamic developments such as entry stops and operational restrictions in several countries and China seems to have caught Kohnen's eye. He states, "China is a good example of the changing dynamics in the market. Between January and February, we had an increase in transport requests from companies wishing to equip their branches with urgently needed medical supplies due to the lockdown in China. So, breathing masks, protective suits etc. had to be transported not only to Asia but also to Italy as soon as possible. From March due to the spread of the pandemic, relief goods needed to be transported to Europe, the US, Canada, Brazil, Israel and around the globe. Airfreight capacities from China were scarce at that time due to high demand and the lack of passenger flights, so we were using cargo and also chartered passenger aircraft."
time:matters also operated in-night express flights in Europe which enabled logistics managers to efficiently plan the supply chain especially in the after-sales service. With the failure of relevant components in production plants, agricultural industry or in the medtech sector there were high downtime costs but with this network, urgently needed goods could be delivered early in the morning. This was particularly due to the non-availability of freight capacities to and from Spain. 
Morgan-Evans observes that during the lockdown JIT shipments dropped considerably as factories were closed. However, the business has recovered gradually; in fact, August and September have performed better than 2019 for non-Covid-19 shipments.
Since the start of September, we have once again noticed a rising demand for emergency solutions for time-critical shipments
Jo Feiks, cargo-partner
To ensure fast and reliable service for urgent pharmaceutical and healthcare transports, the cargo-partner team in India recently introduced a 24/7 service desk for time-critical transports, including full and part charters, express pickup and delivery, on-board-courier services and priority customs clearance. Besides, it has also opened a GDP-compliant Competence Center for Pharmaceuticals & Healthcare in Mumbai as of May 2020. Feiks talking about the current scenario says, "August was rather calm in most countries where we have representations. Since the start of September, we have once again noticed a rising demand for emergency solutions for time-critical shipments."
AA Cargo, which has been utilising its widebody aircraft to fly only cargo in the belly over the last six months, has grown this cargo-only network to keep cargo moving around the world. Oxentine explains, "Our domestic network, which carries a large amount of e-commerce and our Priority Parcel Service (PPS) shipments, is operating almost 3,500 flights a day — around 50 percent of our schedule compared to last year, which is a positive step towards recovery."
Our domestic network, which carries a large amount of e-commerce and our PPS shipments, is operating almost 3,500 flights a day, around 50 percent of our schedule compared to last year
Lisa Oxentine, American Airlines Cargo
time:matters already connects 16 key marketplaces in the US and Mexico to major business centres in Europe, Israel and Asia through its existing international Sameday Air network with more than 130 stations worldwide and more than 20 partner airlines. From July 2020, it is offering US Domestic Sameday Air network with 100 stations (as of September) and up to 200 lbs/90 kilogrammes per shipment. At the same time, time:matters has increased the number of cooperation airlines by adding Alaska Airlines as a new partner. This link-up takes the number of weekly frequencies to 50,000.
With the development of infections in Asia, global air traffic already declined in February and continued rapidly in March. It only got worse in April/May as worldwide passenger traffic came to a virtual standstill. With the lockdown, a sharp decline in world trade and the collapse of global supply chains were recorded. However, this trend was counteracted by the growing demand for the transport of medical and protective goods depicting a significant shift in commodities during the crisis as the transport of medical goods had gained importance. Interestingly, in June, a tentative recovery set in, due to the gradual lifting of travel restrictions. Nevertheless, the available freight capacities are still tight and the markets are still under-recovery.