COSCO SHIPPING Lines and Bollore Transport & Logistics sign MoU
Feb 19, 2019: On January 29, 2019, COSCO SHIPPING Lines and Bollore Transport & Logistics have signed Memorandum of Understanding to densify their commercial relations while exploring new opportunities for cooperation in transport, logistics and port infrastructure. The two companies, who have been partners for over 20 years, have signed this strategic agreement in China. […]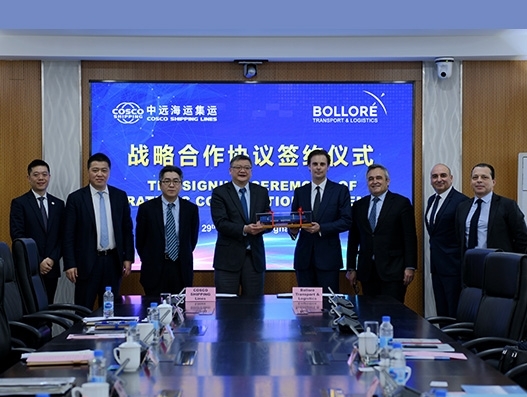 Feb 19, 2019: On January 29, 2019, COSCO SHIPPING Lines and Bollore Transport & Logistics have signed Memorandum of Understanding to densify their commercial relations while exploring new opportunities for cooperation in transport, logistics and port infrastructure.
The two companies, who have been partners for over 20 years, have signed this strategic agreement in China.
Through this agreement, the two companies have agreed to explore the possibilities of commercial collaboration in order to develop their respective activities and satisfy the needs of their customers, particularly in terms of digitalisation.
Both the companies share the common ambition to intensify international flows, particularly on the African continent, where Bollore Transport & Logistics is known for its expertise and has a large network of maritime agencies and also a unique know-how in corridor management.
"This new agreement signed with COSCO SHIPPING Lines is the result of our common desire to develop synergies between our businesses," said Cyrille Bollore, CEO of Bollore Transport & Logistics.
Wang Haimin, managing director of COSCO SHIPPING Lines said: "The new agreement has significant meaning to both of the two companies to further develop global business."