Carol Tomé's 'better, not bigger' strategy is keeping UPS profitable
With the highest quarterly operating profit in UPS' history and record profit in each segment, Carol Tomé is relentlessly pursuing the 'better, not bigger' strategy for the company.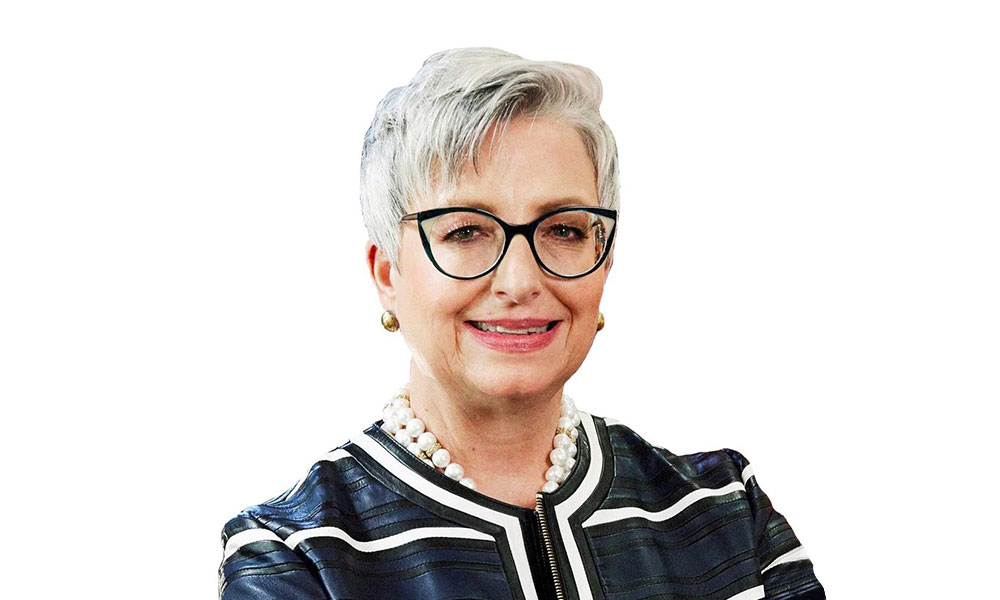 In June last year Carol Tomé took reins at UPS, one of the world's largest logistics companies, as its chief executive officer. Seven months later and two successful quarters behind, all in the midst of a global pandemic, UPS, under Tome, is only getting better.
Consolidated revenue in the Q4 of 2020 rose 21 percent from last year to $24.9 billion and operating profit grew 26 percent from last year to $2.9 billion. This is the highest quarterly operating profit in the history of UPS with record profit produced in each segment. For the year, UPS generated record revenue of $84.6 billion with growth in all three segments. It had its operating profit increase by 7 per cent to $8.7 billion and generated diluted earnings per share of $8.23, an increase of 9.3 per cent.
It has allocated $4 billion for capital investment for 2021. About 50 per cent of that is for growth that includes investment in its healthcare logistics broadly besides specific capacity building for Covid-19 vaccine distribution. For the Covid-19 vaccine roll out, the company built command centres and invested in setting up two large freezer farms, one in Kentucky and another in the Netherlands. It introduced a new technology, called PS Premiere, a label that is put on the package which allows it to be tracked along the supply chain.
UPS has already delivered about 225,000 Covid-19 vaccine shipments which amounts to about 36.5 million doses of both Pfizer-BioNTech and Moderna vaccines at very high service levels. "At 99.99 percent," Tomé said during the earnings call on Tuesday, February 2. "Our healthcare logistics team is just doing a really great job of moving these vaccines forward and couldn't be more proud of that team," she added.
UPS will add 11 new aircraft to its fleet this year to support the demand that it sees outside the US. "So we're planning to grow smartly. It's about being better not bigger," she said in the call. Today UPS has 269 aircraft, owned and finance leases, in its fleet. Besides these it also has a fleet of 297 aircraft chartered from others and on operating leases.
When Tomé was appointed to the CEO's post at UPS last year succeeding David Abney, who became the CEO in 2014 after a long career during which he rose from package-loader, she was not new to the company but to a great extent an outsider to take that important role.

UPS has delivered so far about 225,000 Covid-19 vaccine shipments
Tomé, the former CFO of The Home Depot, joined UPS in 2003 to serve on its board. 17 years with the shipping and logistics giant gave her enough time and experience to know the company inside out. So her appointment to the top post was a very noticeable switch for the 114-year old company. Within a very short span, her laser-focussed approach to managing the business and a leadership style firmly rooted in customers, employees and innovation have brought rich dividends.
In fact, in June last year, as soon as she became the CEO, she was quick and wasted no time to shake up the company. She realised that despite the pandemic there was an opportunity to rethink the business model for UPS.
"What got us here isn't going to get us to where we need to be. Our competitors are changing. Our customers are changing. And the rate of change is accelerating. So we're leaning into that change. And one of the changes was to look at the portfolio of assets that we owned to determine whether or not those assets were important to us for our future," Tomé told Yahoo! Finance immediately after the earnings call.
Last month UPS sold its less-than-truckload (LTL) business UPS Freight to TFI for $800 million. "UPS Freight is a capital-intensive low returning business. We do not need to own this business to provide an LTL solution for our customers. We can do that through a commercial relationship. With the disposition of UPS Freight, we will be smaller, but we will be better, as without it, we will see an improvement in our operating margins and return on invested capital. Being better not bigger also means de-risking our balance sheet," she responded to a question in the earnings call.
It was in 2005 that UPS acquired a company then called Overnight that later became UPS Freight. She had her doubts about the fitness of this acquisition into overall UPS business. "In fact, we impaired the asset shortly after the acquisition," she said.
Once on board, as the CEO of the company, it took less than six months for her to take final call on UPS Freight. This was part of what she said at the first earnings call in July 2020. Back then, she led UPS in operationalising the new strategy of customer first, people led, innovation-driven, through a 'better not bigger' framework. "As I mentioned back in July, with the exception of our five core principles, everything else is under review. We are making solid progress," she said after Q4 results were published.
UPS has over 19 million customers; Amazon being its largest customer. "We enjoyed growth with that customer in 2020. If you look at total revenues for our company in 2020, Amazon now makes up about 13.3 per cent of our total revenues, up from 11.6 per cent last year," Tomé said. "But we had growth in other customers as well. As we look at our large enterprise customers, in the fourth quarter alone, we had enterprise customers, who were growing at 80 per cent year-on-year. Full-year, we had enterprise customers, who were growing 100 percent year-on-year. So, we see growth across the board," she added.
For UPS, the largest commercial account is retail and it is about the product flows into the stores. With uncertainties still around the pandemic and the availability of vaccines, the retail sector will continue to be under stress which is expected to impact UPS revenue from its largest account.
"On the other hand, we don't think e-commerce sales as a percentage of retail sales will decline, which means continued supply and demand imbalances. This scenario supports our efforts to improve revenue quality, while optimising our existing network. These efforts coupled with a relentless focus on productivity and effective capital allocation should result in both operating margin expansion and higher return on invested capital in 2021," Tome said.
UPS, however, did not provide revenue or EPS guidance for 2021. This, according to Tomé, is due to continuing uncertainty on vaccine rollout and macro-environment.
It is very clear that Tomé has in-depth knowledge of UPS's business, strategy and people. And she will relentlessly follow the 'better, not bigger' strategy for UPS in the quarters ahead.