Cargolux flies 43 metric tonne shaft from Luxembourg to China
September 7, 2019: Cargolux Airlines transported the largest piece it has ever transported, a 10-meter long shaft with a total gross weight of 43 metric tonnes from Luxembourg to Zhengzhou. The operation was carried out on behalf of the newly founded HNCA Logistics (Luxembourg) in cooperation with their local partner European Logistics Partners (ELP). The […]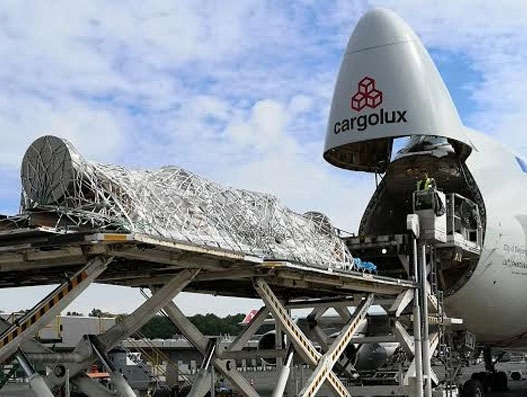 September 7, 2019: Cargolux Airlines transported the largest piece it has ever transported, a 10-meter long shaft with a total gross weight of 43 metric tonnes from Luxembourg to Zhengzhou. The operation was carried out on behalf of the newly founded HNCA Logistics (Luxembourg) in cooperation with their local partner European Logistics Partners (ELP).
The shipment was the first of its kind to transit through Zhengzhou, and also the heaviest single piece of freight that Cargolux has ever delivered to mainland China.
@Cargolux_Intl carries colossal cargo!
The airline delivered a 43 ton shipment to CGO, the heaviest piece ever to transit through the airport.https://t.co/FQkhHzCnXR#CVjumbo #airfreight #CGO pic.twitter.com/Hv3u8WwaXD

— Cargolux Airlines (@Cargolux_Intl) September 6, 2019
"While Cargolux frequently transports very heavy cargo shipments, of up to 60 tonnes, throughout its global network, this specific shipment was special as it was the first time that a single piece of cargo weighing above 35.000kg was flown into Zhengzhou airport," said Paul Hoffmann, Director Ground Engineering.
Cargolux has extensive experience in the art of transporting off-size pieces. In June this year, the airline transported 230 tonnes of artwork from the United States to Basel, Switzerland ahead of the renowned Art Basel Fair 2019.
Setting the gold standard for moving precious cargo
To cater for off-size cargo, Cargolux has developed a specialised product, CV jumbo, to cover customers' individual needs. The CV jumbo team has also invested in innovative tool and in-house developments to optimise loadability and ensure safe loading and off-loading processes. A specialized analysis function at several stations throughout the network offers quick and professional support for cargo-related inquiries.