FROM MAGAZINE: Setting the gold standard for moving precious cargo
A freighter full of precious goods may be worth millions of dollars, but for the shipper, the cargo is literally priceless. While every shipper would demand safe and secure delivery of their shipments, stakes are usually high when the cargo in question is of high value. Airlines and other stakeholders, at every step along the […]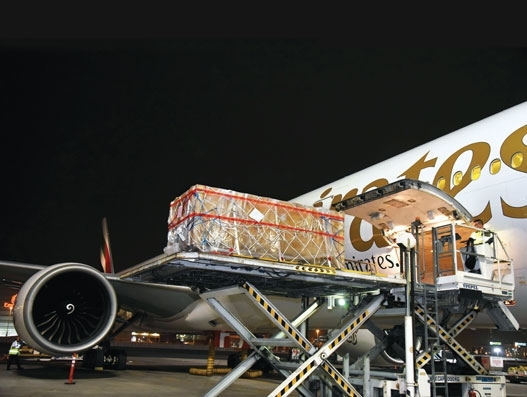 A freighter full of precious goods may be worth millions of dollars, but for the shipper, the cargo is literally priceless. While every shipper would demand safe and secure delivery of their shipments, stakes are usually high when the cargo in question is of high value. Airlines and other stakeholders, at every step along the transportation journey of precious cargo, need to ensure that there are no gaps in their security parameters and that handling processes at every point on their network is robust.
In 1967, members of the Lucchese Crime Family stole $420,000 from the Air France Cargo terminal at John F.Kennedy International Airport (JFK) in the US. Eleven years later, some members of the same gang stole close to $5 million in cash and $1 million in jewels from Lufthansa at JFK. The Lufthansa Heist was deemed as the largest cash robbery in American history at the time and it took the FBI until 2014 to identify and arrest the culprits. This money heist was a reminder to the cargo fraternity of the high risks that high value cargo transportation holds.
"Precious goods are, by definition,sensitive and valuable commodities; it is therefore vital to ensure they are safely transported and arrive at their destination unscathed. In order to properly prepare the cargo, it is crucial for our teams to know the nature of the items and outline the specificities of each shipment as requirements are different from one piece to the next. Precious items can include artwork, historical artefacts, or sensitive technological equipment among other things, all of which require attention to detail and expert handling. Precious items must be properly stored, loaded and secured to ensure minimal risk throughout the transport process," explains Christian Theis, global product manager, CV precious, Cargolux.
According to IATA, any cargo with a value of $1,000 or higher(or its equivalent in any other currency) per gross kilogram, are considered valuable cargo. These may range from industrial equipment, large quantities of hi-tech electronics, artefacts or pharmaceuticals, for example.
The transportation of precious cargo has its own unique set of challenges to airlines and logistics providers. Given the various touchpoints along the supply chain, which are high risk opportunities for cargo loss/theft, it is imperative to train and prepare staff for cargo loss prevention practices.
"The main challenge associated with transporting precious goods is security. We cannot risk having the precious cargo damaged or having its integrity compromised in any way. Even the smallest slip-up can result in a massive reputational impact for the airline and the customer. We have experienced staff placed around our network. In addition, we have a mix of training through online courses, detailed product manuals and practical on the job training. If required, we specially position staff who are the subject matter experts to handle cargo as it is departing/ arriving at specific destinations," informs Julius Mooney, commercial development manager – speciality products, Emirates SkyCargo.
"Our team of experts benefit from the company's extensive experience in precious cargo shipping. Cargolux operates in full compliance with international regulations and has also developed a set of stringent internal policies to ensure sensitive commodities are not exposed to any risks," Theis explained.
Precious goods require special handling and to deal with such shipments, airlines have devised specialised products to cater to such high value cargo. These specialized products cover all the potential risks of cargo loss or devalued damaged cargo throughout every step of their operations.
For instance, Cargolux has developed a dedicated product - CV precious. This transport solution offers customized service for all customers' delicate and fragile shipments, regardless of their size. "Lockable storage rooms, temperature control and individualized loading supervision are some of the many security and safety measures we apply to protect artworks and valuable items from damage and theft. Our fleet of nose-door equipped 747s also boasts four different temperature-controlled zones to ensure the commodities do not suffer from temperature shifts," adds Theis. CV Precious represents approximately one percent of the airline's total tonnage flown worldwide, majority of it being flown from and to US but also to Asia.
On the other hand, Emirates SkyCargo has a specialised handling solution, Emirates SafeVAL, which has been developed keeping in mind the increased security requirements around transporting precious goods. "We carry anything from gold bullion and other precious metals to diamonds and jewellery, high end consumer goods, artworks or priceless historical artefacts as well as currency notes," says Mooney.
Usually, precious goods are carried in dedicated steel-doored ULDs with a tamper proof seal. However, where it is not possible to carry the goods inside ULDs because of size restrictions, the airline comes up with alternative strategies. Airlines also have to adhere to IATA guidelines for transporting precious goods apart from setting their own procedures. For instance, specific acceptance checklists, mandatory destination station OK to Forwards (to ensure receiving station has the appropriate resources in place to handle securely) as well as Cargo Operational Process Owners (COPOs) at all stations to provide oversight on special cargo.
Recently, the airline transported a colossal statue of Buddha more than 2,000 years old, weighing 1,700 kilograms and reaching over 2 metres in height. The statue from the Peshawar Museum in Pakistan was safely transported from its home to Zurich and back. The size restrictions did not allow the statue to be carried in a ULD hence the airline had to make special arrangements.
"As in the case of the 2,000 year old statue we carried recently, we come up with alternative strategies to secure the cargo working in close partnership with our Standards & Procedures team as well as with Emirates Group Security and Transguard. In the case of the statue, the solution was to affix an Emirates tamper proof tape on the outer packaging of the wooden crate in which the statue was placed along with a guard during transit in Dubai, to make sure that we would not have any tampering of the shipment," Mooney explained.
The cargo carrier transported it safely in the bellyhold of its widebody passenger aircraft. During its transit at Dubai International Airport, the statue was quickly transferred on the ramp to its connecting aircraft. With detailed planning and coordination with Emirates Network Control, Emirates SkyCargo ensured that the arriving and departing aircraft were parked in close proximity so as to avoid any long transit delays. The shipment was also monitored continuously by Emirates SkyCargo's 24*7 operational Cargo Operations Command Centre to pre-empt and avoid any potential obstacles during transportation. The carrier executed the first leg of the movement from Peshawar to Zurich in December 2018 and completed the return leg from Zurich in early April 2019. In 2018-19, the air cargo carrier moved close to 2,500 tonnes of valuable products under Emirates Valuable.
Similarly, IAG Cargo's 'Secure' service was used to transport a number of important loan objects from museums across Europe. The cargo division of International Airlines Group (IAG), which was the logistics partner for the BP exhibition 'I am Ashurbanipal: king of the world, king of Assyria' had partnered with the British Museum for the third time to deliver high value objects. Over 200 objects from all corners of King Ashurbanipal's empire were brought together, offering visitors the chance to see objects that have never travelled to the UK before or been on display anywhere for the last 20 years.
Recently, Cargolux transported 230 tonnes of artwork from the US to Basel, Switzerland, ahead of the Art Basel Fair 2019. The priceless commodities, totalling 104 pallets, were spread out over eight flights, three originating from Los Angeles and five from New York.
Upon arrival in Luxembourg, the precious cargo was loaded on board 31 trucks for the final leg of the journey. The shipment was handled by the airline in co-ordination with its forwarding partners Masterpiece, Dietl, and Hasenkamp.
Theis said, "Cargolux has a solid experience in the handling of sensitive commodities and is recognised in the industry as a leading provider of such services. Requests for sensitive shipments like this one reflect our customers' trust in our service offering."
The art pieces were exhibited at the Basel Messe for a week and comprised the work of about 4000 artists from around the globe. Premium international galleries lend their pieces for the event, which attracted over 90,000 visitors for the last edition.
As the world's appetite for luxury and high value goods increases, locations for sourcing and marketing have become more varied and diverse. As longer supply chains call for more touch points, the chances of vulnerability rises. Hence, airlines need to work hard on their risk management plans to cover all the potential risks of cargo loss throughout every step of their operations. Airlines need to first focus on designing high-value goods route mapping to identify and avoid risk areas, then monitor and measure security procedures to ensure the safest route with minimal exposure to risk through the supply chain.
This feature was originally published in STAT Trade Times' September 2019 issue.