Brussels Airport records 23 percent increase in cargo volumes in September
Cargo handled at Brussels Airport increased 23 percent in September 2021 compared to September 2020 due to higher belly cargo and full-freighter volumes, a trend likely to continue in the coming months. 
The growth of flown air cargo (+19 percent) could be observed in all three segments with full-freighter volumes going up by 25 percent, integrator volumes by 6 percent, and belly cargo by 52 percent.
In the full cargo segment, Brussels Airport saw growth with almost all existing customers."New routes from Asia, in particular, are contributing to this growth. Asia remains the most significant region, followed by North America and Africa," an official statement said.
The transport of Covid-19 vaccines to and from Brussels Airport continues with over 350 million vaccines handled at the airport to date. Brussels Airport is also accommodating many flights to African countries thanks to the donations of vaccines from European Union member states via the COVAX platform.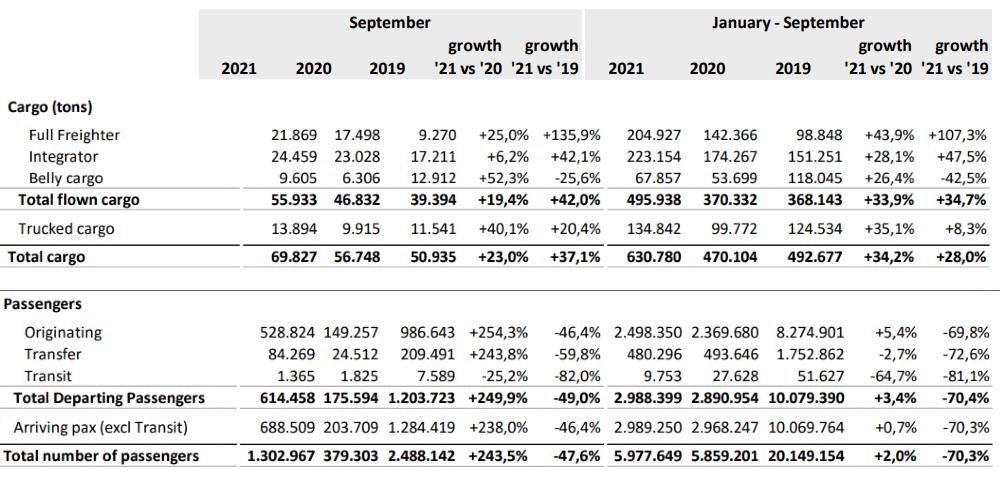 In September, 1.3 million passengers travelled via Brussels Airport,an increase of  243 percent compared to September 2020 when only 379,303 passengers moved through the airport.
The total number of flight movements increased to 13,954 in September 2021 from 7,141 in September 2020.