FROM MAGAZINE: Bricks & Bytes: Matters for Bangalore
Kempegowda International Airport Bengaluru (KIAB), operated and managed by Bangalore International Airport Limited (BIAL), is one of the fastest growing airports in the world with an annual footfall of over 33 million passengers and over 386,000 tonnes cargo processed.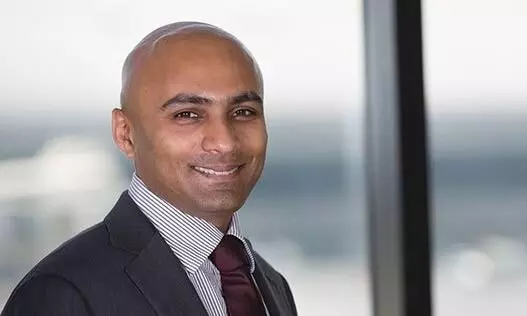 Kempegowda International Airport Bengaluru (KIAB), operated and managed by Bangalore International Airport Limited (BIAL), is one of the fastest growing airports in the world with an annual footfall of over 33 million passengers and over 386,000 tonnes cargo processed. For the airport in the tech capital of India; runways, terminals and other physical infrastructure are not the only things that support the pace of its growth. BIAL has laid out a robust digital roadmap employing modern tools of technology to transform the airport digitally that will support its ongoing physical transformation. Satyaki Raghunath, Chief Strategy & Development Officer, Bangalore International Airport, speaks to Reji John, about bricks and bytes and how they complement each other.
How important is digital transformation for an airport operator?
The air cargo logistics industry has several stakeholders viz. exporters, importers, freight forwarders, customs brokers, customs, security agencies, airlines, airports, ground handling agents, bonded truckers, transporters, ramp agents, courier and express operators, chambers of commerce, etc. To facilitate business, BIAL is working on developing an electronic platform known as an ACS or Air Cargo Community System. The ACS will digitise key stakeholder interactions to improve customer service and reduce transaction times. An electronic platform also allows the reusability of data, thereby eliminating duplicate data entry, reducing unnecessary paperwork by allowing authorised access to data for the relevant supply chain stakeholder and bringing in supply chain visibility. In short, we are working to reduce inventory and other transaction costs related to air cargo movement. We believe that this will translate into operational efficiency gains for both our customers and cargo terminal operators.
What are some of the proposed digital initiatives by BIAL through your innovation partner Accenture?
BIAL is working on the development of four key digital platforms that were conceptualised as part of our overall digital transformation strategy, along with Accenture. We are working on the development of the biometric boarding system platform with Vision Box; a business intelligence and data analytics platform with Unisys; a customer-facing digital platform for omnichannel commerce via mobile and web with Accenture and Adobe; and a process automation platform with Datamatics. In addition, we are working with other partners such as Cisco, Siemens etc., on testing proof-of-concepts on aircraft turnaround, IoT, etc.
How do you intend to use big/deep data and IoT, as key tools for your digital transformation?
A massive amount of data is generated at the BLR Airport. Given the size and complexity of this data, we intend to use data to automate processes in the supply chain from the airport side, driving our future strategy for infrastructure needs. Over time, the data will be integrated into the business intelligence and data platform that is being architectured and will be used for predictive handling of cargo and smart warehousing. We are also working on a range of operational and commercial use cases with data and the utilisation of AI (artificial intelligence) and ML (machine learning) to improve operational efficiency, passenger experience, etc.
How critical is bytes complementing bricks – digital infrastructure complementing physical infrastructure?
Given the growth rates at BLR Airport, we cannot build our way out of our capacity challenges. As a result, we are complementing investment in our physical capacity through the current capital investment cycle (approx. $2.8b) with significant investments in digital transformation, as outlined earlier. This is part of our 'Bytes and Bricks' strategy. We are forecast to triple in passenger and cargo volumes over the next decade and will need to invest in both to meet the needs of our customers and stakeholders.
BIAL was awarded the fastest growing cargo airport of the year in India in The STAT Trade Times Award for Excellence in Air Cargo during Air Cargo India conference and exhibition in Mumbai
What are some of the things that you are doing right to attract new airlines and new network connections?
I think we have had a stellar year with respect to attracting long-haul, non-stop routes to BLR Airport. This is testament to the strength of the Bengaluru Metropolitan Region (BMR), the quality of BLR Airport and the Airline Marketing Team. They've done an exceptional job of making airlines aware of the strength of the BMR and the opportunities in the catchment area across South India. I think they've articulated why BLR Airport is the "Gateway to a new India" and is driven by corporate and business travel; that is also supported by strong leisure and tourism-driven needs. I expect BLR Airport to get stronger each year and have many more non-stop routes to unserved markets that have great potential.
As a strategy and development officer for BIAL what are some of your recommendations to make BIAL as the key gateway airport for India's export and import?
We are focusing on a range of initiatives, including the development of a west-focused export hub and an east-focused import hub. In addition, we are also looking at our catchment areas within 300 km of the BMR to improve our cargo export potential and looking at new ways of improving our facilities and reduce processing time by working with our stakeholders including Customs and Security. Our ACS Portal is also a step in the right direction to improve our service and give our customers what they want.
What are some of the important highlights of 2019 for Bangalore International Airport Limited (BIAL), particularly for the cargo department of the airport?
Bangalore (BLR) overtook Chennai (MAA) to become India's third busiest airport in calendar year 2019. During this time, we handled 379,442 tonnes of cargo and our freighter ATM (air traffic movements) growth was 14.5 percent. For the fiscal year to date until Dec 2019, domestic cargo at BLR Airport has shown a growth of 4.9 percent, which is the highest among the top five airports in the country. This is mainly due to inherent demand of ecommerce from BLR. Interestingly, during the year we also handled 5.5 million kgs (5,500 tonnes) of coriander leaves on the domestic side during the peak season (June to Aug).
For the air freight industry, 2020 has not started well, with the coronavirus scare affecting not just air cargo industry and global supply chains but the entire aviation industry, how do you look at the year ahead and what measures do you have in mind for BIAL?
It's early days yet and we don't know the full effects of COVID-19 on cargo, but we continue to work on supply side initiatives, i.e. express cargo terminal, LOGIConnect by BLR which is our RFS, ACS to improve our volumes. Hopefully, things will stabilise over the next month or two.
This interview was originally published in March 2020 issue of STAT Trade Times.