Bollore ensures on-time delivery of its shipment from Hazira to Oran port
Aug 29, 2019: Bollore Logistics recently handled a time bound shipment for Emerson, a fortune 500 company manufacturing products and providing engineering services. A total of 18 packages/2,160 CBM/206.58 MT, including four heavy lifts were delivered from Hazira, India to Oran port in Algeria. All stakeholders including supplier (L&T Hydrocarbons), (Emerson FZE), Bollore Logistics Marseille […]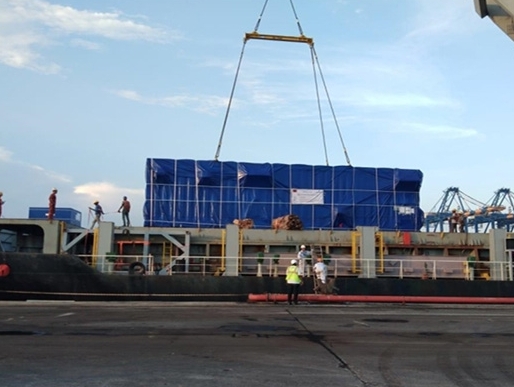 Aug 29, 2019: Bollore Logistics recently handled a time bound shipment for Emerson, a fortune 500 company manufacturing products and providing engineering services.
A total of 18 packages/2,160 CBM/206.58 MT, including four heavy lifts were delivered from Hazira, India to Oran port in Algeria.
All stakeholders including supplier (L&T Hydrocarbons), (Emerson FZE), Bollore Logistics Marseille and India teams, planned and discussed the handling of this project shipment, in order to overcome challenges.
One of the major challenges was to find the right ship for the said cargo as per the laydays & cancellation days agreed with the customer and specially to maintain the earliest arrival at destination.
Bollore Logistics India proposed the right ship in consultation with the Marseille branch and positioned vessel MV New Bridge at Hazira port to load the cargo.
After finalisation of the ship, another challenge was to move all cargo to port in the given notice of two days to transport.
Bollore Logistics India placed all vehicles at workshop in half-day notice and transported the complete cargo from L&T works at Hazira to Adani Hazira port in total 10 trailers (four sets of hydraulic axles for heavy lifts & six nos of mechanical trailers for accessories).
The Indian operation team including loading at supplier's place, transport escort, vessel loading supervision at Hazira port, closely coordinated all movements.
Boumediene Abdou, Maghreb Project manager said: "It's the vision and leadership initiatives that finally make the winning moves. With immaculate planning the teams did a fantastic job ensuring that the project would be well delivered."