Bollore Logistics Singapore completes time-critical transport from Batam to Angola
Aug 20, 2019: Bollore Logistics Singapore recently transported subsea wellhead conductors from a fabrication plant in Batam, Indonesia to Luanda, Angola. The company was called upon by a client from the Oil & Gas Sector, to aid them in the replacement of damaged equipment. The time-critical air charter operation involved the transportation of two High […]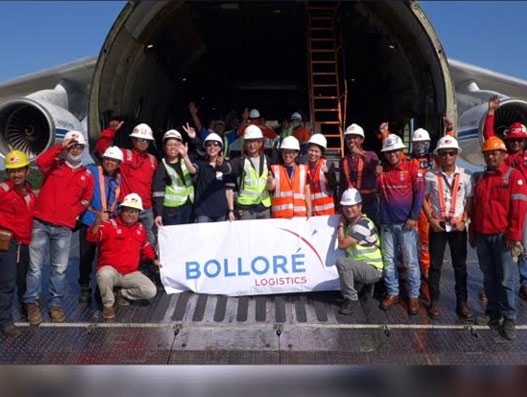 Aug 20, 2019: Bollore Logistics Singapore recently transported subsea wellhead conductors from a fabrication plant in Batam, Indonesia to Luanda, Angola.
The company was called upon by a client from the Oil & Gas Sector, to aid them in the replacement of damaged equipment.
The time-critical air charter operation involved the transportation of two High and Low Pressure Conductors (HPC/LPC), and 15 crates of parts.
The cargo was loaded onto an Antonov-124 (AN-124) cargo plane of Volga-Dnepr Airlines.
Since the leading time was quite short, Bollore Logistics Singapore mobilized a team of specialists to Batam Island. While the wellhead conductors were being fabricated and packed, the team worked concurrently in readying the ground transport to receive the equipment.
To circumvent any possible delay due to unfavorable road situation, the equipment was loaded and transported to the airport at dawn, prior to the schedule arrival time of the plane, under the supervision of Bollore Logistics field operation manager, informed Bollore Logistics through a statement.
Further, another challenge that was a matter of concern was to transfer the wellhead conductors to the plane under the extreme time constraint while adhering to safety practices.
Once the plans were fixed and agreed upon, the entire operation went extremely smoothly and the subsea equipment was transported without delay on budget and no Lost Time Injury (LTI).
"Smooth communication and coordination between the customer and his appointed marine warranty surveyor, the AN 124 operator Volga-Dnepr Airlines, Bollore Logistics Singapore, along with Bollore Logistics Angola, allowed a seamless execution of this operation in spite of the time constraint," said Elaine Yee, senior Customer Service manager – Oil & Gas Division – at Bollore Logistics Singapore.