Bolloré Logistics Central China transports oil & gas upstream equipment to Egypt
Sep 10, 2019: Bolloré Logistics Central China recently transported 53 pieces of Oil & Gas upstream equipment, from Lianyungang, China to Alexandria, Egypt. The company was tasked to perform this operation by a major Chinese Oil & Gas company. And it managed to transport it within the span of one month from July to August. […]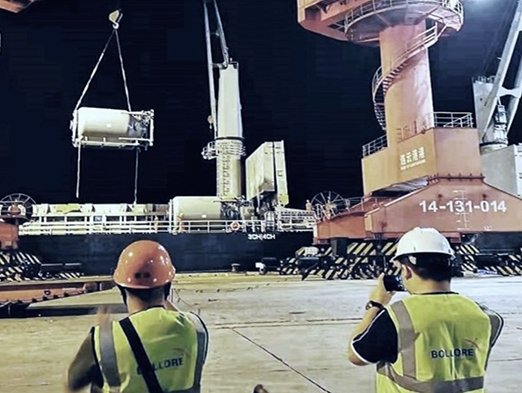 Sep 10, 2019: Bolloré Logistics Central China recently transported 53 pieces of Oil & Gas upstream equipment, from Lianyungang, China to Alexandria, Egypt.
The company was tasked to perform this operation by a major Chinese Oil & Gas company. And it managed to transport it within the span of one month from July to August.
The total volume of the cargo was 1,560 cubic meters, weighing 240 tonnes.
The projects team and sales team of Bolloré Logistics Central China gathered to form a dedicated crew, which collaborated closely throughout this project - from site survey, solution design, to final execution.
As the export point, the company chose the Lianyungang Deepwater Port over Shanghai port, to provide the customer with a solution that is equally competitive yet economical due to differences in freight and port charges.
It is the first time that Bolloré Logistics chose Lianyungang which is 500 kilometers away from Shanghai in Jiangsu Province.
In addition to the route optimisation, Bolloré Logistics Central China crew further helped the customer improve the packaging of the cargo to ensure goods integrity during the heavy lifting.
The effective coordination with the involved shipping company and Egypt team at destination is another key factor that contributed to the smooth delivery of the equipment.
Bollore Logistics carries large scale shipment from South Korea to India
The transport operation of the oil & gas cargo complied with the strict Bolloré Logistics QHSE (Quality, Health, Safety and Environment Management) policies.
Bollore ensures on-time delivery of its shipment from Hazira to Oran port
"We are proud that our Central China team was able to design and executed one-of-a-kind solution to provide the customer with services that are tailor-made to its needs. Our strong know-how in industrial projects and extensive footprint in the Africa continent makes Bolloré Logistics a reliable partner for our international and Chinese customers on their Belt and Road projects," said Basile Ricard, managing director, Bolloré Logistics Central China.