BLR Airport leads as No.1 Indian Airport for perishable shipments
BLR Airport has emerged as the leading Airport for exports of poultry products and flowers during the same period. It processed 28,182 Metric Tonnes (MT) of poultry products and 1,296 MT of flowers.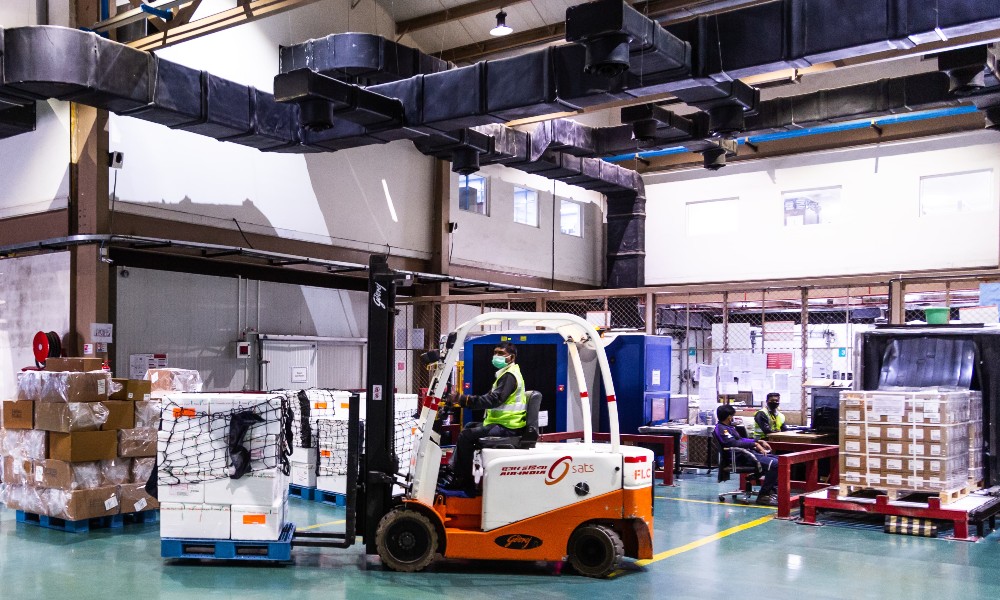 Kempegowda International Airport, Bengaluru (BLR Airport) is once again the talk of the town and this time for being the No. 1 airport in the country for perishable shipments in FY 2020-21. In September this year, Cargo volumes the Airport continued to see growth and announce the achievement of its highest monthly throughput since commencement of operations.
According to Agricultural and Processed Food Products Export Development Authority (APEDA), BLR Airport has processed 48,130 Metric Tonnes of perishables in the Financial Year 2020-21, accounting for 31 percent of India's total perishable shipments.
In the process, BLR Airport has emerged as the leading Airport for exports of poultry products and flowers during the same period. It processed 28,182 Metric Tonnes (MT) of poultry products and 1,296 MT of flowers.
The perishables, which also included vegetables and fruits, were carried by 24 airlines to 46 international destinations. Doha was the top destination, followed by Singapore, London and Muscat.
The round-the-clock support from Indian Customs, Plant Quarantine office Bangalore, APEDA and Karnataka State Agricultural Produce Processing and Export Corporation Limited (KAPPEC), Government of Karnataka, has facilitated in creating a robust business environment, helping BLR Airport achieve this milestone.
APEDA has been instrumental in engaging with the perishable exporters, understanding their needs and in turn engaging with BLR Airport to ensure the infrastructure capabilities continue to grow with the growing demand for perishables exports globally.
"Perishable cargo has been one of the major growth drivers for BLR Airport. Our cargo infrastructure, powered with technology, provides rapid distribution of perishable cargo, making BLR Airport the preferred cargo airport in South India. Our aim is to create an environment that enables our cargo partners to introduce new initiatives and facilities that cater to constantly evolving demand," said Satyaki Raghunath, Chief Strategy and Development Officer, BIAL.
"In line with the Hon'ble Prime Minister's vision to double the farmers' income as well as increasing exports, APEDA has initiated several measures to improve agriculture exports from the Country. We are collaborating with airports, exporters and stakeholders to upgrade the cold-chain infrastructure which will further improve in the quality of produce. We are delighted to see that BLR Airport is becoming a preferred cargo airport for agricultural exporters not only from within Karnataka but also from across South India," said Dr. M. Angamuthu, Chairman, APEDA.
During the pandemic, BLR Airport facilitated discussions between the trade and statutory bodies from both Government of India (GOI) and Government of Karnataka in a common forum to discuss the policies and benefits of schemes like Krishi Udaan from GOI for the perishable sector. This resulted in creation of new markets for farmers, which was essential to ensure that the farm produce could reach consumers in far-flung areas in a timely manner.
BLR Airport has a dedicated cold zone- AISATS Coolport - with the capacity to handle 40,000 MT per annum and temperature zones ranging from -25 to +25 degrees Centigrade under the same roof. Additionally, Menzies Aviation Bobba Bangalore too has a cold zone, with a capacity of 20,000 MT per annum, and also the capability to handle 20 Unit Load Device (ULD) Pallets from 15 to 25 degrees Centigrade and 2 ULD for 2 to 8 degrees Centigrade.
Currently, 14 dedicated freighters operate to and from BLR Airport, and there is also additional belly capacity in passenger aircraft. On an average, BLR Airport has 30-33 daily freighter movements.
The current cargo capacity of BLR Airport is 715,000 Metric Tonnes (MT) annually, which is the largest cargo processing capacity in South India. This is expandable up to 850,000 MT. BIAL aims to expand its cargo infrastructure to provide a capacity of approx. 1.5 Million MT by mid-2030's.