BIAL to invest over Rs 13,000 crore for development of Bengaluru airport
Jan 11, 2019: Bangalore International Airport Limited (BIAL), operator of Kempegowda International Airport, Bengaluru (BLR Airport), is set to undertake Rs. 13000 crore capital programme at the airport which is India's fastest growing aviation hubs. This development programme will cater to the demands of a civil aviation market that has been growing at a blistering […]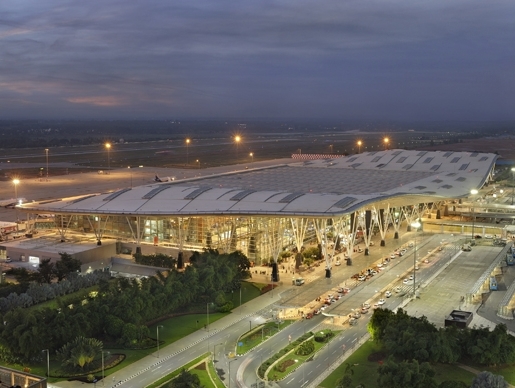 Jan 11, 2019: Bangalore International Airport Limited (BIAL), operator of Kempegowda International Airport, Bengaluru (BLR Airport), is set to undertake Rs. 13000 crore capital programme at the airport which is India's fastest growing aviation hubs.
This development programme will cater to the demands of a civil aviation market that has been growing at a blistering pace of 25 percent YoY for the last 3 years.
The current capital development programme includes a new terminal, a second runway, massive expansion to the access roads and internal road infrastructure, utilities as well as a new multi-modal transport hub.
Hari Marar, MD & CEO, BIAL said: "Designed as a reflection of this City, T2 will be founded on 4 pillars: technological leadership, being a terminal in a garden, environmental and ecological stewardship and a celebration of Karnataka's rich heritage and culture. BIAL worked with some of the finest global minds on the design and planning of this Terminal. While T2 is designed to be an iconic terminal - one that Bengaluru can truly be proud of - it will be built at the most affordable cost and in the most responsible manner."
During this construction phase, BIAL's Teams will put various processes in place and work closely with multiple stakeholders to ensure minimal impact on the passenger experience. BIAL will also undertake a slew of measures to continuously cater to the requirements of growth for the period of development of the new infrastructure.
Tom Shimmin, chief project officer BIAL said: "Designed to provide the highest level of passenger comfort and dramatic visual impression, upon completion, the new terminal will substantially increase the overall capacity of the Airport. T2 is designed in a manner that we retain the philosophy of simplicity and minimal walking distances for the passengers - a key characteristic of the BLR Airport. With the use of a combination of the latest in construction technology and natural material, this terminal will establish a new vision for sustainable growth."