Atlas Air donates transport for critical supplies to NYU Langone Health
Atlas Air flew critical personal protective equipment to NYU Langone Health for (PPE) free of air freight cost.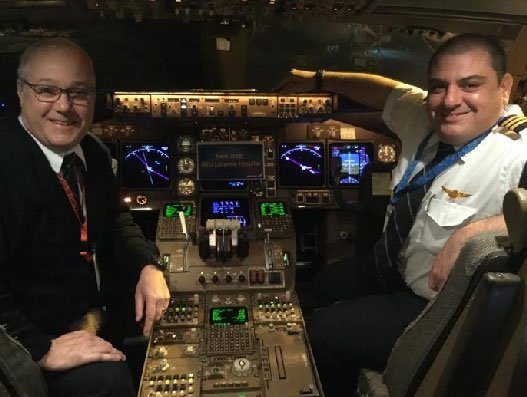 Atlas Air flew critical personal protective equipment to NYU Langone Health for (PPE) free of air freight cost. Two flights were operated for this mission, including one from Shanghai to New York City's John F. Kennedy International Airport on April 9, and a second from Shanghai to Chicago's O'Hare International Airport on April 13.
The Atlas Air-operated Boeing 747-400 freighters were filled with medical gowns, face shields and masks necessary to safeguard frontline responders dealing with the coronavirus pandemic.

Touch-down at JFK. The first of two flights for NYU Langone arrived on Friday April 9 in New York.

Atlas Air Worldwide's headquarters is located in the New York area served by NYU Langone. "The COVID-19 pandemic has greatly impacted the accessibility of PPE for healthcare workers at NYU Langone Health, and across the world," says Robert I. Grossman, MD, chief executive officer of NYU Langone Health and dean of NYU Grossman School of Medicine. "We extend our heartfelt thanks to Atlas Air for their extraordinary generosity, and for their efforts to ensurethat our community is well-equipped in our ongoing battle against COVID-19."
Since the coronavirus pandemic spread through New York City, care teams across NYU Langone Health's system have selflessly devoted themselves to treating affected patients.

The first of two 747-400F carrying personal protective equipment for NYU Langone Health to be loaded in Shanghai.

"We are grateful to our neighbor NYU Langone for treating those in our New York community, and are inspired by their medical teams who are on the front lines," said John W. Dietrich, President and Chief Executive Officer, Atlas Air Worldwide. "We are proud to do our part to help the frontline responders continue to meet the overwhelming needs of New York City and the surrounding area. We thank our extraordinary crewmembers and ground staff for their tireless efforts in making these relief missions possible."
Atlas Air Worldwide and its subsidiaries have been involved in a number of mission critical transports to support frontline heroes, including coordination in the US with the President's Coronavirus Task Force, the Federal Emergency Management Agency (FEMA), Flexport.org's Frontline Responders Fund, and outside the US with sovereign leadership and international business partners.