American delivering communication equipment to/from Netherlands
American is operating twice-weekly cargo-only service between Amsterdam (AMS) and its largest hub, Dallas/Fort Worth (DFW)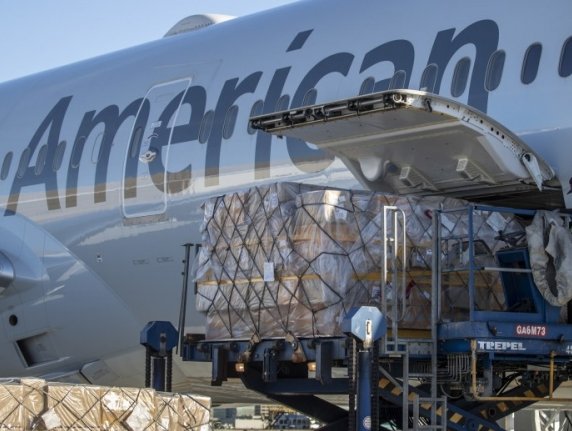 American Airlines is expanding its cargo-only operation this month to provide more than 3 million kilograms of capacity to transport critical goods each week between the U.S. and Europe, Asia, and Latin America. American is operating twice-weekly cargo-only service between Amsterdam (AMS) and its largest hub, Dallas/Fort Worth (DFW), on Boeing 777-300ER aircraft. Without passengers onboard, the aircraft can carry approximately 54,000 kilograms of cargo in the belly hold.
American's flights from AMS are transporting essential telecommunications equipment and electronics, vital for keeping the world connected and informed during the outbreak of coronavirus (Covid-19). Across American's cargo network, life-saving medical supplies, personal protective equipment and pharmaceuticals are being transported to support the global relief effort, as well as essential goods including manufacturing and automotive equipment, mail, fresh fruit, vegetables and fish.
"Amsterdam's Schiphol Airport is an important European cargo hub," said Tim Isik, director cargo sales – Europe, Middle East and Africa. "American's new cargo-only service between Amsterdam and our biggest hub in the United States, Dallas/ Fort Worth, enables us to transport essential communications equipment to connect communities, and to keep the economies of the Netherlands and the United States moving."
In addition to AMS-DFW, American is expanding its cargo-only service to multiple destinations including DFW and Dublin (DUB); between New York (JFK) and London Heathrow (LHR), and between Miami (MIA) and Buenos Aires (EZE).
In March, American began operating its first cargo-only flights since 1984 between DFW and Frankfurt (FRA). Since then, American is operating 46 weekly cargo-only flights between the U.S, Europe, Asia, and Latin America.