Air freight continues to remain a seller's market
"I don't see too much capacity on passenger services coming back in the near future. People travel more regional and there are also still travel restrictions in place. This means no increase in capacity on passenger flights. The rates will increase further." Ingo Zimmer, ATC Aviation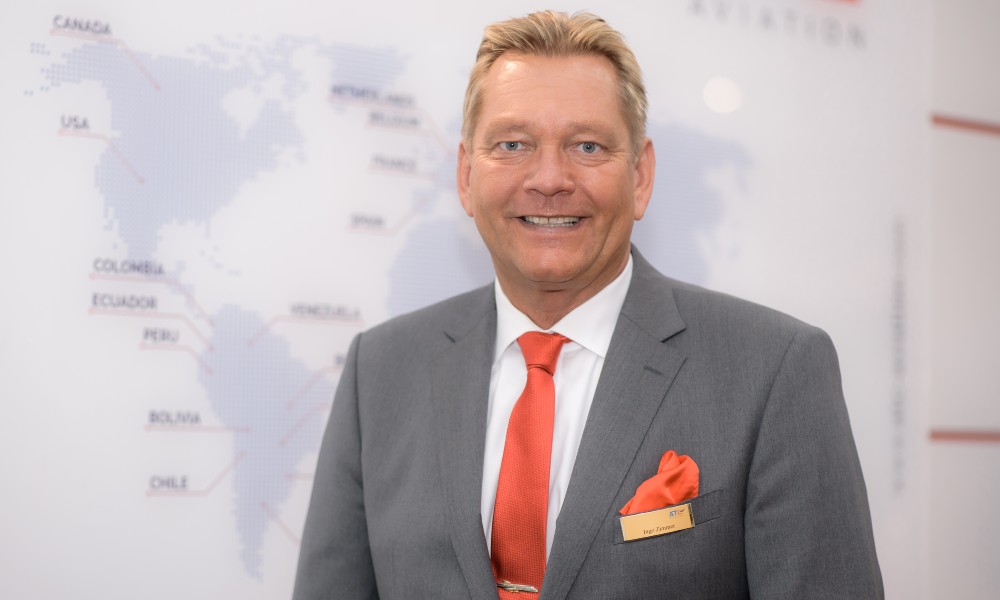 Frankfurt-based ATC Aviation Services is among an elite breed of GSSAs that understand local market conditions so well and has the global vision and network to bring value to its airlines customers. Decades of experience in cargo sales for a variety of airlines in different regions and a series of partnerships and acquisitions in different markets have made ATC Aviation to remain agile under extra ordinarily challenging circumstances, including the Covid pandemic. In an exclusive interview to The STAT Trade Times, Ingo Zimmer, Chief Executive Officer, ATC Aviation Services, speaks about the impact of the pandemic on cargo sales, the benefits of digitalisation and the sustained upswing in the global air cargo market.
How tough has been the pandemic for ATC Aviation – what you think you did right in the pandemic and what you think went wrong largely because none of us were prepared for such a disruption?
We have benefited a lot from our high standards of digitalization. We were able to shift from standard office work to home-office relatively easy and in fact the majority of our staff members worldwide are still at home-office. Our management and reservation systems are all cloud based. We could continue our work with little disruptions. We also reacted fast and organized masks and disinfection material for our offices but also for everyone's personal use. Quick tests are available at all our offices. We do all we can to convince our teams worldwide about the importance of vaccinations and the biggest achievement is that by now all of us are fully vaccinated.
What are some of the biggest changes that you have noticed in the GSSA space in the last 18 months of the pandemic?
Besides the standard cargo GSSA business we have expanded a lot the range of our services. Space was short and is still short so we opened up a charter department managed by Volker Dunkake a former Lufthansa charter senior manager. During the course of the pandemic we operated a few hundred passenger-to-cargo and standard freighter charters and we continue to do this. We even opened up our own regular charter lanes and part charters. A new business segment is selling the rest of capacities of the agent charters. We also have been appointed as GSSA for the two leading OBC companies for origins in USA, South America, RSA and Europe. We have flown a substantial amount of face masks and vaccines either on our scheduled services or on dedicated charters. Our Covid task force was servicing agents and airlines.
Air freight capacity continues to be one of the biggest challenges and this has serious impact on the freight rates. How has the capacity crisis impacted your business across geographies?
In 2020 we saw a substantial increase in cargo rates because of the shortage of capacities. The rates, meanwhile, dropped a bit but are still on a very good level. Some capacity is back and charter rotations have been added. For my organization, I can say that our tonnages are back. For the first seven months of 2021 we were already above the pre-Covid 2019 numbers with 170,000 tonnes. I don't see too much capacity on passenger services coming back in the near future. People travel more regional and there are also still travel restrictions in place. This means no increase in capacity on passenger flights. The rates will increase further. During the pandemic the airfreight market changed into a seller's market and will continue so. With end of the year rush, short capacities and the growing e-commerce business I see a very strong last quarter.
Going by the performances of different geographies that you operate, can you identify the regions that are returning to pre-pandemic levels much faster and what you think are some of the reasons for such quick recovery in those markets?
What we can see is that the recovery is much faster in Europe and the USA. In South America, we were depending a lot on passenger airlines and capacity is not coming back. It's good that in this area with LAS Cargo and Korean Air we got some freighter operators in our portfolio. But we also bought into BSAs and as from next week we will have 400 tonnes of capacity ex Brazil into Europe.
How is digitalisation affecting the GSSA business?
We are very much ahead of the competition when it comes to digitalization. All our entities are meanwhile working on the windows 365 platform and with our state-of-the-art cargo operations system COS. Bots are transferring mails into bookings. Our data lake under Power BI is key for the commercial and strategic decisions and a valuable tool for our sales teams. We can handle much more AWB per head than before and can focus on the sales part of our job.
What is your evaluation of the growing presence of digital market place platforms for air freight where airlines sell capacity and forwarder buy it? How do GSSAs like ATC Aviation consider them? How do GSSAs fit into the digital market place for freight capacity?
We are recently in the process of rolling out our own booking channel. We will start in Germany and continue than in the other 33 countries where we are present. The third parties digital platforms are an additional sales channel and attractive especially for smaller shipments and standard cargo. It got some pricing and booking functions but in my opinion this is only a small part of the services carried out by a GSSA. If you look at a standard SLA, there are up to 100 functions requested from the cargo GSSA including marketing and sales, capacity management, flight planning and supervisory ,ULD control, revenue management, and customer service, just to mention a few.
What are some of your plans for expanding your presence and how do you expect to close 2021 as the peak season is ahead?
During the last years we have expanded the European footprint with purchasing SSAs in the CEE states. These companies are meanwhile fully integrated. In the United States, Canada and South America we got a network with more than 25 offices. Therefore, the coverage in Europe and in the Americas is very strong. In Africa beside RSA we cannot identify any new potential origin for us. In Ethiopia, we got a service office not doing sales. We see good potential in Asia. We are already present in Korea, India and Hong Kong and we got a business license for China. In Asia we expect our further growth through purchases and organic growth.