Air Canada deploys its passenger planes as freighters
Air Canada joined a growing number of airlines using the grounded wide-body passenger aircraft to ferry cargo to key destinations around the world. The flag carrier and the largest airline of Canada by fleet size and passenger carried operated its first Boeing 777 passenger aircraft as a freighter from Canada to German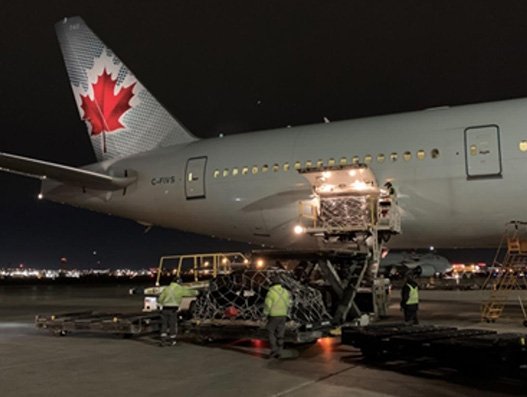 Air Canada joined a growing number of airlines using the grounded wide-body passenger aircraft to ferry cargo to key destinations around the world. The flag carrier and the largest airline of Canada by fleet size and passenger carried operated its first Boeing 777 passenger aircraft as a freighter from Canada to Germany on Sunday March 22.
Amid the Covid-19 pandemic, airlines have grounded their passenger flights on account of the steep decline in demand as countries continue to impose complete lockdowns. The sudden disappearance of belly capacity on passenger flights have forced airlines to look at innovative solutions to deal with increasing demand for freighter capacity to move vital healthcare goods for Covid-19 affected countries. At least some of the grounded passenger aircraft are very creatively utilised to fill the current gap in the air cargo value chain.
According to Air Canada, the cargo is carried only in the belly hold and not inside the passenger cabin, as the cargo is mostly palletized. However, Air Canada is looking at the possibilities of carrying cargo in the cabins of these long haul wide-body aircraft. "We are evaluating that with our operational teams to ensure that could be done safely and securely. But so far we haven't done that," said Matthieu Casey, Director Revenue Management and Business Strategy at Air Canada.
There are several airlines already using the passenger cabins to load cargo. These include China Eastern, Lufthansa and Austrian Airlines. Others considering this option, like Air Canada, include American Airlines and perhaps even Emirates, which already operates passenger freighters.
Air Canada is supporting the Canadian supply chain and it is committed to offer many more similar passenger freighter flights on key Canadian, international, US and Mexico routes. These passenger freighters will be operated on Air Canada's modern wide-body aircraft fleet that include Boeing's 777, 789 and 767. Air Canada has a very flexible fleet and therefore it is even considering using its A330-300 (A333) aircraft for passenger freighter service.
Additionally, Air Canada is offering cargo-only capacity on demand. As per this arrangement, forwarders can request the carrier for the routing and the airline will get the approval and the aircraft as quickly as possible. For this, Air Canada is deploying its B777 (40 tonnes available capacity) and B787-9 (35 tonnes available capacity) aircraft operated by Air Canada crew. These flights can accommodate general and specialised freight. Routing available between key cities in our global network, with convenient trucking to and from points in the US like Chicago (ORD), New York (JFK), San Francisco (SFO), Los Angeles (LAX), Portland (PDX) and Seattle (SEA).