ACL Airshop to handle and repair Sonoco ThermoSafe's Pegasus ULDs
Sonoco ThermoSafe and ACL Airshop have announced a global agreement for the handling and repair of Sonoco ThermoSafe's Pegasus ULD bulk temperature co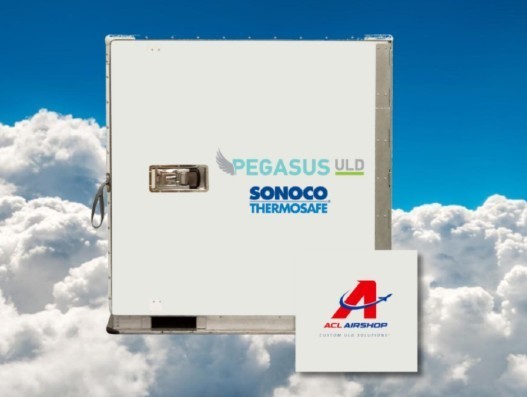 Sonoco ThermoSafe and ACL Airshop have announced a global agreement for the handling and repair of Sonoco ThermoSafe's Pegasus ULD bulk temperature controlled containers.
The Pegasus ULD is the world's first passive bulk temperature controlled container for pharmaceutical use that is an approved unit load device, which allows it to speed through existing international ground handling and customs processes at the lowest possible cost. Engineered with composite materials, the unit load device will offer a lighter solution that is substantially more damage-resistant than traditional metal containers. Additionally, the Pegasus contains a fully integrated, FAA (Federal Aviation Administration) approved telemetry system, providing real-time, cloud-based data on payload and ambient temperature and key environmental factors, precisely synchronized with GPS location.
Also Read: ULDs go flexi-mode to respond to ad hoc and critical cargo
ACL Airshop, headquartered in Greenville SC and with air cargo support capabilities at over 50 of the world's top 100 cargo airports, will initially provide pre-conditioning, handling and repair services at air cargo facilities around the world representing key pharma hubs for import and export. As demand for the Pegasus ULD fleet continues to grow, ACL's global footprint offers Sonoco ThermoSafe the opportunity to rapidly expand.
"Sonoco has topped the list of Fortune's World's Most Admired Companies in the packaging sector for three consecutive years. Its reputation for quality perfectly aligns with our own high standards for service delivery," said Wes Tucker, executive VP and COO for ACL Airshop. "This partnership will enhance our services array for our airlines and air cargo customers around the globe, and we are pleased to provide our customers with an innovative solution for the transportation of vital and life-saving pharmaceutical products."
"We are delighted to partner with a high-quality and service-oriented ULD handling and repair specialist such as ACL Airshop, with its impressive global network," said Christopher Day, director of marketing and innovation for Sonoco ThermoSafe. "This agreement accelerates the adoption of the Pegasus ULD across the worldwide air freight marketplace during the world's most dire need for pharmaceutical distribution."