2021- a year of big-ticket moves for sustainability in aviation
The aerospace industry has pledged to become carbon neutral by 2050. With sustainability-led announcements trickling in almost daily does this signal a new decade and a new direction in aviation?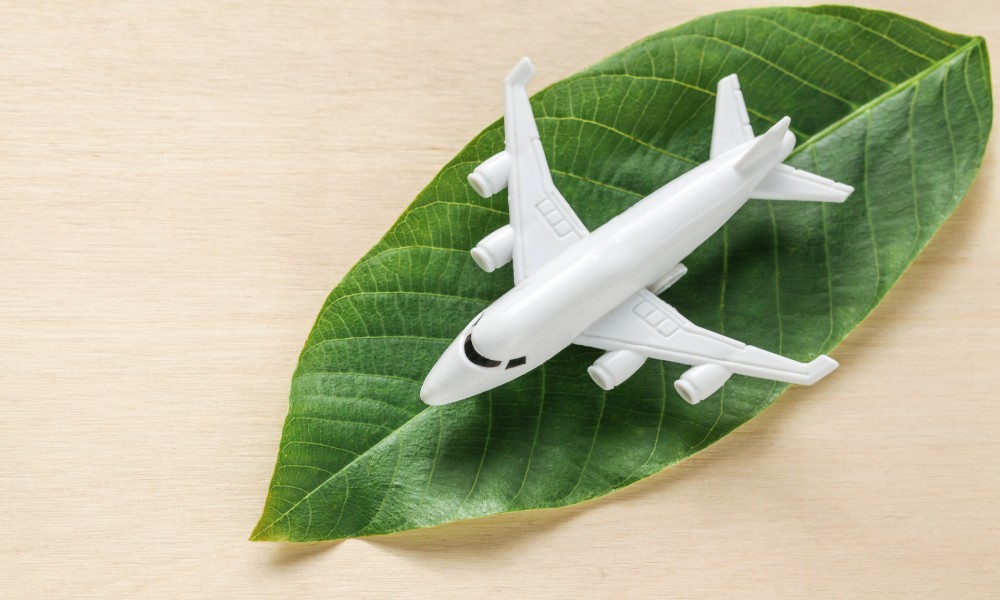 "Aeronautics was neither an industry nor a science. It was a miracle," said the famous Russian-American aviation and aircraft design pioneer Igor Sikorsky about flying. What followed was the golden era of flying where aviation advanced with significant technological breakthroughs interspersed between the two world wars and the boom of commercial air travel! However, the aviation industry's dangerous stride has been challenged time and again by environmentalists owing to its contribution to global warming, pollution and in leaving a huge carbon footprint.
It is well known now that around 2.4 per cent of the global CO2 emissions from the use of fossil fuels and other water vapour trails produced by aircraft have made the industry responsible for around 5 per cent of global warming. More recently the sector received flak from the 18-year-old Swedish climate change activist and crusader Greta Thunberg at the UN Climate Change Conference in Madrid in December 2019. While speaking about rich countries pledging to reduce their carbon emissions and setting their own deadlines, she said, "This is misleading because most of these pledges do not include aviation, shipping, and imported and exported goods and consumption."
It seems like finally the aviation world has been listening in and taking notice! In what can be called a 'watershed year for sustainability action' in the aviation world, announcements have been trickling in almost daily about leading industry players pledging investments to tackle climate change, partnering with customers to bring down carbon emissions, and investing in Sustainable Aviation Fuel (SAF) or completing SAF powered test flights, while airports are putting together their sustainability roadmaps and identifying ESG (Environmental, social and governance) goals. This is in line with the aerospace industry's pledge to become climate neutral by 2050.
The global Coronavirus pandemic in fact helped accelerate the pace of aviation players moving towards sustainability and embracing the ESG goals. Incidentally, IATA (International Air Transport Association) which represents 290 airlines from 120 countries and carries 83 per cent of the world's air traffic has committed to a carbon-neutral airline growth starting from 2021 and has envisioned a 50 per cent reduction in CO2 emissions by 2050. Underlining the significance of this development, IATA Director General Willie Walsh said, "We already had a commitment to cut net emissions to half 2005 levels by 2050. That would have left 325 million tonnes of aviation emissions in 2050. Now we must get that to zero. It can be achieved. It will take a combination of Sustainable Aviation Fuels (SAF), radical airframe designs, cutting edge propulsion methods, efficiency gains, carbon capture technology, and offsetting."
Similarly, the International Civil Aviation Organisation (ICAO) created The Carbon Offset and Reduction Scheme for International Aviation (CORSIA) framework, which helps push the industry to mitigate higher emissions resulting from growth. While the membership is voluntary till 2027, it has till now seen 80 countries join in and is primarily a market-based solution that airlines are using as the first step to become net-zero by 2050. CORSIA came out of an agreement between 191 nations in 2016 at Montreal to ensure that any rise in international aviation emissions above 2020 levels are offset elsewhere.
Aviation world revs up 'sustainability' mode in 2021
Aircraft manufacturers, air carriers, airports, and freight forwarders, and logistics providers alike have made announcements this year, pledging funds, joining hands, and are firming up actionable steps towards sustainability like never before.
1. AIRLINES
UAE carrier Etihad Airways shook up the aviation world this October by announcing that it will be raising $1.2 billion in pursuing global aviation's first sustainability loan linked to ESG goals. Incidentally, the deal is its third such financial transaction and is in line with its pledge in 2020 to reach net-zero carbon emissions by 2050.
In March, Canada's largest domestic and international airline, Air Canada announced a series of sustainability goals, including a commitment to achieve net-zero greenhouse gas emissions (GHG) throughout its global operations by 2050. Similarly, Canada's Vancouver International Airport (YVR) unveiled its Roadmap to Net Zero Carbon 2030 and became the country's first airport to commit to net zero emissions by 2030, thereby accelerating its original climate commitment by 20 years from 2050.
Earlier this year, Indian air carrier IndiGo, published its first ESG Report 'IndiGo Green' to showcase its efforts in sustainable aviation. Ronojoy Dutta, Chief Executive Officer, IndiGo told The STAT Trade Times, "We have been investing in a new, more energy-efficient fleet, replacing the older generation CEOs (current engine options) in our fleet with NEO (new engine option) aircraft, which will reduce fuel usage by 15 per cent and GHG emissions during flight. We also ran pilot flights determining the feasibility of using biofuels, which not only reduces costs but also emissions."
Dutta added, "Additionally, as part of our community initiatives, we have an active programme running 9,500+ biogas units – scheduled to generate approx. 2.34 lakh CERs by Sept 2023. One of the successful projects implemented was the automation of ground support equipment, which reduced our carbon emissions by almost 5 per cent equivalent to 1246 tonnes, considering business proportionality. IndiGo has registered a reduction of 1,478,359 tonnes of carbon emissions from FY '15 to FY '21. In FY '23, the airline aims to reduce CO2 emission by 18 per cent per ASK (Available Seat Kilometres) when compared to FY '16."
Ronojoy Dutta, Chief Executive Officer, IndiGo
2. AIRPORTS
Airports are swiftly moving towards sustainability by reducing their energy use, investing in sustainable energy sources and zero-emission vehicles at the airport, improving the airport's energy efficiency in heat generation sources, in supporting airlines in reducing emissions by modernising airspaces to host modern aircraft that have reduced emissions, encouraging staff and passengers and ground handling companies to switch to the use of sustainable transport and electric vehicles, etc.
An example of industry coming together for pushing green aviation saw the Brussels Airport's Stargate project being flagged off recently. Under its aegis, the Brussels airport will be working with a consortium of 21 partners on 40 odd projects to make aviation sustainable. The Stargate project includes building a biofuel blending installation at the airport, electric ground handling material, and testing new innovations that will enable engine test runs to be much quieter.
As per the UK Airport Operators Association (AOA), its Decarbonisation Report released this October showed that airport greenhouse gas emissions have fallen by 50.6 per cent since 2010. It further mentioned that in 2010, 18 airports represented more than 95 percent of passengers and emitted 514,331 tonnes of CO2e that year from sources they controlled while welcoming 201.7 million passengers through their doors.
In 2019, those same 18 airports accounted for 249,824 tonnes of CO2e, which is 50.6 percent less than in 2010, while seeing 285.8 million passengers traveling, which is an increase of 41.7 percent. This is based on the energy used at those airports (known as location-based emissions). If the renewable energy purchased by those airports is included (known as market-based emissions), then the report cites that the overall emissions fell by around 80 percent.
3. MANUFACTURERS
This July saw leading aircraft manufacturer Boeing release its first Sustainability Report highlighting its ESG progress. "In September 2020, amidst a global pandemic, Boeing formed a sustainability organization dedicated to advancing our ESG efforts across the enterprise," said Boeing's Chief Sustainability Officer Chris Raymond in a release.
Similarly, aircraft manufacturer Airbus had also revealed plans for three new climate neutral, zero-emission, hydrogen-powered aircraft under the brand name ZEROe in September 2020. The three concepts include a turbofan aircraft design, a turboprop design, and the third with a blended wing concept aircraft. The company reportedly plans to deploy them in service by 2035. Airbus CEO, Guillaume Faury said in a statement, "I strongly believe that the use of hydrogen – both in synthetic fuels and as a primary power source for commercial aircraft – has the potential to significantly reduce aviation's climate impact. The transition to hydrogen, as the primary power source for these concept planes, will require decisive action from the entire aviation ecosystem."
Guillaume Faury, CEO, Airbus
PARTNERING FOR GREEN AVIATION
While moving away from the use of fossil fuels, on 29th November, Lufthansa Cargo and DB Schenkar operated commercial aviation's first carbon-neutral freight flight connection. In line with this, a cargo flight completed a round trip for the first time in commercial aviation, whose fuel requirement was completely covered by SAF.
In fact, DB Schenker and Lufthansa Cargo have now launched regular weekly carbon-neutral cargo flight connections from Frankfurt to Shanghai that will be completely carbon neutral and will be powered by SAF. This is slated to save 174 metric tonnes of conventional kerosene each week. The partnership also supports a reforestation project to compensate for the CO2 emissions and other greenhouse gases that result from the production of the biomass, processing, and transport of the SAF.
More recently in October, Lufthansa Cargo teamed up with leading air logistics provider Kuehne+Nagel on an exclusive partnership to support, promote and use synthetic fuel from a Berlin-based NGO called atmosfair gGmbH. The duo will support the world's first production site for synthetic fuels in Werlte, Emsland in Germany by purchasing 25,000 litres per year for the next five years.
Speaking about how Lufthansa Cargo is forging a sustainable future, Dorothea von Boxberg, the Chairperson of the Executive Board and CEO of Lufthansa Cargo told The STAT Trade Times in a video interview in July, "My vision is to be the most efficient air carrier. I would really like to offer my customers the shipment with the lowest carbon footprint and that's what we are working on. So having a pure 777 fleet (Boeing) is a major step towards that, as there is a more efficient aircraft right now, and having the right aircraft can make a huge difference."
Dorothea von Boxberg, CEO of Lufthansa Cargo
Meanwhile, international courier companies like DHL and UPS have also increased the pace of planned decarbonization this year and set targets. UPS announced company-wide ESG targets pledging to become carbon neutral in its global operations by 2050. DHL announced an investment in March worth €7 billion until 2030 in Clean Operations and climate-neutral logistics to reduce emissions to under 29 million tonnes CO2e by 2030 and commit to the Science-Based Target Initiative (SBTi).
Further in August, DHL Express, a division of the German logistics firm Deutsche Post and Eviation, the Seattle-area-based global manufacturer of all-electric aircraft announced that DHL is the first to order 12 fully electric Alice eCargo planes from Eviation. Frank Appel, CEO of Deutsche Post DHL Group said in a release, "Covid-19 has once again reinforced the major megatrends of our time: globalization, digitalization, e-commerce, and sustainability – the four drivers of our 'Strategy 2025'. Of these topics, sustainability is the most pressing challenge. With our sustainability roadmap, we are stepping up our efforts and explicitly promoting the Sustainable Development Goals of the United Nations."
Frank Appel, CEO of Deutsche Post DHL Group
SCALING SUSTAINABILITY SOLUTIONS
1. FUEL
Apart from modernizing their fleets and ramping up operational efficiencies, SAF could reduce carbon emissions from 70 percent to almost 100 percent. But key among its challenges includes high prices and supply chain concerns. While airlines are now making targeted investments and purchasing commitments that would increase SAF use, it typically costs four times more than jet fuel.
A switch to sustainable fuels is not without its share of challenges and the supply chain for SAF needs to be ramped up as well. Von Boxberg said, "Sustainable Aviation Fuels are very limited in availability today. All of the production today is from food waste or crops but that is not super scalable. While it is more possible today, yet it won't fill all the aircraft. So technical innovations that use current and CO2 and water to then get to kerosene is the way the really scalable amounts of SAF will come from, but that's a long way to go. We don't want to become a fuel producer as that's what we have never been. So while we look for partners in the industry that we can buy from we also look for customers who help us finance it because it's not the airline industry that can bear that burden. It really needs to come from the shippers and the end consumers."
Synthetic fuels that can enable the CO2 footprint of aircraft engines to zero are not yet produced industrially but are available in laboratory quantities. In line with this, the leading provider of outsourced aircraft Atlas Air Worldwide in December 2020 had announced the successful completion of a transoceanic SAF test flight from Spain's Zaragoza airport to Mexico City. The Boeing 747 400 F aircraft was powered by a blend of fuel containing 2.33 per cent SAF sourced from fresh vegetable oil. The flight's cargo included a shipment of goods from an Atlas customer.
In another significant development in November, the initial findings from a world-first study of the impact of 100 per cent sustainable aviation fuel (SAF) on both engines of a commercial jet have provided promising early results. The ('Emission and Climate Impact of Alternative Fuels') ECLIF3 study, involving Airbus, Rolls-Royce, German research centre DLR and SAF producer Neste, marks the first time 100 per cent SAF has been measured simultaneously on both engines of a commercial passenger aircraft – an Airbus A350 aircraft powered by Rolls-Royce Trent XWB engines.
Findings from the study are expected to support efforts currently underway at Airbus and Rolls-Royce to ensure that the aviation sector is ready for the large-scale use of SAF as part of the wider initiative to decarbonise the industry. Aircraft are currently only allowed to operate on a 50 per cent blend of SAF and conventional jet fuel, but both companies support the drive to certify 100 per cent SAF use, reported a joint press release.
Universal Hydrogen Co, the company leading the fight to decarbonize aviation through the adoption of hydrogen as a universal fuel, in October announced a funding round yielding $62 million in new capital. This funding will enable it to conduct the first test flight of its hydrogen fuel cell powertrain on a 40+ passenger regional airliner in 2022 at Washington.
2. DESIGN CHANGES & USE OF COMPOSITE MATERIALS
In November, Boeing unveiled its latest model the 777X, which was eight years in production at the Dubai Air Show. With an engine built of advanced materials including lightweight ceramic matrix composites and 3D printed components, aiding the engine's efficiency and reducing its carbon emissions, it also became the first passenger aircraft to feature folding wingtips. The innovative new wing made of composite materials and folding wingtips is reported to offer versatility to its operators who can fold the wingtips inwards and reduce the wingspan from 71 meters to 64.8 meters.
In May this year, another partnership between Lufthansa Technik, a subsidiary of Lufthansa Group, and BASF saw the duo create a surface film that mimics a shark's skin that has the ability to reduce fuel consumption and emissions significantly. This technology called 'AeroSHARK' is slated to be rolled out on Lufthansa Cargo's entire freighter fleet from the beginning of 2022. Von Boxberg added, "So shark skin helps in reducing drag, which is supposed to save us 1 per cent of fuel – which is a lot. We also work on many other things like lightweight containers, approach, and descent procedures for pilots, so that there are many ways to save additional fuel. It's really about these small things that save fuel and reduce emissions."
Every aspect of an aircraft is being reimagined and one such important component happens to be the aircraft ULD which allows consignments to be unitized and grouped at the cargo warehouse hence greatly eliminating the manual loading and unloading of aircraft. A US-based company AEROTUF has recently launched two new performance-driven ULDs; AeroTHERM and AeroPALLET. These are gaining a lot of interest in the US, UK, LATAM region, and EU markets and from among its primary users' which are airlines, 3PLs, and ULD leasing agents.
Ian Buck, Head of Business Development at AEROTUF said, "Innovative designs and composite materials are extremely important in meeting sustainable goals, and we focus on composite materials that give lighter units that are stronger, require less time in repair, and that have strong sustainability credentials. The AeroTHERM is a lightweight ULD made of recyclable materials that have considerable thermal insulation properties, designed to protect perishables from extremes of temperature during transport whilst keeping fuel and waste costs low and reducing carbon emissions. The AeroPALLET is highly durable and has a strong composite base making it lightweight. The need for shoring materials is reduced and in many cases eliminated, resulting in a 40kg+ reduction in weight. The reduction in shoring materials and reduced weight reduces both fuel costs and carbon and contributes towards meeting sustainability goals."
IS THIS ENOUGH?
While carbon emissions are just one part of the industry's pollution conundrum, there are many other emissions made by an aircraft that trap heat similar to greenhouse gases and are major pollutants as well. And while there are several low or zero-carbon solutions, there is a need for these solutions and technological breakthroughs to become competitive in sectors that contribute to global emissions and create benefits for early adopters.
However, there are also alternative voices across the aisle who are questioning whether the typical climate response to CO2 removals and emissions on which the industry works on now, is effective. Based on a paper on 'Asymmetry in the climate-carbon cycle response to positive and negative CO2 emissions' published in Nature Climate Change, Professor Kirsten Zickfield, a distinguished professor of climate science at the Simon Fraser University in Canada argues that the climate response to emissions and removals is "asymmetrical" wherein the carbon cycle and climate response to CO2 emissions is not equal and opposite to CO2 removals of the same magnitude.
Her paper highlights how balancing a CO2 emission with a CO2 removal may lead to a different climate outcome and that its magnitude is uncertain and needs further quantification. While these are important considerations for the airline industry which has envisioned achieving its net-zero goals by 2050, it seems as though the industry may be already running out of time.