Salmon demand growing in India: Catch of Norway MD Mark Alzawahra
Demand increasing due to pandemic which pushed B2C demand, and the middle class becoming health-conscious.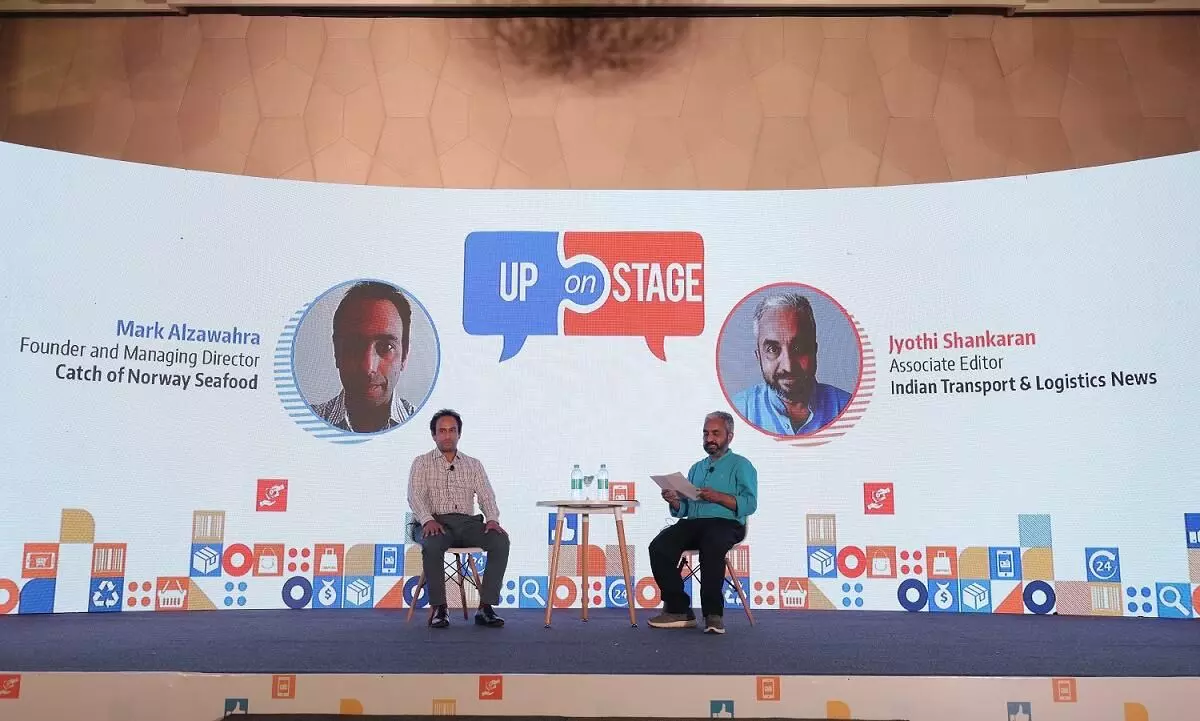 Speaking at the second edition of the E-Commerce Logistics Summit held recently in Mumbai, Mark Alzawahra, managing director, Catch of Norway Seafood, was bullish on the demand for fresh catch (Salmon and others) from Norway due to various reasons including the pandemic which pushed B2C demand, and the middle class becoming health-conscious.

"We've seen salmon consumption increase year-on-year. When I first started here, there were about four or five tonnes of fresh fish coming in. Now, we are growing at around 20 percent annually."
So, what's the story of Norwegian salmon? Fresh salmon - a fish lover's delight? A new healthy food attraction? Say what you want but the demand for fresh salmon is only expected to increase over the coming years. The global salmon market was valued at $50 billion in 2020, and is estimated to reach over $76 billion by 2028, according to a report by ResearchAndMarkets.com.
Health benefits of salmon include:
*Preventing cardiovascular disease (including heart attack and stroke)
*Some types of cancer
*Dementia
*Alzheimer's and other cognitive diseases; and
*Ease the effects of rheumatoid arthritis.
Asia-Pacific is the largest market for salmon and also anticipated to be the fastest-growing market due to the various health benefits.
Norway's ocean-farmed Atlantic salmon - the world leaders in salmon - can trace back origins to the wild. In the 1970s, Norwegian Seafood Council collected salmon from 40 Norwegian rivers to breed in our ocean farms. Norwegian farmed salmon has the same genetics as the wild salmon but its feed allows it to grow faster, mature later and resist disease better.

Ocean-farmed salmon from Norway is well looked after and available all year round. And Catch of Norway & Mark ensures they are available to Indian consumers. Running his family-owned company, Mark moved to Bengaluru to start up Catch of Norway in 2015 and has been at it for the last 6 years..
Mark has pivoted Catch Of Norway due to the pandemic from hotels/direct buyers to consumers. Mark now has an extensive supply chain connecting Bengaluru-Mumbai-Delhi-Kolkata and many cities in between. Mark mainly uses air & road to ensure consumers get to enjoy fresh salmon and others, directly from Norway.
Speaking about the process of moving the fresh catch to Bengaluru, which is where Catch of Norway has centralised operations, Mark says: "We are not tied to any one exporter or one farmer. That gives us the advantage of getting the best quality, and allows us flexibility in terms of logistics. We mainly use Emirates. The reason is they have freighters and commercial flights going from Norway, more connections/flights to India. If something happens or there are delays, there are always two or three other flights on the same day or within 5-6-7 hours. Things like this are very easily explained to our customers, and they understand."
So, what is his distribution channel for B2B and D2C? "For restaurants and hotels, we try to work out contracts or rates based on the market. We have to be very careful with pricing because salmon is extremely expensive now. Again, we are explaining the whole supply chain to our customers. They have an understanding of what they get, where it comes from. And why is the pricing like this.

"When it comes to e-commerce, we use multiple partners for delivery. We mainly use Dunzo because they have integrated API that they put into the website. We also use Porter because they have a really good enterprise service. They have a really good dashboard that allows us to track costs."
Cross-border e-commerce on the agenda? Mark says: "We have the capability to export from Norway directly, and we can use the lessons from India for other countries that are neglected - Thailand, Myanmar, Sri Lanka, Middle Eastern countries as a premium product, premium service."
A lot of people in India are ready to try new things, Mark said, and concluded by saying that customers will support if they are offered quality, consistency and reliability.