Charting a fashion'able' future
Amidst port congestions and supply chain challenges during the pandemic, air cargo proved its value to fashion logistics. As sea freight makes a comeback, air cargo's role as a supply chain solution during the pandemic has had a lasting impact on expectations for faster consumer goods timelines and this bodes well for the world of fashion logistics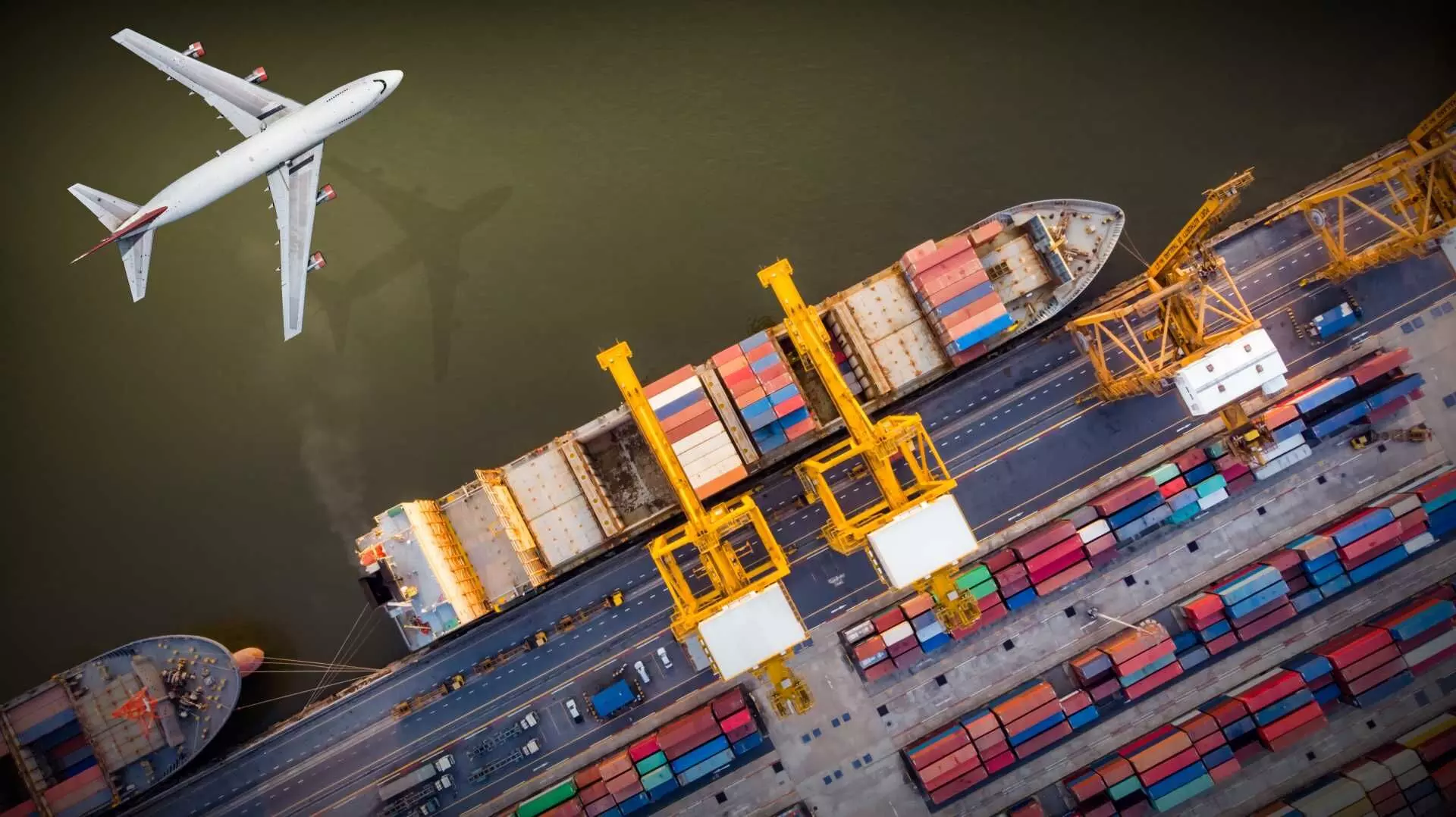 'There's never a dull day in the fashion industry', goes a popular adage that speaks to the resilience of the fashion industry over the decades.
But all that changed when the Coronavirus pandemic temporarily grounded production cycles disrupted global supply chains, and brought the transportation industry to a grinding halt in 2020 and the beginning of 2021.
The pandemic led to a shutdown of major exporters of raw material including China, followed by Bangladesh, Vietnam, and India, and the international logistics was stuck. This stalled the movement of raw materials, finished products, and nonessential retail leading to the postponement and cancellation of orders worth billions and delayed payments post-pandemic.
While grappling with so much uncertainty and challenges in the global environment, changes in the supply chain and logistics of the fashion industry were inevitable.
As supply chains slowly kicked back into gear after the tumultuous two pandemic years, fashion logistics that usually took the sea route became airborne, and the advent of decentralization of inventory, digitalization, sustainability, and slow fashion was witnessed as byproducts of this disruption.

Christoph Scheithe, the Key Account Manager and host of PlanetLogistics platform and 'Joy of Logistics' Podcast told The STAT Trade Times that online shopping grew tremendously during the pandemic leading to an increase in decentralized warehousing as opposed to stores attached to a small warehouse. "Small/local brands are slated to grow and attack big brands due to the 'death of distance' which means that distance is no longer a crucial factor because freight rates make it affordable to bridge it with different modes of transport."
Scheithe explains, "It is no longer mandatory to have the whole inventory located in multiple stores across one country in order to satisfy customers. Now, it is sufficient to keep everything connected to logistics infrastructure including fulfillment centers, and smaller warehouses in a certain geographic area. Also 'lot number orders' (i.e orders of a specific amount of clothing, color, size, etc.) are being delivered directly to your home address without the hassle of going out shopping. This also allows startups and small brands to dramatically increase their market expansion with the help of international parcel services, by which they are able to deliver a small package of clothing across the globe."
At such a time, air cargo became an important and reliable option for the fashion industry and a preferred mode of transportation for sudden surges in demand, and time-critical, valuable, and delayed orders.
Ed Gillett, Director, and Cofounder of digital air cargo charter firm CharterSync told the publication, "During the pandemic, air cargo proved its value to fashion logistics by providing speed and reliability against a backdrop of port congestion and other sea freight issues. While the return of sea freight is prompting somewhat of a modal shift back to normal splits between sea versus air cargo, air cargo's role as a supply chain solution during the pandemic has had a lasting impact on expectations for faster consumer goods timelines."
As global supply chains normalized recently and made a strong recovery, fashion merchandise has been moving back on ships. With air cargo markets under increased pressure in 2023 owing to macroeconomic and geopolitical pressures, yields and revenues are expected to weaken in comparison to 2022.
Ocean freight's return meant that retailers moved shipments back on ships and boats. Leading specialty retailer Victoria's Secret for instance has reportedly moved from air freight to sea recently, to reduce supply chain costs while many industry stakeholders are going for shorter capacity commitments and contracts despite softening rates in both air and ocean this year.
According to The International Air Transport Association(IATA), global air cargo volumes are slated to decline by 4 percent in 2023, following an 8.1% fall in 2022. Revenues are expected to be $149.4 billion, which is $52 billion less than in 2022, but still $48.6 billion stronger than in 2019. With economic uncertainty, cargo volumes are expected to decrease to 57.7 million tonnes, from a peak of 65.6 million tonnes in 2021.
As belly capacity grows in line with the recovery in passenger markets, yields are expected to take a significant step back. However, the air cargo sector will continue to see the benefits stemming from e-commerce, which witnessed a record surge during the pandemic as people under strict lockdowns globally began shopping online.
While counting demand volatility and production volatility as challenges faced by the fashion industry post the pandemic, Akhil Duggar Jain, Executive Director of Jain Amar Clothing Pvt Ltd that owns the western wear brand, Madame told the publication, "In order to transfer goods, implement Just In Time, and shorten lead times, air cargo is a dependable and practical solution. But, as we are now settling into the post-pandemic world, we are also seeing hyperinflation already making the cost of production high. Therefore, to make air transport a viable option and integrate it into the supply chain, it is needed that the cost is brought down as per the requirements. If fashion companies are able to provide customers with the product and follow the fast fashion cycle because of air freight, then this can become a crucial factor in fashion logistics."
According to IATA's Global Head of Cargo Brendan Sullivan, the value of e-commerce globally is expected to reach $5.7 trillion this year and $7.3 trillion in 2025. Online retail sales globally have touched 21 percent in 2022 and even with an estimated drop in consumer spending overall, are forecast to continue to grow overall, he said.
This is especially true for high-value cargo like gems and jewelry which form an integral part of the fashion industry and remains a vertical that is embedded in air cargo owing to security reasons.
Group CEO of BVC Logistics, India's largest secure logistics company, Bhavik Chinai told the publication, "Just in time orders have become a norm for small businesses, and order sizes have continued to reduce. Retailers now want to stock up just for a week and they want more designs to offer to the end consumers as quickly as possible in the Indian market. Globally 95 percent of all jewelry moves primarily by air. The moment an airport starts and airlines begins their operations there, we reach out to the airport and start valuable cargo acceptance and work with the airport authorities to build the security infrastructure needed at the airport to transport high-value cargo."
Air cargo- a reliable partner to fashion?
Ed Gillett contends that while cost and carbon emissions associated with air cargo remain a hindrance for some freight forwarders but increases in belly capacity may make air cargo rates more competitive along with the easing of Covid restrictions in the APAC region going forward.
Gillett adds, "Air cargo has proved to be the first-choice method of transport for time-sensitive supply chains, but this may not necessarily be reflected in retail fashion as the normalization of sea freight schedules is expected to cause a decrease in air cargo loads. However, air cargo's speed and reliability have helped some operators retain long-term business, and we've seen this in the number of forward bookings our freight forwarding clients are making to ensure predictability in their supply chains. The success of digitization in air cargo booking and management processes during the pandemic also may make other ways of moving cargo less appealing in terms of reduced visibility and reactivity."
Gillett adds, "During busier times of the year, regularly scheduled air freight and sea freight alone can struggle to cope with the high volumes and strict timelines required by retailers. As a result, we've seen air charter become the most viable go-to option for fashion retailers in busy periods such as peak season between November and December, for example."
With fashion being a price-sensitive industry, the cost of air freight is a deterrent even for the big brands.
Scheithe says, "Smaller lot shipments can work with air freight and I consider it a possibility that there will be a hybrid solution, covering the best of both worlds. Early arrivals of a new season or market introduction clothing might continue to be flown, whereas simultaneously the big inventory will go via ocean now that ocean freight rates cool off and move towards the pre-Covid range. However brands like Shein, Gymshark, etc. will continue to work with airfreight and this is a benefit to integrators like UPS, DHL, FedEx, etc. that are able to offer it within their own network."
Scheithe further bats for the air cargo industry to develop their very own interpretation of a 'hanging garment container' or a dedicated clothing container. He says, "Ideally, these containers could be positioned at the supplier, loaded there, and shipped directly into the warehouse or fulfillment center of the importer. This would increase efficiencies on a great scale. In addition, special pricing tariffs could be worked out (which are probably already existing, but to be mentioned for the sake of completeness)."
Fashion-the digital opportunity
If Covid-19 was the disruption for fashion logistics, then digitalization is the way forward believe many industry watchers. The digital opportunity in e-commerce as well as in the digitization of business processes, making decisions, and running operations are the most cited opportunity by far.
Minesh Pore, CEO, and co-founder of BuyHive, a B2B tech-enabled global sourcing platform says, "The conventional brick-and-mortar players will inevitably join the digital platform, which will require them to develop and scale up their logistics and inventory system to accommodate the new dynamics. This would therefore also entail the formation of fresh alliances and partnerships as well as the entrance of more solution providers who can aid these companies in strengthening their logistics, inventory, and supply chain in novel ways that are in line with the omnichannel eco-system."
In a bid to get the digital customer journey, many fashion brands are now foraying into omnichannel ecosystems across platforms. Digital transformation and online-offline integration are two trends that are being witnessed globally in the fashion industry.
Rajesh Kumar R, Partner at ZAR Partners, an early-stage micro VC for logistics tech and supply chain innovations says, "Digitalization and sustainability are disrupting fashion logistics. For example, by using effective supply chain technology and data, the companies have reduced their demand-to-order cycle from 6+ months to 2 months. This in turn helps them free up inventory and capital. Net zero has become the most important goal for both manufacturing and logistics companies."
While digital transformation comes at a cost, these can pay off in the long run if used to digitally connect the value chain and bring newer purchasing experiences to the end consumer. Digital discovery and purchase are spurring new formats and technologies for brands and this digital push will ultimately also drive recovery for the fashion world, believe experts.
"The majority of global organizations have expedited their digital transformation plans due to the pandemic, with digital commerce expected to increase from 35% to 55% in several major sectors, including the fashion industry," avers Lalit Das, Founder of leading supply chain analytics and execution company 3SC Analytics.

Das adds, "To enable just-in-time inventory management, fashion firms are employing technology to extract real-time information on where items are moving on the value chain to prevent wastage, mismanagement, or delays. Logistics businesses are boosting their use of AI and robotic technologies and managing their warehouse capacity or dry ports to obtain a competitive edge. By augmenting supply chain frameworks with higher-quality data and solutions that automate dull and repetitive operations, brands are leveraging stronger decision-making abilities and reinventing the playbook for logistics and supply chain management."
Sustainability
One of the post-pandemic supply chain trends is that consumers are increasingly going after sustainable products, driving more sustainability in fashion value chains. Fast fashion is under pressure and movements like slow fashion and circularity are dominating the conversation in fashion.
Sustainable packaging practices and being mindful about returns have been flagged off by Kuehne+Nagel's recent feature in November, where the freight forwarder flagged off the emergence of 'recommerce' as a practice gaining ground.
According to Invesp, 62% of shoppers are more likely to shop online if they can return an item in-store. On an average, 30% of items purchased online are returned versus only around 8% of items bought in a physical store.
"As a response to the issue of the high return rate in the fashion segment, the circular economy practice of 'recommerce' market is gaining ground. As Value Added Services for several e-commerce customers, Kuehne+Nagel's teams carefully check, clean, and categorize all returns to either put them back in stock if they are in perfect condition or put them aside for resale at a cheaper price (the latter would constitute 'recommerce')," cites the Kuehne+Nagel feature.
Batting for traceability in the air cargo supply chain to build up sustainability, Minesh Pore says, "Large industries must invest more in traceability so that consumers can buy sustainable clothes. After all, traceability not only benefits the company but ensures a fair commitment to the entire supply chain. There are several technological tools that help in the implementation of traceability in the fashion industry, such as QR barcodes. Traceability software and technology tools help in the collection and management of data in order to help improve product quality, security, and safety throughout the supply chain. The expectation is that consumers affected by this crisis will now be more conscientious about consumption. And they will also be able to consider sustainability in their purchasing decisions even more than before."
Slow fashion
-The pandemic which saw a decrease in production, canceling of orders, and stopped payments had also affected the yearly fashion 'season calendar', leading to a deliberate move towards slow fashion and the use of already manufactured products. A positive alternative for the future of the post-pandemic supply chain is that consumers are going after sustainable products and sustainability seeks to empower supply chain workers.
Harking back to the beginnings of slow fashion during the pandemic, Minesh Pore says, "Clothing companies initially vouched for expensive air freight to move goods out of China which could not have moved out before the curfew restrictions kicked in. However, by the end of 2020, the companies took a turn and they canceled more than 60% of air freight shipments. For some shipments, they would have paid a whopping five times the previous year's price on the spot market. The reason being "slower, better", as there are still movements and no air halt customs to disrupt the movement."
Fashion supply chains are responsible for a large percentage of global greenhouse gas emissions. Sustainable fashion and its effect on the logistics and global supply chains were center stage at the recently concluded United Nations Climate Conference (COP 27) held in November 2022 at Sharm el-Sheikh, Egypt.
A move towards net zero transition, embracing the circularity model, investing in climate change and mitigation activities, and leveraging digital disruption to make their supply chains more robust and thereby empowering their workers were some major talking points that emerged as major goalposts for the fashion industry globally.