Qatar Airways likely to be launch customer for new Boeing freighter
Qatar Airways operates a young fleet of 34 freighters that include 26 B777Fs and six B777-300ER mini freighters.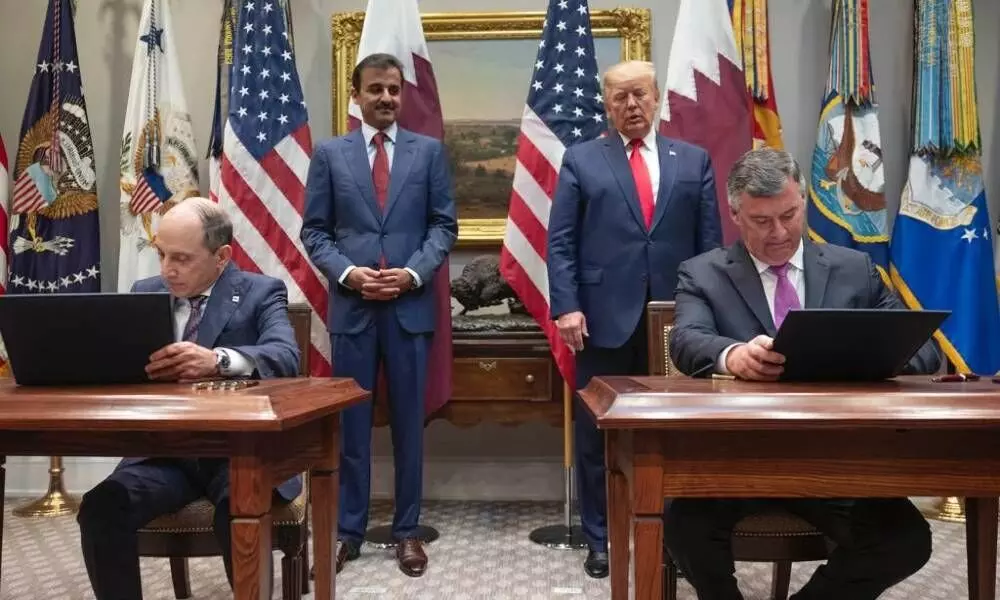 With cargo demand expected to continue strongly in 2022, the race for production freighters is heating up.

Boeing is in advanced talks with Qatar Airways to secure a launch order for a proposed new freighter, Reuters reported.
The deal could be signed as early as next week when Qatar's Emir Tamim bin Hamad Al Thani visits Washington, the report added. Qatar's ruling emirs have been present in the past while the national airline signed deals with the American plane maker.
Qatar Airways is looking at changing its existing freighter fleet with Boeing's proposed production freighter version of its new passenger jet 777X in a deal potentially worth $14 billion at list prices.
Qatar Airways currently operates a young fleet of 34 freighters that include two B747-8Fs, 26 B777Fs and six B777-300ER mini freighters or cargo only passenger aircraft.
Qatar Airways may buy as many as 50 freighters with the larger number likely to include options.
Qatar Airways declined to comment when The STAT Trade Times reached out for a response.
Boeing showcased its 777X widebody at the Dubai Airshow in November last year, marking the jet's international debut. Akbar Al Baker, group chief executive, Qatar Airways, has a penchant to keep his fleet of aircraft young and very advanced.
Airbus and Qatar Airways clash in court
Given the current spat between Doha-headquartered carrier and European plane maker Airbus, the likely order for Boeing jets becomes even more significant. Al Baker is also known for openly expressing displeasure with original equipment manufacturers.
The battle between Qatar Airways and Airbus intensified after the airline recently published a video of what it claims is proof of "serious and legitimate safety concerns" with the A350 model.
The Doha-based airline claims poor manufacturing has caused issues such as paint deterioration and issues with anti-lightning protection. While Airbus agrees these areas need attention, the European manufacturer says there's no need for the aircraft to be grounded as there are no safety risks. Qatar Airways has grounded 21 of its A350s. It has 53 of them in its fleet. The grounding, according to the airline, is costing Qatar US$4 million per day.
Surprisingly Airbus has unilaterally cancelled Qatar Airways order for 50 Airbus A321neos. Could this open opportunities for Boeing to sell the Boeing 737 MAX to Qatar Airways?
Building a homogenous freighter fleet
Qatar Airways had in its fleet five Airbus A330-200 freighters. As on January 31, 2021, the world's largest cargo carrier removed all its Airbus freighters to maintain an all Boeing freighter fleet. In an earlier interview to STAT Media Group, Guillaume Halleux, chief officer cargo, Qatar Airways, had indicated the carrier's intention to keep a homogenous fleet.
"We made no secret from the beginning that the order of five B777 freighters placed at the Paris Airshow in 2019 was to replace and phase out A330 freighters. This is part of streamlining our freighter fleet and going in for a homogenous fleet for very obvious reasons of optimisation and synergy," the chief officer cargo had said a year ago.
Airbus pushing ahead with A350F
Air Lease Corporation signed a letter of intent to become the launch lessor for the A350F. The A350F is based on the world's most modern long-range leader optimised for cargo operations offering at least 20 percent lower fuel burn and the only new generation freighter aircraft ready for the 2027 ICAO CO2 emissions standards.
Airbus has also firmed up an order for four A350F freighter aircraft with the CMA CGM Group.
Over 70 percent of the A350F airframe is made of advanced materials resulting in a 30 tonnes lighter take-off weight. With a 109 tonnes payload capability (+3 tonnes payload/ 11 percent more volume than competition), the A350F serves all cargo markets (Express, general cargo, special cargo).
Strong cargo growth in 2021
Growth in industry-wide cargo tonne-kilometres (CTKs) rebounded in December to 8.9 percent above December 2019, up from 3.9 percent in November, International Air Transport Association (IATA) said in its December market analysis. In 2021, air cargo volumes increased 18.7 percent year-on-year, the second-best yearly performance since IATA started tracking it in 1990 (behind 2010).
"In 2021, available cargo tonne-kilometres (ACTKs) declined 10.9 percent compared to 2019. Capacity did come back slowly during the year due to improvements in international passenger traffic. In December 2021, ACTKs were only 4.7 percent below the same month in 2019. The tight market led to exceptionally high load factor and air cargo rates."
International cargo volumes of Middle Eastern carriers increased by 5.7 percent in December 2021 compared to December 2019. Overall, in 2021, international CTKs were 10.6 percent above 2019 volumes, giving the region a slight boost to market share