Is E-commerce the air cargo industry's one bright spot?
Can e-commerce with all its challenges bring the air cargo industry out of its slow recovery in another difficult year?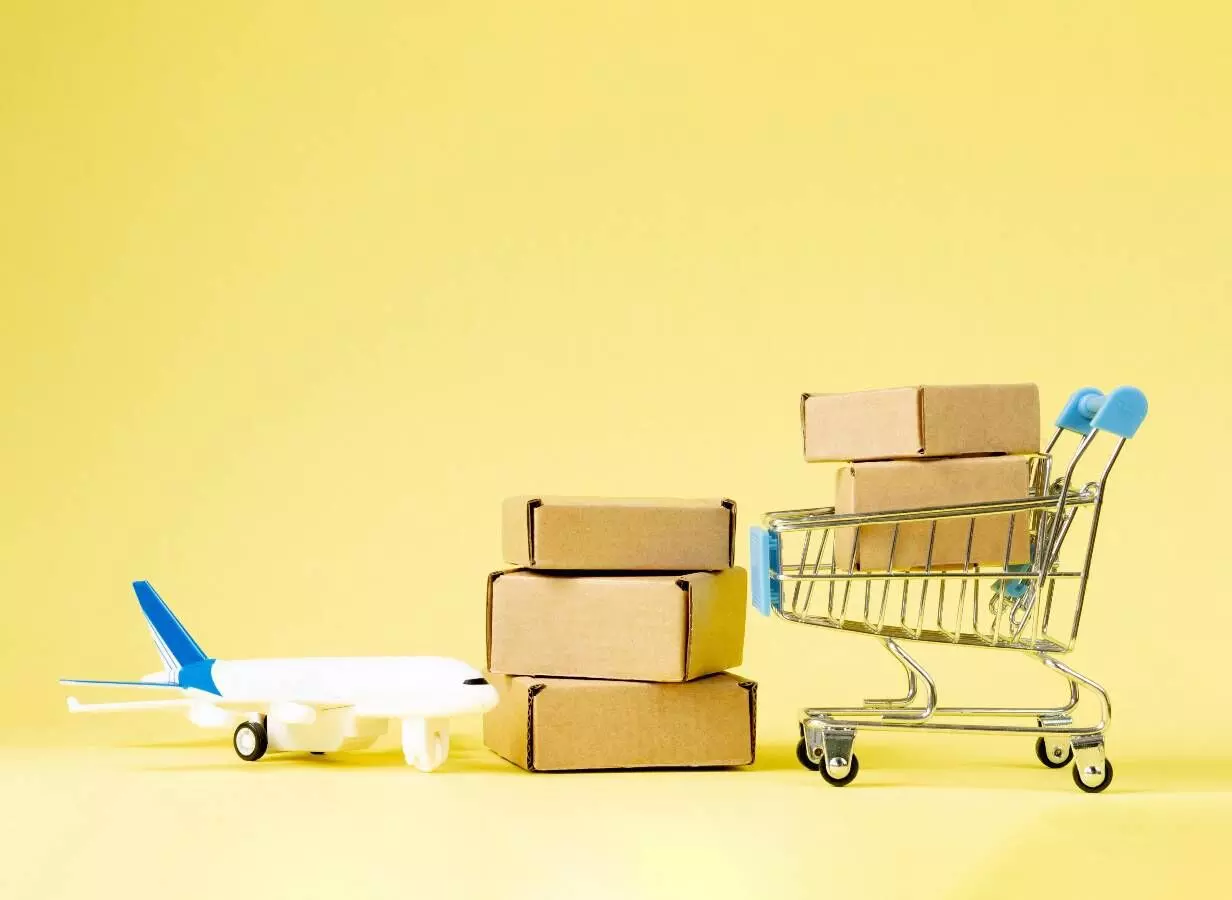 After recovering from the disruption fueled by the pandemic, the global air cargo market has continued its steady climb back to pre-pandemic levels as capacity returned to the markets and stress on supply chains witnessed in the last two years have eased. What is undeniable however is the impact of e-commerce on the air cargo industry and how its demand is creating an urgent need for air cargo players to accelerate their digital and sustainable transformation and develop collaborative business models to sustain this growth. However, even with strong demand from e-commerce coupled with the current stressors of the current geopolitical climate, the ongoing Russia-Ukraine war, surging oil prices, and the surge of Omicron cases in China affect and alter heavy air freight capacity remains to be seen.
AIR CARGO CAPACITY & DEMAND
According to the latest figures by The International Air Transport Association (IATA), global demand that is measured in cargo tonne-kilometers (CTKs) in January 2022 was up 2.7% compared to January 2021 (3.2% for international operations). However, this was significantly lower than the 9.3% growth seen in December 2021 (1% for international operations) which meant that the air cargo growth continued in January 2022 but at a slower pace.
Meanwhile, capacity was pegged at 11.4% above January 2021 (10.8% for international operations). While this is in positive territory, compared to pre-COVID-19 levels, capacity remains constrained, 8.9% below January 2019 levels. The slow growth and recovery in air capacity could be chalked up to a multitude of reasons including supply chain disruptions, labour shortages, deployment of 5G in the USA, and zero-COVID policy in mainland China and Hong Kong as well as a deterioration in economic conditions for the sector.
E-COMMERCE- A KEY GROWTH DRIVER FOR AIR CARGO
One of the surprising disruptions of the pandemic has been how e-commerce has contributed strongly to robust air cargo demand so far. IATA has estimated that e-commerce held a market share of about 15% of air cargo volumes in 2019. The trade body cited that while this number is continuously growing, the trend has rapidly accelerated during and after the COVID-19 pandemic. According to McKinsey, in Q2 2020, e-commerce achieved the growth previously forecasted for the next ten years in that period alone.
Air cargo represents 30-35% of airline revenues owing to the increase in demand and decrease in capacity, owing to the drop in passenger travel. Of this, 18% of air cargo is e-commerce and this is expected to rise to 22% in 2022. This has pushed the industry towards transformation and quick action, like with the introduction of 'preighters' (passenger planes acting as a freighter) and a move towards a more efficient, fast, and automated airline industry and rapid digitalization to achieve scale.
The air cargo sector has been reaping the benefits of a particularly strong demand stemming from the e-commerce segment which is turning out to be a huge source of cargo volume for air operators.
Air cargo demand especially in Asia reached an all-time high since the onset of the Covid-19 pandemic, driven largely by unprecedented growth in e-commerce, cited a DHL report last year. "E-commerce has grown in popularity and familiarity among merchants and consumers in Asia since the Covid-19 pandemic. More small businesses are coming online to cater to a wider group of consumers, including new Internet users who have just hopped on the e-commerce bandwagon," said Ken Lee, CEO, DHL Express Asia Pacific excluding China.
Transport Intelligence's (Ti) latest report, 'Global e-commerce logistics 2022', shows that rapid growth in the market continues with the growth of 19.9 percent to reach a value of €441.47 billion in 2021, though growth has slowed from 2020's Covid-19 induced peak. The report foresees that the global e-commerce logistics market to grow at a CAGR of 11.8 percent from 2021-2026 while the cross-border e-commerce market is pegged to grow at a CAGR of 10.65 percent to 2026.
As per IATA's June 2021 e-commerce report, there was a 27.6% growth worldwide in total online retail sales representing USD $4.280 trillion. This growth was led majorly by China with 52.1% representing USD $2,799 billion, followed by South Korea at 28.9% and the U.K at 28.3%, and the U.S with a 15.0% share of sales. In fact, China anticipates a jump from 67.1 billion to 127.5 billion packages being ordered in 2025.
This shows that if anything, the pandemic ensured that consumers who experienced stringent lockdowns in many countries globally began to rely heavily on e-commerce for not just their day-to-day purchases but also luxury and leisure buys. According to IATA, e-commerce is currently valued at US$ 5 trillion and is one of the fastest-growing industries in the world.
BITING INTO THE E-COMMERCE PIE
The last two years have seen a slew of announcements and partnerships from airports, air carriers, agents, and shippers who are trying to fall in step with the e-commerce juggernaut and tap into the air cargo momentum gained post-pandemic.
Etihad Cargo, the cargo division of UAE flag carrier Etihad Airways registered record cargo results in 2021 and benefited from growing e-commerce demand and modal shift due to congestion in ocean shipping. Martin Drew, Senior Vice president, Sales & Cargo, Etihad has identified e-commerce as a critical market for cargo growth, further driving Etihad Cargo's focus on building a portfolio of cargo products that enable the smarter and faster management of air cargo.
Drew told The STAT Trade Times, "As a result of the COVID-19 pandemic, we have seen a shift in consumer behaviour. Most notably, there has been a phenomenal global increase in online shopping and cross-border trade between e-commerce businesses. IATA suggests the sector is predominantly driven by fashion and retail — footwear, apparel, and consumer electronics represent more than 52 percent of all online shopping. However, we believe the future will be more diversified, as e-commerce companies are starting to sell more commodities such as pharmaceuticals, fresh produce, and live animals via online channels."
In terms of trade lanes and routes, Etihad Cargo currently services 72 network destinations across the Middle East, Asia, Europe, Africa, Australia, and the Americas. Its active fleet of 65 aircraft operates 430 weekly rotations and hundreds of annual charter flights that service demand across non-network destinations.
Among a slew of moves meant to leverage the increasing demand in the e-commerce sector, Etihad Cargo not only continues to add capacity and flights, launched a new booking portal and also launched a Mandarin Chinese version of their website and also entered into a proof-of-concept agreement with Singapore-based logistics tech player SPEEDCARGO last November to utilise their AI products to boost cargo capacity on flights by more than 3,000 tonnes a year.
In recent years, an increasing volume of e-commerce comes under airmail. Recently one of the largest GSSA(General Sales & Service Agents) worldwide- the ECS Group has launched a dedicated mail and e-commerce service that is believed to be a world-first for GSAs (General Sales Agent) who is responsible for selling cargo space. More recently the ECS Group operated 25 dedicated mail and e-commerce charters from Hong Kong (HKG) to Europe and from Europe to Africa, transporting more than 200 tonnes of mail and e-commerce in the second half of the year.
Last September saw FedEx Express launch FedEx International Connect Plus (FICP), a new FedEx Express International, day-definite, e-commerce shipping service that combined speed with attractive prices, in the Asia Pacific, Middle East, and Africa (AMEA) region.
With FICP, e-tailers across ten markets including Australia, Hong Kong, India, Japan, mainland China, Malaysia, Singapore, South Korea, Taiwan, and Thailand are empowered to provide their customers with an international shipping solution at competitive, while ensuring shipments will be delivered within 1 to 5 business days within AMEA(Asia, Middle East, and Africa).
Last year saw shipping giant A.P.Moller- Maersk looking to build up its e-commerce logistics business by acquiring Visible SCM, a US-based B2C logistics company focussed on B2C parcel delivery and fulfilment, and announced its intention to acquire Netherlands based B2C Europe Holding BV. Both of whom were recognized players in E-commerce logistics.
Leading supply chain and logistics player DP World has seized the momentum in Africa and the middle east, by launching DUBUY.com, a global wholesale e-commerce platform in Rwanda with plans to expand across Africa and globally. Along with DP World's physical logistics infrastructure and data-driven solutions, the new entity is slated to solve some e-commerce hurdles including seamless fulfilment, secure financial transactions, and goods movement.
DHL Supply Chain, a subsidiary of Deutsche Post DHL Group, recently announced it had inked a contract with ReverseLogix, a provider of end-to-end returns management systems (RMS) for both B2C and B2B organisations, to handle its e-commerce returns operations.
Leading express services provider DHL Express has inked a crew and maintenance agreement with Singapore Airlines to deploy five Boeing 777 freighters. The new freighter operation is slated to support the fast-growing e-commerce segment. E-commerce giant Amazon has also entered the air cargo business and is expanding its cargo operations and delivery network and has chalked up a substantial fleet of freighters (95 as of last December) that are both owned and leased.
Several logistics players have floated verticals dedicated to e-commerce like supply chain solutions provider SEKO Logistics even launched a new SEKO Ecommerce business unit this year in a bid to grow their international cross-border shipping, global fulfillment, last mile, returns, and re-commerce solutions.
BOOM TIME FOR FREIGHTERS
The e-commerce surge has also meant an appetite for freighters in the market and aircraft manufacturers and conversion markets have been busier than ever to cater to this demand. As per AeroDynamic Advisory, the number of aircrafts being reconfigured for main-deck cargo operations is slated to exceed 180 by 2025, a 150% increase compared to an average annual production of 70 units last decade.
So Boeing has booked record orders for new and converted freighters last year, including 84 orders for 767, 777, and 747 freighters, driven by e-commerce growth and demand for faster, more reliable transport amid widespread logjams in ocean shipping. Meanwhile, Airbus also announced its own new freighter, the A350F at the Dubai Air show last November.
More recently Embraer has thrown its hat in the ring with the recently launched E190F and E195F passenger to freighter conversions meant to satiate large integrators in the US and fueled by demand for E-commerce in Latin America, Europe, and Africa that are also witnessing a steep shopping trend post-pandemic.
ACCESS TO NEW MARKETS
Apart from big e-tailers, one of the biggest beneficiaries of the burgeoning e-commerce sector globally was the small sellers and exporters who could access new markets.
And nobody more than Indian entrepreneur Abhishek Middha can vouch for the spoils that e-commerce has on offer. Starting out as a fresh 20-year-old graduate with sister Aanchal in 2012 from Jaipur, the Middhas bravely forayed into online selling through Amazon and today the duo cumulatively own 8 brands between themselves and are active in 7-8 markets including Europe, US, and Canada and cumulatively worth over Rs 8-10 crores.
Having begun with little to no knowledge of exports, the duo began by selling two products including hand-printed bedsheets and jade jewellery. Today he sources from all over India and sells products in multiple categories including home decor, beauty products, essential oils, kitchen items, toys on multiple e-marketplaces including Amazon.
"We are doing around 40-50% growth across all categories and recently in the pandemic business grew over 300% instantly in one year because everyone was locked inside and they were shopping. In 2019 I launched my own logistics company to aid international sellers selling on Amazon and similar portals with documentation which is headquartered in Delhi, based on the knowledge we have gained as global sellers in the last 8-10 years," says Middha, who is the founder of brands like AND Exports and The Boho Street.
CHANGING BIZ MODELS, SHIFTING STRATEGIES
On the opposite end of the e-commerce spectrum from Middha is Mark Alzawahra, MD of Catch of Norway who pivoted from the wholesale to D2C route really quickly thanks to the pandemic.
Having started a seafood company selling fresh Norwegian Salmon as a wholesaler out of Bangalore and Oslo in 2015, Alzawahra pivoted the business during the pandemic when the restaurants had all but shut down. From supplying to the top chefs of the country, he now also sells as a retailer through hyperlocal delivery companies like Swiggy, Dunzo, WhatsApp Business, and from his company's portal.
"While wholesale was the mainstay of our business, the long-term goal was to eventually have sort of retail products produced or sold in stores online. The pandemic actually helped us out so that we had different outlets than say hotels and restaurants which were significantly impacted during the pandemic. So being able to reach consumers through e-commerce, especially those who are stuck at home or maybe willing to try new things and keep them as long-term customers helped. It definitely had an impact on our business in a positive way apart from the wholesale disruption and helped with keeping some cash coming in and also got our name out there in a different way to a different audience," he said.
GROWING MIGHT OF DTC BRANDS
Success stories like these also signal two things- the growing might of homegrown D2C (Direct to Customer) brands and the shift in consumer behaviour of discovery through a variety of mediums including social media and a high appetite for consuming via e-commerce.
With a growing global e-commerce market, there is a rise of digitally native Direct to Consumer (DTC) brands selling through their own channels utilising platforms such as Shopify along with retailers pivoting to e-commerce, marketplaces, merchants, e-commerce technology partners, and more within the growing and diverse e-commerce market.
CROSS BORDER E-COMMERCE
Retail e-commerce shipping is all about working with a loosely organised segment that is constantly evolving with countries and economies constantly redefining the rules of engagement in trade and these are subject to change regularly.
Speaking about a shift in consumer behaviour that has been irrevocable post-pandemic has been shopping for self, "I think the consumer behaviour and acceptance of trends abroad and the amount of time people had has helped them discover new brands. During the pandemic, the 'treat for myself' shopping increased because people were looking for options to treat themselves. This has led to more acceptance of e-commerce, of different brands who had a very unique selling story to tell and the receptiveness on behalf of the consumers- I think that is going to continue. Consumers are going to be more and more demanding, there will continue to be more choices, and people will discover brands on their own that appeal to them," Atul Mehta, Chief Operating Officer at Shiprocket, an E-commerce shipping, and enablement company.
In line with this Shiprocket, has recently launched Shiprocket X, a service that allows seamless cross-border shipping across 220+ countries, including the US, UK, Germany, Australia, and more. This new offering allows integration with companies like Amazon, eBay, Shopify, and WooCommerce, and the promise of minimum documentation to get started.
Technology-enabled thousands of Indian MSMEs and exporters to access new markets via the e-commerce route and many tech logistics companies are facilitating this leap for the seller/exporter today.
Padmanabhan Babu, Founder, and CEO of LEXSHIP, a logistics company for small retailers says, "The retail export process involved physically printing and attaching multiple documents required by origin and destination authorities. The KYC(Know your customer) process was cumbersome and would take over 2 weeks for registration and approval. Personal information was not secure and available with multiple entities and players, payments were through cash. We have completely digitised the process with a one time digital KYC, reduced lead time from registration to actual export to less than 24 hrs, shipment information and personal information being digital is encrypted and shared securely with the authorities, post shipping documents are also digitally shared with the exporter in a timely manner for the exporter to avail export incentive schemes initiated by the government."
CHALLENGES
VISIBILITY IS KEY
When it comes to e-commerce then logistics is one of the biggest cross-border challenges especially as retailers need to be able to track where their products are cross-border.
This is especially difficult when there are multiple carrier handoffs. Also, a retailer's distribution channels need to be expandable and operational inefficiencies must be worked out in advance. Kushal Nahata, Co-founder and CEO of FarEye, a SaaS-based predictive visibility platform affirms that supply chain visibility software helps to ensure 3PL carrier integrations, and multi-stakeholder collaborations and ensures high levels of the estimated time of arrival (ETA) accuracy.
He said, "A leading furniture retailer was able to transform their customer experience through FarEye's solutions. Their consumer experience was suffering from the inaccurate expected time of arrival (ETA) sent to consumers, which led to chaos for consumers. The retailer had no visibility or track and trace mechanism to locate a shipment when it arrived. There also was no mechanism to orchestrate deliveries with the committed ETAs. By utilizing FarEye's scheduling and routing and last-mile delivery solutions, the retailer was able to achieve a 24% in on-time deliveries. They had a 300% boost in order volumes and they were also able to boost their ETA forecasting accuracy from 4-7 business days to 2 hours. The retailer was able to provide an exceptional customer experience and their customer ratings grew to 5-stars after their improved ETA adherence."
HIGH FREIGHT COSTS
The constant reduction and restrictions in passenger air schedules owing to the pandemic had also resulted in reduced belly space in aircrafts globally. This has resulted in high freight costs for the relatively scarce freighter capacity.
FLEXIBLE DELIVERY OPTIONS
Two key drivers of the ease of e-commerce buying experience are shipping costs and delivery options. Reportedly, 40% of consumers are not likely to complete a checkout if the delivery costs are high delivery costs. Another 10% are more likely to abandon their shopping e-cart if a delivery does not have flexible delivery options.
LOGISTICS & DELIVERY ARE KEY FOR E-COMMERCE
Brendan Sullivan, the Global head for Cargo at IATA put it best as he told a publication last year, "There is a lack of products tailored for e-commerce, increasing cost and time, insufficient service levels in fulfilment, and inflated costs for forwarding. Poor visibility due to disconnections in track and trace mechanisms is also a concern. First and last-mile solutions for e-commerce must be integrated under one brand. "