Skyports and Jurong Port join hands for drone delivery infrastructure
Skyports and Jurong Port will conduct joint research over the next year to establish the viability and development of plans for cargo drone delivery operations at Jurong Port.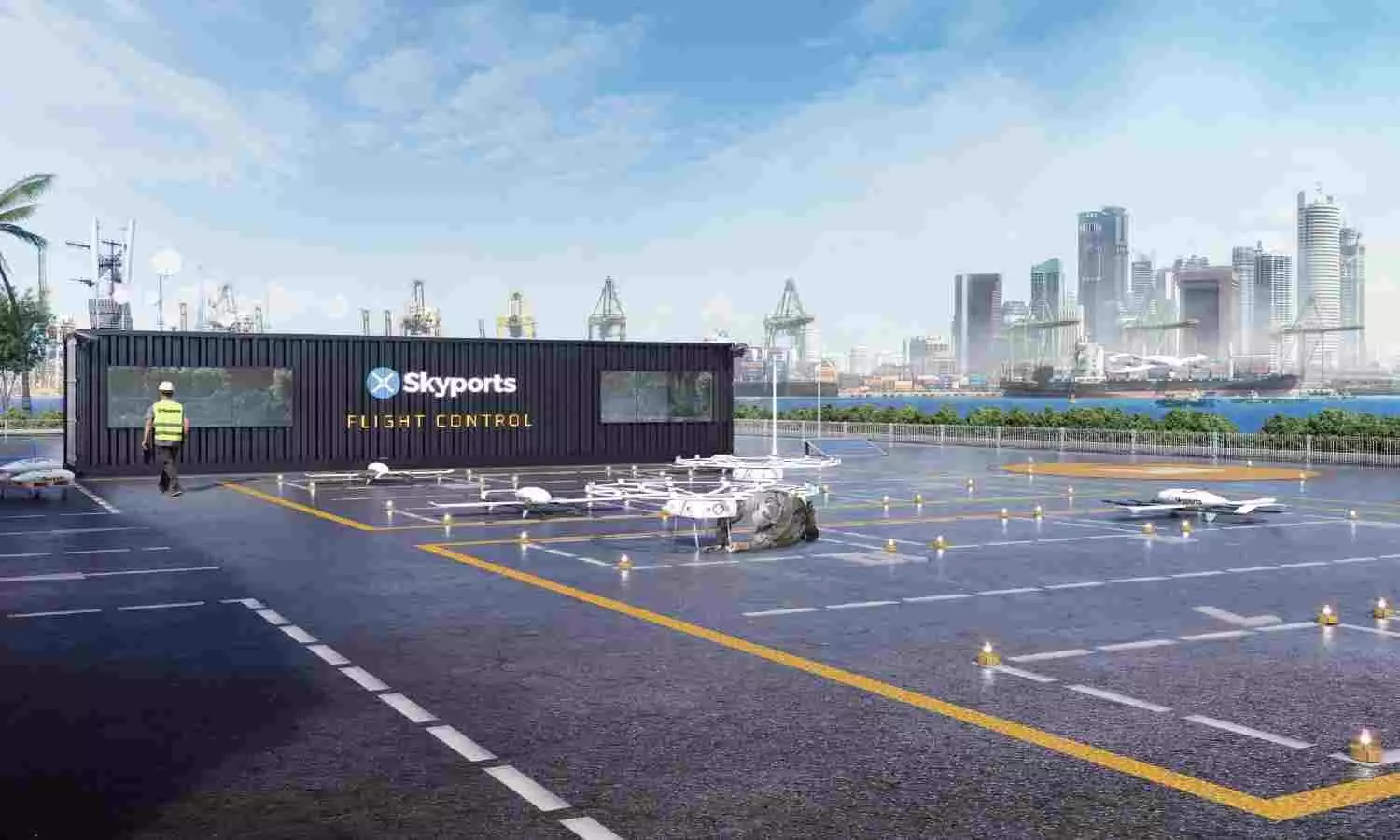 Skyports, the leading Advanced Air Mobility (AAM) infrastructure developer and operator of drone delivery services, and Jurong Port, Singapore's only multi-purpose cargo port, signed a Memorandum of Understanding (MOU) today to investigate the development of ship-to-shore infrastructure at Jurong Port.
The MOU represents an important step forward in the development of large-scale drone delivery operations in Singapore, and it builds on Skyports' current work in the country's thriving marine industry. The MoU will draw on Skyports' global experience in developing take-off and landing infrastructure for cargo drone deliveries to investigate how drone delivery technology may be incorporated into Singapore's Jurong Port's existing logistics and cargo operations.
Skyports also made headlines when it announced their collaboration with Wilhelmsen Ships Agency and Thome Group in April.
Skyports is on the way to full-scale commercialization of maritime shore-to-ship delivery services, as well as the parallel construction of the essential infrastructure to enable these services for all industry players in Singapore and beyond
Yun-Yuan Tay, Head of Asia Pacific, Skyports said, "Tremendous progress has been made in the arena of maritime drone delivery services over the past year, and infrastructure development is the next critical step to truly realising the vast opportunities afforded by large-scale drone delivery services. We are honoured to be partnering with an industry stalwart like Jurong Port, as we work closely to take tangible steps towards designing Singapore's first full-scale infrastructure development project with one of the country's most experienced port operators. We look forward to strengthening our partnership in the years ahead, to bring heightened efficiency, safety and overall value to the shipping and logistics industry."
Skyports and Jurong Port will conduct joint research over the next year to establish the viability and development of plans for cargo drone delivery operations and related infrastructure at Jurong Port. The testing will take place in tandem with existing port operations.
Simultaneously, Skyports will take the lead in engaging with appropriate public sector organisations, authorities, and commercial entities to advance the creation of crucial regulatory frameworks for the implementation of large-scale cargo drone delivery services.
Walter Lin, Assistant Vice President, Business Units: Breakbulk & Lighters, Jurong Port said, "Drone delivery technology has demonstrated its ability to enhance the maritime industry's processes, and the development of its supporting infrastructure will be crucial in transforming the future of maritime logistics and shipping. As one of the world's busiest anchorages, Jurong Port is constantly looking out for solutions that will benefit the shipping and maritime industry. We believe that drone delivery technology will play an integral role in the evolution of our next-generation port and are thrilled to partner Skyports in a feasibility study for commercial drone deliveries."
Ng Yi Han, Director (Innovation, Technology and Talent Development), Maritime and Port Authority of Singapore said, "The MoU between Jurong Port and Skyports represents yet another important milestone towards commercialisation of maritime ship-to-shore cargo drone delivery. Drone delivery will bring about faster delivery times and reduced emissions, and we look forward to supporting our partners as the maritime industry continues to leverage technology innovation to strengthen its efficiency and resilience."
Jurong Port, Singapore's major point of entry for more than 50 years, is a supplier of best-in-class multifunctional port services. In Singapore's single multi-purpose port, the firm handles bulk, break-bulk, and containerized goods and manages tens of thousands of vessel calls each year.