Cargo to move faster from shore-to-ship at Singapore Port
The new partnership's goal is to commercialise marine shore-to-ship delivery services on a large scale.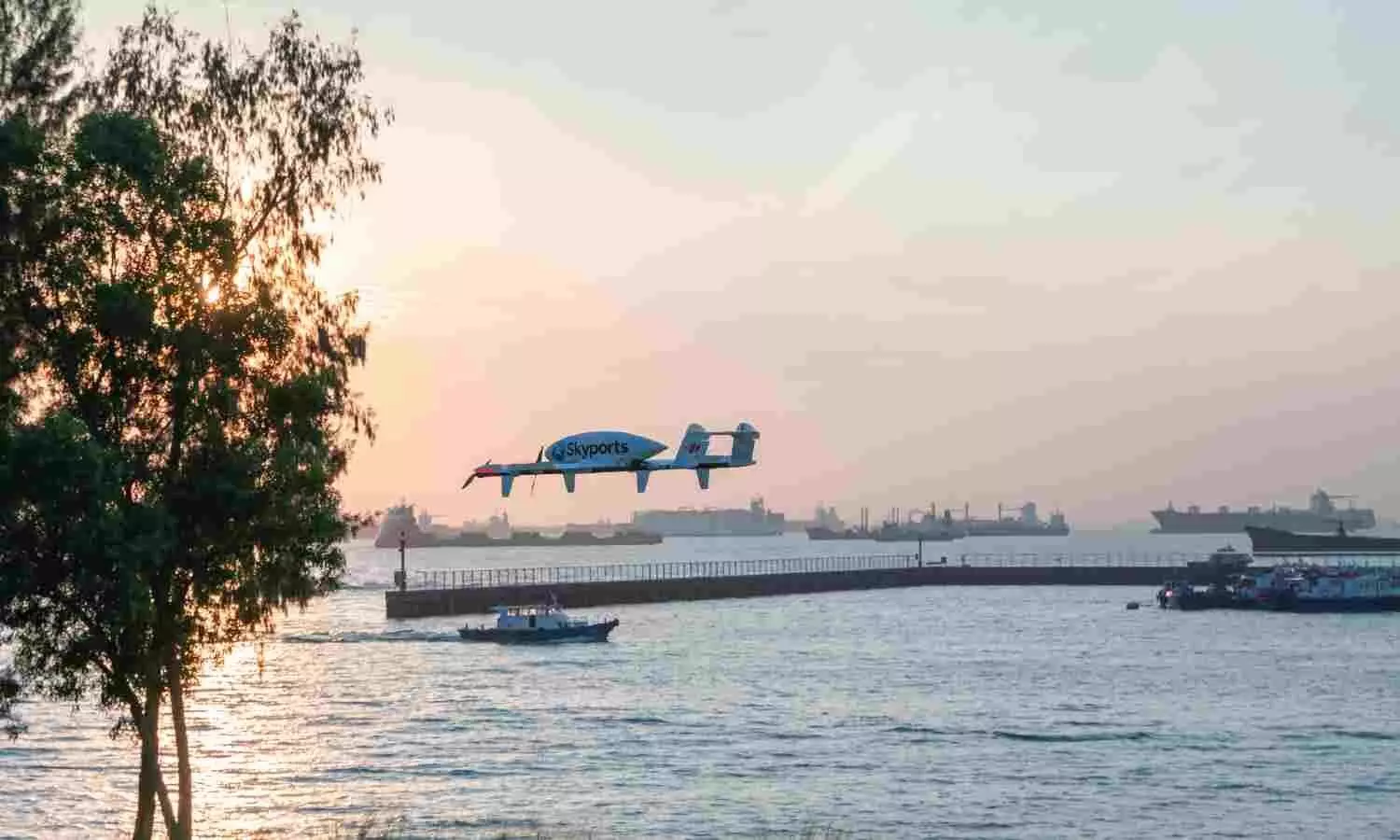 Skyports, which owns and runs infrastructure for urban aviation and manages end-to-end drone deliveries, announced a cooperation with two maritime sector giants, Thome Group and Wilhelmsen Ships Agency, during the Singapore Maritime Event 2022. Currently, the project is under testing phase and by the end of this year, the operations are planned to be commercialised.
The new partnership's goal is to commercialise marine shore-to-ship delivery services on a large scale. Skyports will examine all aspects of vessel management, including the moving of goods and supplies and the provision of pilot services.
"When drone delivery services are scaled up, we will be able to move cargo quickly across the island, out towards the vessels anchored within the port limits of Singapore. Primarily, the deliveries will support the transport of essential supplies that are needed by the ship crew. The value proposition of drone delivery services is that these processes can be executed faster, and on demand," said Sanjay Suresh, Head of Business Development and Operations, APAC, Skyports.
ST Engineering, Sumitomo Corporation, and Skyports formed a consortium in February 2022 to provide unmanned aircraft (UA) services for heavy-lift shore-to-ship parcel transportation in Singapore.
The consortium will engage major clients for maritime UA deliveries over a nine-month pilot programme, with the objective of building a UA delivery network capable of carrying parcel weights of 10 kilos.
ST Engineering will offer UA technology through its end-to-end solution, DroNet; Skyports will execute Beyond Visual Line of Sight (BVLOS) flight operations in collaboration with ST Engineering; and Sumitomo Corporation will provide go-to-market assistance, including their own fleet of vessels.
Skyports is working closely with ST Engineering and Sumitomo Corporation to develop drones that will initially be capable of transporting freight payloads of 3 to 10 kilos from shore-to-ship.
"With urgent deliveries, our focus is on providing 3D prints of spare parts, medical supplies, and bunker samples, where we will pick up the sample from the vessel, bring it to shore, and then run the test. As a result, the time it takes for the vessel to move to its next port of call is much faster," Suresh added.
"In the long run, we hope to have drones that can carry up to 50 to 60 kilos and eventually 100-250 kilos in payload capacity. We are able to make these projections based on the data that we are collecting from the trials, to chart the demands. However, it is a work in progress as different aircraft specifications need to achieve certification."
Under the trial phase, Skyports is navigating the water to assure flight safety and presenting the value proposition to authorities, all using a light-weight drone.
Skyports is also preparing to be operational at the port 24/7 and is overseeing the ground risk process, as well as ensuring that there is a proper locking mechanism for the heavier packages, such that it must be opened with some form of security before the package can be retrieved.
"We're not trying to replace anything in the business; instead we will complement existing processes and look to add value. In the long term, once delivery operations are scaled up, the industry will require many jobs to be filled such as drone operators," Suresh said.
By improving R&D, piloting marine technology (MarineTech), and building maritime cybersecurity capabilities, the Marine and Port Authority of Singapore (MPA) continues to seek to increase the industry's resilience and ability to manage disruptions.