Mightyfly wins Michigan Mobility grant for autonomous flight
Mightyfly to debut autonomous eVTOL cargo aircraft delivery demonstrations in Michigan in 2024.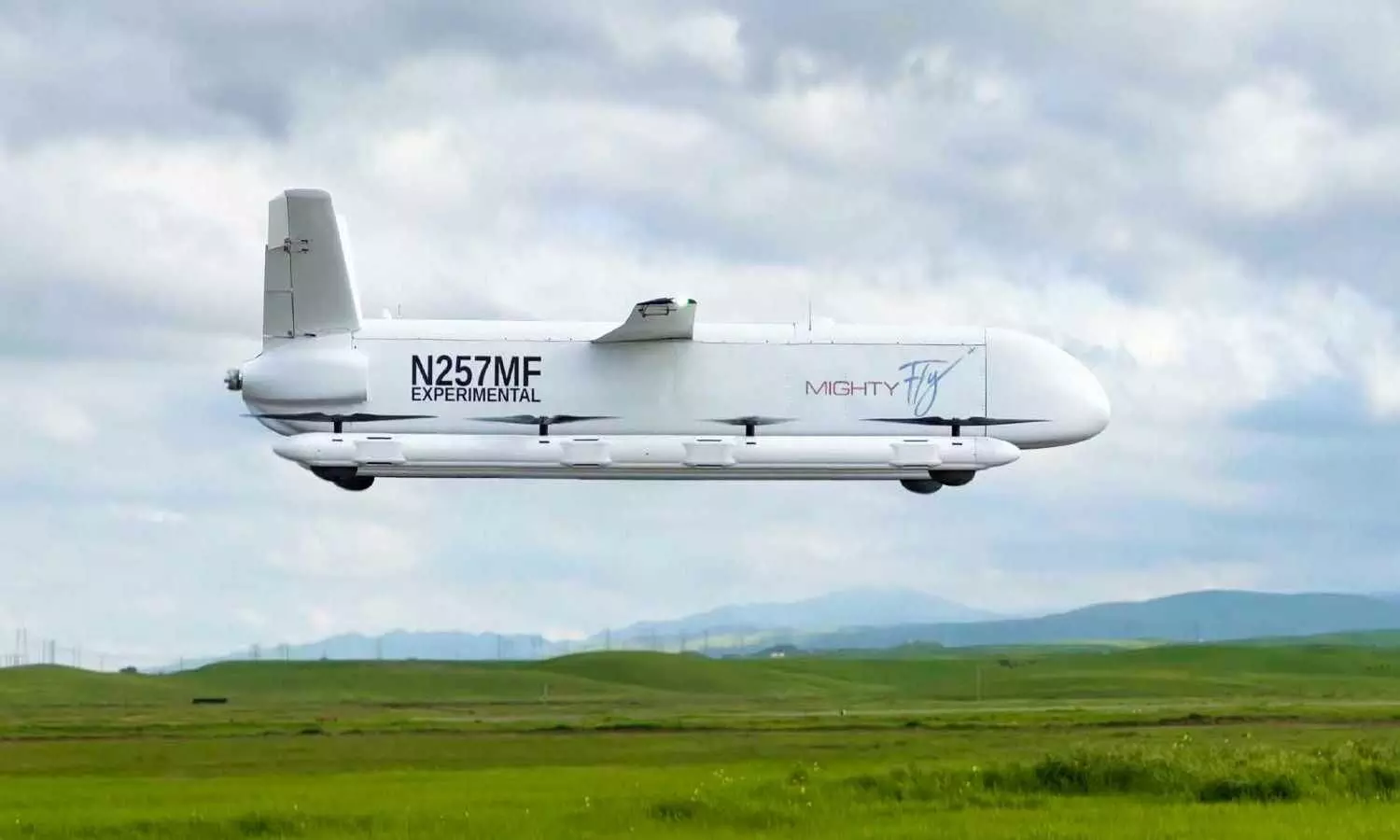 MightyFly received a $150,000 grant from the Michigan Mobility Funding Platform (MMFP) for performing autonomous cargo delivery flight demonstrations in the state of Michigan. This is planned to be the first public demonstration of an autonomous, fixed-wing electric vertical take-off and landing (eVTOL) aircraft capable of carrying 100 pounds of cargo.
During these demonstration flights, conducted with the support of the Michigan Office of Future Mobility and Electrification (OFME), MightyFly will showcase the capabilities of its third-generation autonomous cargo aircraft with 6 feet by 19 inch by 18 inch cargo bay capable of carrying up to 212 small USPS packages. MightyFly's express delivery solutions will bring new logistics opportunities to businesses and set a precedent in the world's aviation and logistics industries.
The logistics needs of Michigan's manufacturing, automotive, logistics, retail, chemical and pharmaceutical industries offer the ideal scenario for MightyFly to demonstrate a new way to ship products, parts, supplies and various goods, the release added. "Michigan businesses need express logistics, with fast, efficient and affordable same-day shipping services. MightyFly's one-shot business-to-business (B2B) delivery services will provide cost savings for just-in-time manufacturing lines, timely deliveries of crucial shipments for medical treatments, and quick replacements of fast-moving consumer goods to retailers, among many other benefits."
Manal Habib, CEO, MightyFly says: "We are excited to be the first large, autonomous, fixed-wing eVTOL cargo delivery company to demonstrate how autonomous aerial expedited logistics solutions will better serve Michiganders. This demonstration will be the first stepping stone for the efficient flow of goods across the world, making it possible for everyone to access reliable and affordable same-day deliveries."
Charlie Tyson, Technology Activation Manager, OFME adds: "We know the future of mobility is more than just vehicles – it is on air, land and sea. Michigan is uniquely positioned to support testing, development, and deployment of new technologies that will lead to more affordable, accessible transportation solutions and we are excited to support MightyFly through the MMFP programme and their continued efforts to grow in Michigan."
The MMFP grant programme is managed by the OFME and is part of a statewide strategy to ensure Michigan remains the global leader in the future of mobility. The programme was launched by the Michigan Economic Development Corporation (MEDC) and the Michigan Department of Transportation (MDOT) to catalyse and scale new mobility solutions that improve environmental sustainability by encouraging EV adoption and charging infrastructure buildout, increasing access to affordable and reliable transportation options and modernizing existing transportation systems for Michiganders.
MightyFly is also scoping and planning proof of concept (POCs) trials with partners throughout 2024 and 2025, the release added.