Is GIFT City enough to make India aircraft leasing, financing hub? No, it's not!
Foreign lessors, financiers, and airlines appreciate govt intention but bat for a more targeted approach and a shift in focus to RoIs.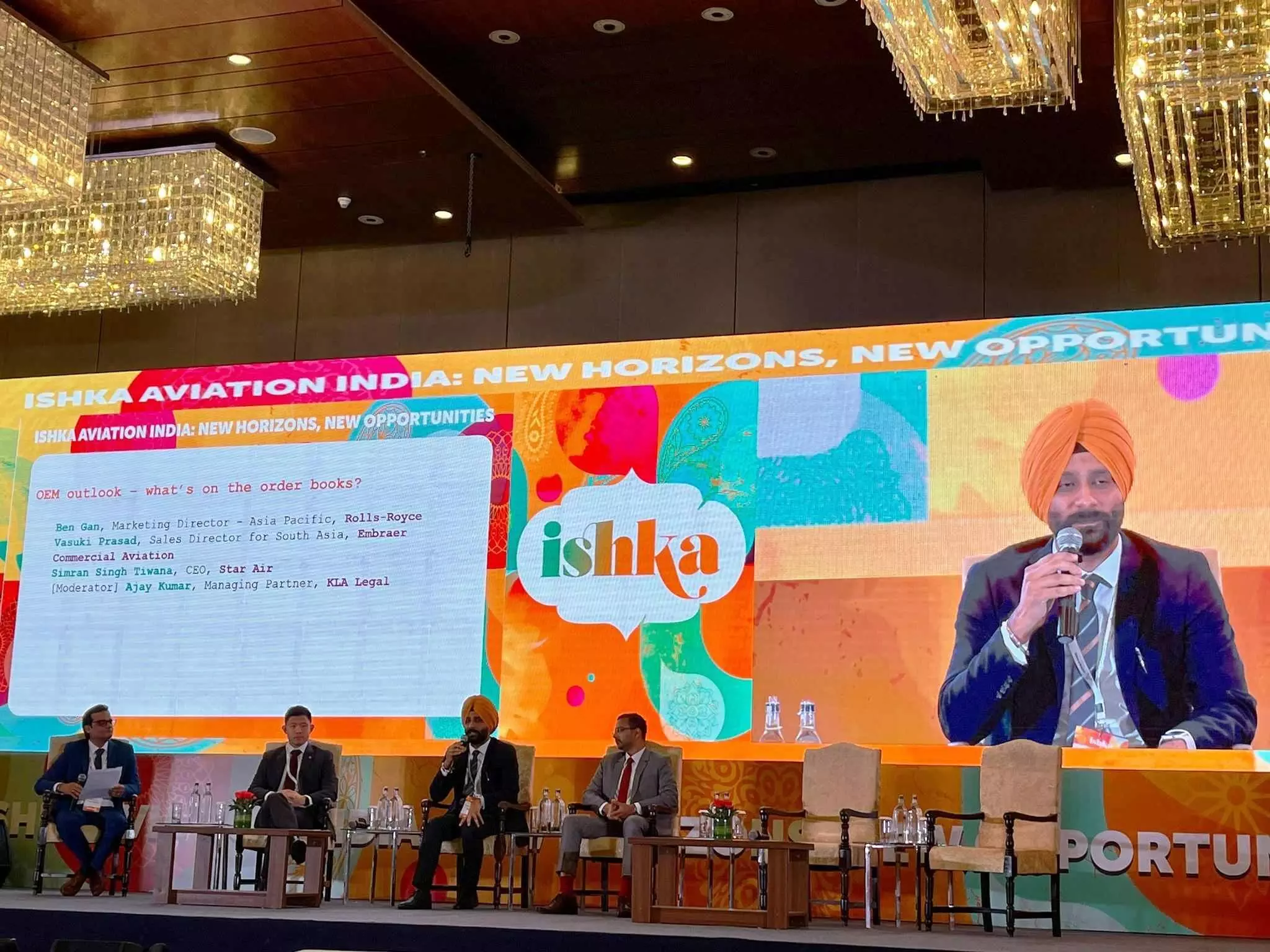 International Finance Services Centres Authority (IFSCA) and GIFT City (Gujarat International Finance Tec-City), which intend to make India an aviation financing and aircraft leasing hub, are facing solid headwinds not only in terms of attracting foreign lessors or foreign banks but also the Indian commercial airlines to the platform.
Indian commercial airlines have a fleet of more than 710 aircraft and more than 80 percent of them are on lease with most of them leased through global financial hubs like Dublin or Singapore.
Even though it's too early to write off GIFT City and must not make a mistake of not seeing the govt of India's intention behind the formation of the same, aviation stakeholders note that there is more for the govt to do regarding clearing the ambiguity like the permanent establishment clause, how customs procedures would be and how airlines can benefit.
Also, can it provide more incentives to both airlines and lessors to do business through the platform rather than say Dublin?To attract foreign aviation lessors and lenders you need to have Indian airlines onboard.
However, "Why is there not a single commercial airline made a transaction through GIFT City?, asks Satyendra Pandey, managing partner of the aviation advisory firm AT-TV.
He was talking in a panel discussion on 'Financing India's aviation industry' during the two-day Ishka Aviation India conference held on September 28 and 29 in Delhi.
Simran Singh Tiwana chief executive officer of Star Air noted that lessors are very much established in other places like Dublin and asked why would they come to Gujarat.
"Lessors want to see airlines making money and through GIFT City they want to see airlines getting incentivised," he said.
"That's the only way with which they can get their money back," he added.
He opines that right now IFSCA and GIFT City are more focused on the lessors than airlines. "Shift the focus to airlines and give them tax benefits for leasing out of GIft City," he said.
On the other hand, foreign lessors want to see Indian money going into GIFT City and prove the benefits it is offering.
Why are you seeking foreign capital when there is no Indian capital flowing into GIFT City?, asks one of the foreign engine lessors.
Mukund Santhanam, Commercial, Airborne Capital, blamed it more on inertia as the aircraft leasing hubs like Dublin have a reputation of many years and their regulatory and tax structures are smooth.
"It is not enough to give a similar environment to attract these financiers and lessors. The regulators should focus on both the lessors and the airlines and offer incentives to both," he said.
To articulate the argument better, Suthesh Selvaratnam, vice-president leasing Asia Pacific, AerCap, the world's largest aircraft leasing company, noted that IFSCA and GIFT City are focused more on the mitigation of downside risks while what they are more interested in is the return of investment (RoI).
IFSCA and GIFT City
The Indian finance minister Nirmala Sitharaman in her union budget speech of 2019-20 said, "As the world's third largest aviation market, the time is ripe for India to enter into aircraft financing and leasing activities from Indian shores. This is critical to the development of a self-reliant aviation industry, creating aspirational jobs in aviation finance, besides leveraging the business opportunities available in India's financial Special Economic Zones (SEZs) namely International Financial Services Centre (IFSC). The government will implement the essential elements of the regulatory roadmap for making India a hub for such activities."
The govt of India established IFSCA in April 2020 as a unified regulator. GIFT City is the first and only operational International Financial Services Centre (IFSC) in India and one of its aims is to make India an aircraft leasing hub.
Dipesh Shah, Executive Director, IFSCA told The STAT Trade Times that GIFT City is expecting to have 30 lessors and 50 aircraft to be leased through the platform by March 2023.
During his presentation at Ishka Aviation India, he noted that there are already 17 lessors registered with the platform and 11 aircraft leased through it.
"India as an important market is presenting a wide range of opportunities for both domestic and foreign players in the aviation, manufacturing, MRO and leasing sectors. As a unified regulatory authority, IFSCA is offering various benefits including the free flow of capital outside India's foreign currency regulations," he said.
Vandana Aggarwal, Senior Economic Advisor (Ret'd), MoCA noted that there are more than 6,00 cases of foreign lessors pending in the Indian courts just because of the taxation issues.
"The outright advantage of IFSCA is that it can avoid all such cases," she said.
Current Indian aviation industry
The absence of banks and big financiers was noted in the event and was used to claim that there is a lack of confidence among foreign banks in the Indian aviation sector due to inconsistencies in Indian regulatory frameworks and rigid tax structures and the recent history of insolvencies among Indian airlines including Jet Airways.
AT-TV's Pandey agrees that the Indian aviation market shows a lot of growth potential but expressed his doubt in terms of profits they could make, citing the examples of Kingfisher and Jet Airways, and being attractive to the lessors and lenders.
"Banks have already burned their fingers. Quality of cash flow, balance sheet strength, transparency of corporate governance will give lenders some comfort," he said.
Pandey suggested that India should focus on minimising the risk and operational challenges to attract more players and capital into IFSCA and GIFT City for aircraft leasing and aviation financing.
"And airlines will come to the table only if they are substantially incentivised or pushed," he said.
Nitin Sarin, Managing Partner, Sarin & Co raised the issue of the Cape Town Convention and its applicability in India during the panel discussion on 'Regulatory support for Indian aviation and its investors.'
He noted that there is a fear among Indian stakeholders that once the convention comes to full force in India, the Indian government would lose its control over certain things and they will be at the mercy of big foreign players.
"There is definitely a misconception among the Indian airline community," he said.
"Earlier big players could easily go to the government and ask for regulatory changes through parliament favouring Indian players. However, it won't be the case going forward," he added.
Meanwhile, Gautam Acharya, Advisor - Legal & Regulatory Affairs, Jet Airways, citing the insolvency process of Jet, noted that regulatory agencies should act quickly to the changes and happenings in the aviation market.
As aircraft lease rentals are an important part of the airline bills, along with the fuel, he believes in the intention and purpose of IFSCA and GIFT City but stressed it is enough for the current Indian aviation market.
In the discussion on having leasing and financing activities happening through India, there was also a comparison drawn with China. The speakers were quick to dismiss any such comparisons as China follows a centralised governance structure and the compulsion to route the leasing activities of the Chinese domestic market through their free trade zones.
Anand Ramachandran, the chief financial officer of the Dublin-based aircraft leasing and asset manager Airborne Capital, who noted that they are considering operating through IFSCA, stressed that India needs to have a financially healthy aviation industry and earn the confidence of foreign players.
He said, "International banks need to have confidence that they can enforce the security of their money which is currently lacking in the Indian aviation market right now."
On the same line, Carst Lindeboom, Sales Director Asia Pacific of the Amsterdam-headquartered aircraft lessor in TrueNoord, informed The STAT Trade Times that he is not very keen on coming to GIFT City or leasing from there because he can't still see an extra advantage for operating from India. But he also informed that he would instead prefer to do it through a company already established in GIFT City.
Vasuki Prasad, Sales Director for South Asia, Embraer Commercial Aviation, noted that the Indian domestic aviation market and the airlines are not fully recovered from the Covid-19 pandemic impact.
"September 2022 capacity is only 90 percent of that in Sept 2019 while the passenger is at 89 percent," he said.
But he pointed out that the RCS Udan scheme is doing a very good job in connecting the airports which were not connected before and is ensuring much-needed support to regional airlines.
"Lessors will be very happy," he added.