Colossus of the skies runs aground
As the aviation world bids adieu to the A380 or the 'giant of the skies', a look at its epic journey that captured the imagination of millions across the world and its 14-year-old dream run which is slowly grinding to a halt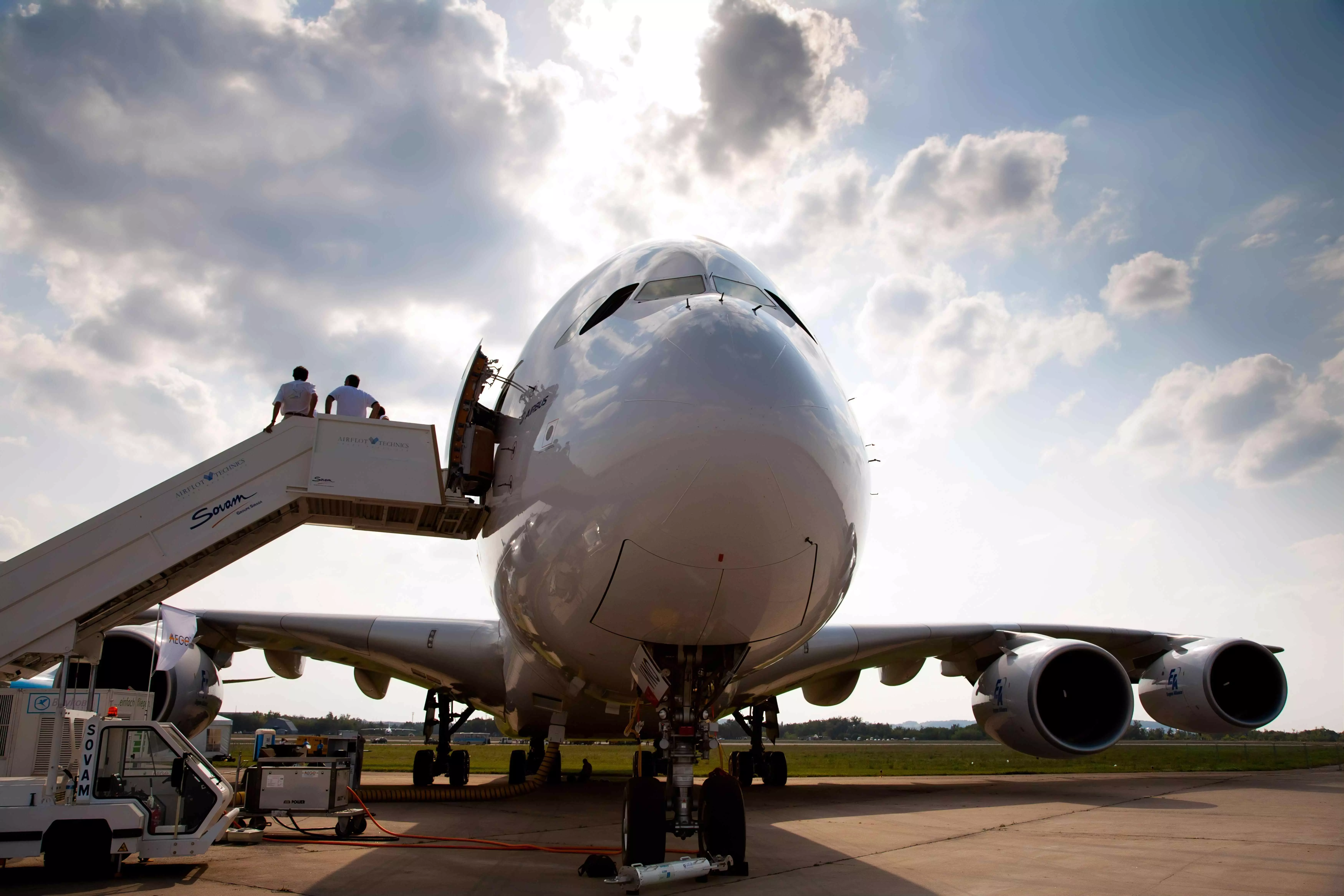 Launched in December 2000, the 'giant of the skies' or the A380 is the world's largest wide-body passenger airliner produced by Airbus for long-haul travel. It was in fact the first new aircraft programme of the 21st century, whose concept and creation flagged off a new standard in aviation and propelled European aircraft maker Airbus to become the leading multinational aerospace corporation that it is today.
While studies on the model began in 1988, the project was announced in 1990 and this model was brought on to challenge the dominance of the 53-year-old Boeing 747 also called the 'grand dame of the skies'. Interestingly the advent of the Boeing 747 had signalled a similar turning point in modern aviation back in the '60s.

The A380 could seat up to 853 passengers and was the only commercial aircraft then to have two full decks. A 'game changer' of its time, Airbus took 11 years to make the aircraft by which time its development went from a projected cost of $11.3 billion initially to an estimated $25-30 billion by 2016.
SIZE MATTERS
Popularly known as a 'Superjumbo jet', the four-engined, double-decker A380 was the world's biggest aeroplane and was larger than the Boeing 747 Jumbo Jet, which was its close rival at the time. Size became its calling card with its overall length being 72.7 m, height being 24.1 m and a wingspan (geometric) of 79.8 m and with a maximum fuel capacity of 320000 litres.
Put simply, the weight of the external paint of the A380 (topcoat plus primer) was a whopping 531 kgs. The 280,000 lb of take-off thrust across the wings had the horsepower equivalent of around 2500 family cars (at 110hp each).
GLAMOUR IN THE SKIES
The A380 airliner came at a time when flying was becoming more affordable and a preferred mode of travel and it did well considering that it carried double the number of passengers at the same cost of maintenance.
Each delivery of the jumbo jet was hailed with rapturous epithets and paeans were written about the high glamour it brought to the skies. These luxuries included first-class sleeper cabins, first-class private suites, showers and bars at 38,000 feet. The A380 became the last word in luxury to its premium passengers and some carriers even included showers, lounges, spas, duty-free shops and fully stocked bars on both decks of the A380s.
Hailed for having the best cabin in the sky, to wider seats (up to 19 inches in economy), the quietest and smoothest flight, the widest main deck of an airliner, larger windows, the A380 held the world in its thrall! In a battle to fill up their seats with high-fliers, many airlines rolled out entertainment systems and video games, first-class cabins with double beds, LCD TV's, leather seats, sliding doors and window blinds for privacy, plush bespoke interiors among many other luxe features.

Interestingly the first A380 delivery to Singapore Airlines in October 2007 was nothing short of a spectacle. On its arrival from Toulouse, France to Changi airport in Singapore, the jumbo jet was received by PM Lee Hsein Loong and other VIP's, even as the event was followed arduously by the world media and journalists in three locations to much global fanfare.

Such was its glamour quotient that in 2014, luxury department store Harrods teamed up with British Airways to host a fashion show on its new A380 at 30,000 feet in the air, en route from London to Johannesburg.

Among some of the remarkable features, the A380 packed included it being the only aircraft to offer more than 500 seats with high profitability with a maximum seating capacity of 853. While 249 A380's have been delivered to date to 14 customers, including Asiana, British Airways, China Southern, Emirates, Etihad, Korean Air, Lufthansa, Malaysia Airlines, Qantas, Qatar Airways, Singapore Airlines, Thai Airways and ANA in more than 70 destinations, it has carried more than 300 million passengers thereby clocking in 7300000 flight hours.
EMIRATES CONNECTION- A SHARED AMBITION
The Dubai based carrier Emirates Airlines was and remains the largest customer of the Airbus A380 with the aircraft making up around half of the airline's fleet along with the Boeing 777. The close collaboration that Emirates shared with Airbus in fact shaped the identity of the A380 over the years and the story of the A380 is closely linked to that of the Emirates. While the A380 was launched to counter airport congestion and fly to global hubs, the aircraft allowed Emirates to become a long-haul carrier and connect to global airports and fly more than 500 passengers to several of these destinations.
Harking back to this unique partnership, renowned air cargo and aviation veteran and executive Ram Menen spoke to The STAT Trade Times about how Emirates aided in the development and modifications in the cargo side of the A380 by optimising the available capacity which then went to every A380 produced since.

Menen said, "I think in general, up until the A350, there hasn't been much focus on cargo. So they(Airbus) were just building great passenger aeroplanes. When the A380 was built, the cargo wasn't really in their focus. Initially, when the aeroplane was presented to us, it carried about 550 passengers and carried about one and a half tonnes of cargo. So then we sort of worked with them and got them to modify and reconfigure the front hold, the forward hold and the tunnel. The tunnel area was designed for loading six LD-3 cargo containers and so we got them to modify that to take on three pellets which were 125 by 96 inches pallets. So that immediately gave us a lot more volumetric capability and this gave us about 30- 40% more volume. And, then we also got them to modify the front and forward hold of the plane. And by the time they finished in the initial stages, their aircraft could carry about 16 tonnes of cargo. So on an Emirates flight full of passengers, we could carry about 14 and a half tonnes of cargo which a lot of other airlines couldn't do because they were voluming out at about 7-8 tonnes. But we utilised the maximum space available."
BEGINNING OF THE END
With rising fuel prices, more and more airlines began to prefer smaller aircraft that were more economical to operate, leaving Airbus struggling to find takers for the reportedly $400+ million plane, making it the most expensive commercial passenger aircraft ever made.
Post the raucous reception, trouble began when A380 was not ordered by any American airlines except freight carriers and even major European carriers like Lufthansa, British Airways and Air France bought the superjumbo in small numbers despite it being a symbol of European technology. In 2016, Airbus announced that it would cut its production to one jet a month by 2018. While many air carriers cancelled orders of the A380, in February 2019, Airbus said that it may have to halt the costly A380 programme after its biggest customer Emirates cut its order size by 39 planes.

In 2019 Emirates had struck a deal to buy 39 A380s but later switched to orders of the smaller A350-900s and A330-900s and announced that it would go ahead with 14 A380s instead, with the last delivery slated to happen in 2021. Accordingly, the final A380 aircraft was made to Emirates in Hamburg on 16th December 2021, which was the 251st and last A380 delivered by Airbus.

"We have no substantial A380 backlog and hence no basis to sustain production, despite all our sales efforts with other airlines in recent years. This leads to the end of A380 deliveries in 2021," said Airbus Chief Executive Officer Tom Enders on the decision to wind up production of the A380.

Interestingly despite the passenger appeal for travelling on superjumbo jets, earlier this year in July, Boeing also announced that it would wind up the production of the 747- which was touted to be A380's closest rival in 2022.
CHALLENGES GALORE
A series of developments with the last being the Coronavirus pandemic led to the grounding of the superjumbo aircraft.
CHANGING TRENDS
Aviation experts opine that Airbus was basically relying on the hub to hub model of aviation to continue, much of which has petered away especially during the pandemic. With flying becoming more of a necessity than a luxury, customers were now demanding direct flights to their destination rather than a long-haul flight that goes from hub to hub. The trend shifted to carriers offering more direct flights using smaller and mid-sized aircrafts.
A COSTLY AFFAIR
Despite the fanfare that met its launch, many airlines shied away from booking orders for the superjumbo, as it was priced at a whopping $400+ million up until 2018 and therefore too costly for many operators. Due to its size, the A380 needed four engines to fly and that much more fuel to burn. While it worked for some airlines to cement their long-haul reputation, it did not work out for many.
FUEL PRICES
Aviation is a highly cost-conscious industry that routinely sees fluctuations in fuel prices affect its operations. With a maximum fuel capacity of 320000 litres, the A380 was a fuel guzzler in an ecosystem where airlines were increasingly preferring to operate smaller aircrafts that were economical to operate and used less fuel. Sustainability was another grey area with climate change activists questioning the environmental impact of jumbo jets polluting the earth by their incessant use of fossil fuels.
TOO BIG
While filling an A380 to the brim with 500+passengers was a tough task for many carriers, its wingspan of 79.8m meant that airports needed special gates to operate the plane. This meant that airports needed to be renovated with special A380 gates and wider taxiways, so passengers could disembark as quickly as with any other widebody aircraft. This led to it being operable in limited and select airports that were A380 compatible thereby reducing its appeal to many air carriers. The Airbus website mentions that only 400 airports around the world are A380 compatible.
ENGINEERING COSTS
Compared to the four-engine which the A380 had, airlines increasingly began favouring the twin-engined models that were smaller, easier to fill and cheaper to maintain as they brought down engineering costs by a lot. The rising jet fuel prices also brought down the popularity of 4 engine jets.
COVID-19
The Covid-19 pandemic sounded a death knell to the A380 with air travel demand at its lowest and lockdowns reducing the number of flights globally beginning from March 2020. Due to this many airlines pivoted to using smaller and efficient aeroplanes like the Airbus 220 and retired the A380s and Boeing 747s.
NOT A FREIGHTER LATER
While the pandemic led to the grounding of 80% of aircrafts and in the reduction in cargo capacity by 50% on international routes, many airlines globally shifted to operating pax (passenger) aircrafts as cargo aircrafts also called 'preighters'. Seats were removed for dedicated cargo operations to justify the operating costs and till the third week of June 2021, close to 1461 preighters had been operated by 4 airlines.
However, this seems like a tough road for the A380, whose cargo version never took off due to a lack of interest among leading players. Menen says, "There was no freighter later for the A380 and it was never meant to be and we knew that right from the start. The A380 was never a cargo aeroplane, it was a passenger aeroplane. The residual values and the asset value guarantees were mostly nil on an A380 compared to the other aeroplanes. But most of them, like the A330s, and A320s that have come up now, have a value beyond their passenger lifetime. So beyond that 15 years, these aeroplanes can live on as a freighter for 15-16 years."

He adds, "Predominantly, about 50-55% of the cargo capacity actually still comes from the passengers' bellies. A reason why these aeroplanes will not come back, or even the Boeing 747-8, which is the most efficient cargo aeroplane that you can actually fly, is because the business case doesn't stack up for the aircraft manufacturers which is that it's not selling as a passenger aeroplane."
DOWN BUT NOT OUT
A grounding of commercial flying across the world following the Coronavirus pandemic and subsequent lull in passenger demand had led to many airlines phasing out the A380s. However, with a recovery in air travel, the A380 has staged a return to the skies after many airlines have recently begun announcing the return of their long haul flights especially the return of the superjumbo back into their fleets.
These mostly include its primary users like Australian carrier Qantas Airways, Singapore Airlines and British Airways and the Emirates. Even as production of the A380 comes to a grinding halt, the superjumbo that was the cynosure of the world for two decades is expected to keep flying for years to come as Airbus continues to support A380 operators and their fleets.
(The story has appeared in the January edition of The STAT Trade Times)