Air India orders 470 planes for expansion
First of the new aircraft will enter service in late-2023 with the bulk to arrive from mid-2025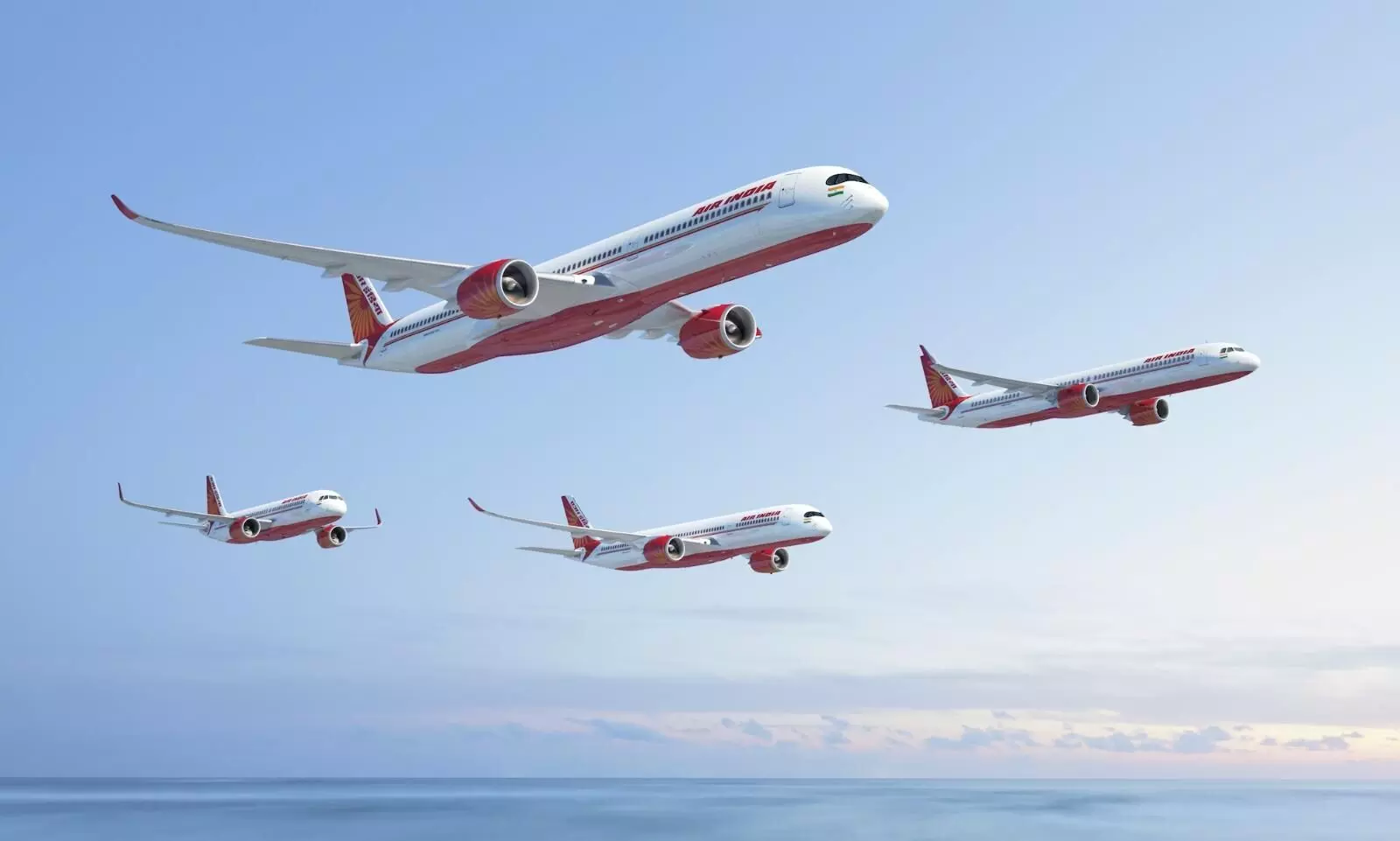 The Tata Group-owned Air India announced plans to buy 470 widebody and single-aisle aircraft from Airbus and Boeing.
"The order comprises 40 Airbus A350s, 20 Boeing 787s and 10 Boeing 777-9s widebody aircraft as well as 210 Airbus A320/321 Neos and 190 Boeing 737 MAX single-aisle aircraft. The A350 aircraft will be powered by Rolls-Royce engines, and the B777/787s by engines from GE Aerospace. All single-aisle aircraft will be powered by engines from CFM International," says a release from Air India.
N Chandrasekaran, Chairman, Air India and Tata Sons says: "Air India is on a large transformation journey across safety, customer service, technology, engineering, network and human resources. Modern, efficient fleet is a fundamental component of this transformation. This order is an important step in realising Air India's ambition, articulated in its Vihaan.AI transformation programme, to offer a world-class proposition serving global travellers with an Indian heart. These new aircraft will modernise the Airline's fleet and onboard product, and dramatically expand its global network. The growth enabled by this order will also provide unparalleled career opportunities for Indian aviation professionals and catalyse accelerated development of the Indian aviation ecosystem."

The first of the new aircraft will enter service in late-2023 with the bulk to arrive from mid-2025 onwards. "In the interim, Air India has already started taking delivery of 11 leased B777 and 25 A320 aircraft to accelerate its fleet and network expansion."
"Airbus has been a longstanding partner of Air India, and these new aircraft will play an important part in delivering Vihaan.AI, Air India's comprehensive transformation and growth strategy," says Campbell Wilson, CEO and MD, Air India. "A core element of this transformation is the significant expansion of our network, both domestically and internationally, coupled with the elevation of our on-ground and onboard product to world-class standards. This order marks the start of a new chapter for both Airbus and Air India."
Airbus order
"This is a historic moment for Airbus and for Air India," says Christian Scherer, Chief Commercial Officer and Head of International, Airbus. "India is on the verge of an international air travel revolution and we are honoured that our partnership with the Tatas and our aircraft solutions will write that new chapter for the country's air-connectivity. The A350's unique capability will unlock the pent-up potential of India's long-haul market, its technology, long reach and second to none comfort will enable new routes and passenger experience with better economics and enhanced sustainability. Alongside the A350s, the A320 Family fleets will be the efficient, versatile asset to continue democratising and decarbonising air travel in the country – from domestic, regional, up to international levels."

The agreement between Boeing and Air India includes options for 50 additional 737 MAXs and 20 787-9s. "When finalised, this will be the largest Boeing order in South Asia and a historic milestone in the aerospace company's nearly 90-year partnership with the carrier."

Stan Deal, President and CEO, Commercial Airplanes, Boeing says: "Air India's selection of Boeing's family of passenger jets shows their confidence in our products and services in the world's fastest growing aviation market, and their decision will support engineering and manufacturing jobs at Boeing factories in Washington state, South Carolina and across our supply base. With the industry-leading fuel efficiency of the 737 MAX, 787 Dreamliner and 777X, Air India is well positioned to achieve its expansion plans and become a world-class global airline with an Indian heart."
Air India has also contracted with Boeing Global Services for lifecycle support services including digital solutions, spare parts and landing gear exchange programmes, pilot and maintenance technician training, aircraft modifications and other services, the release said.
Leaders applaud deal
Prime Minister Narendra Modi congratulated Air India and Airbus on the deal.
"The deal is a testament to the deepening relationship between India and France as well as the successes and ambitions of India's civil aviation industry. Today, our civil aviation sector is an integral part of India's development. Strengthening civil aviation is an important aspect of our National Infrastructure Strategy. In the last eight years, the number of airports in India have jumped from 74 to 147, almost double the increase. Through our regional connectivity scheme (UDAN), remote parts of the country are also getting linked via air connectivity, which is promoting the economic and social development of the people."

U.S. President Joe Biden, in a statement said: "The United States can and will lead the world in manufacturing. I am proud to announce today the purchase of over 200 American-made aircraft through a historic agreement between Air India and Boeing. This purchase will support over one million American jobs across 44 states, and many will not require a four-year college degree. This announcement also reflects the strength of the U.S.-India economic partnership. Together with Prime Minister Modi, I look forward to deepening our partnership even further as we continue to confront shared global challenges—creating a more secure and prosperous future for all of our citizens."
French President Emmanuel Macron tweeted: "The contract that Airbus and Tata Sons signed this morning marks a new stage in India and France's strategic partnership. Thank you @NarendraModi, for your confidence in France and our industry."