White House initiates FLOW for supply chain data sharing
Plan includes 18 participants across the supply chain including trucking, warehousing, logistics companies and ports.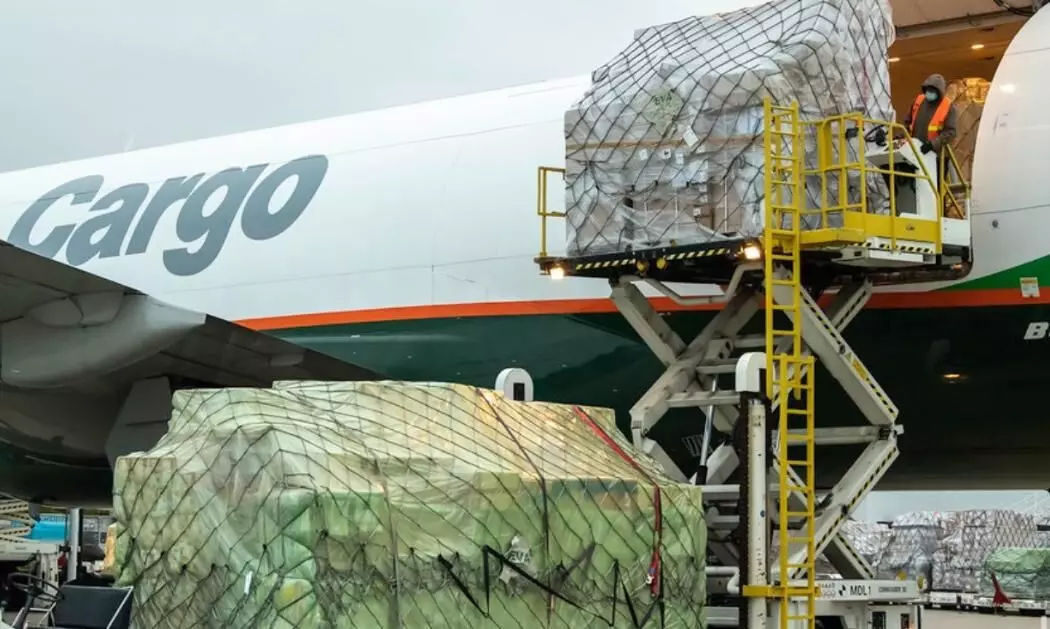 The Biden administration in the U.S. is getting into the supply chain act again with a new plan - Freight Logistics Optimization Works (FLOW), "an information sharing initiative to pilot key freight information exchange between parts of the supply chain.
"The commitment to moving the transportation logistics system to 21st century digitisation follows the commitment to move toward 24/7 operations many made last fall," reads a fact sheet issued by the White House.
The plan includes 18 initial participants across the supply chain including trucking, warehousing, logistics companies and ports - "with the hope and expectation to include more partners going forward."
Some partners include the Ports of Los Angeles & Long Beach, FedEx, CH Robinson, Mediterranean Shipping Company (MSC), Prologis and Digital Container Shipping Association (DCSA).
Director of National Economic Council Brian Deese and Secretary of Transportation Pete Buttigieg recently met key stakeholders in the supply chain to help to speed up the movement of goods, reducing delays and costs for American consumers.
"Participants discussed the success of pop-up sites at restoring fluidity over the past year and how they will be needed in the future," the White House statement added.
Participants eager to help resolve the crisis but is there a plan?
"We look forward to helping drive this important initiative forward," says Gene Seroka, Executive Director, Port of Los Angeles. "This nationwide supply chain data visibility effort will support system resiliency, improve our trade competitiveness and empower American businesses to get products to market with greater consistency and reduced cost."
Udo Lange, President and CEO of Fedex Logistics, added: "Data is critical to all participants in the supply chain, and in the ocean environment, there is tremendous opportunity to achieve better optimisation of current data by making more effective use of it from origin to delivery point. FedEx supports the administration's efforts to bring stakeholders together to begin the conversation in FLOW."
"Considering that the flow of goods through Prologis buildings represents 2.5 percent of global GDP, we play a unique role in the global supply chain," says Gary Anderson, Chief Operating Officer, Prologis. "We are pleased to be part of this effort to use data to improve the systems that support the movement of goods in this nation. We're hopeful this public-private effort will help create a stronger, more resilient supply chain."
Thomas Bagge, CEO, DCSA, said: "There are currently limited pathways for digitalised data to travel freely across the end-to-end-supply chain. As a result, blind spots exist along the shipment journey, making supply chains less predictable, and hence, less reliable. Having an interoperable digital infrastructure will help eliminate blind spots by increasing the availability and reliability of data. DCSA and its members are committed to contributing to the Department of Transportation initiative to create a standards-based, interoperable digital infrastructure."
Is all the goodwill and talk leading to concrete steps? Unlikely because various reports have already warned of fresh pain and increasing backlogs at the U.S. West Coast, and China lockdowns leading to further deterioration of supply chains.
Russia seizes over 500 planes, cargo world faces uncertainty
Russia has reportedly seized 543 Boeing & Airbus aircraft valued at approximately $13 billion, according to an analysis by Russell Group, a data and analytics company.
"The move - justified by the Russian Government as securing collateral for a depleted Russian aviation sector that has been crippled by global sanctions - is unprecedented, and will deepen the conflict between Russia, Ukraine and its relationship with the West," Russell said in its update.
(Photo Credit: Russell Group)
"The nightmare scenario that has kept many of our clients awake at night has now finally happened and it will leave a significant mark on the aviation war market on a par with 9/11," says Suki Basi, MD, Russell Group. "We are stepping up our efforts here at Russell to help our clients through this difficult moment, as it is absolutely crucial for good accurate data that can help an aviation underwriter understand and know their exposures better."

Dublin-based AerCap, the global leader in aircraft leasing and aviation finance, has 74 freighter aircraft and 2,319 passenger aircraft in its fleet.
AerCap, which is listed on the New York Stock Exchange, had reported revenue of over $1.4 billion and net income of $434 million in the third quarter of 2021,
When contacted, Gillian Culhane, Vice President, Corporate Communications, AerCap, told The STAT Media Group: "We have no comment to make over and above the statement we issued on February 28."
AerCap had
filed Form 6-K
with the Securities And Exchange Commission, the stock market regulator of the U.S. on February 28 which said: "As of December 31, 2021, approximately 5 percent of AerCap's fleet by net book value was on lease to Russian airlines."