"The key word for us in 2022 is investment"
Until last year, Air Canada Cargo operated cargo-only flights to over 30 cities worldwide, operated on Boeing 777 and 789, as well as A333 aircraft.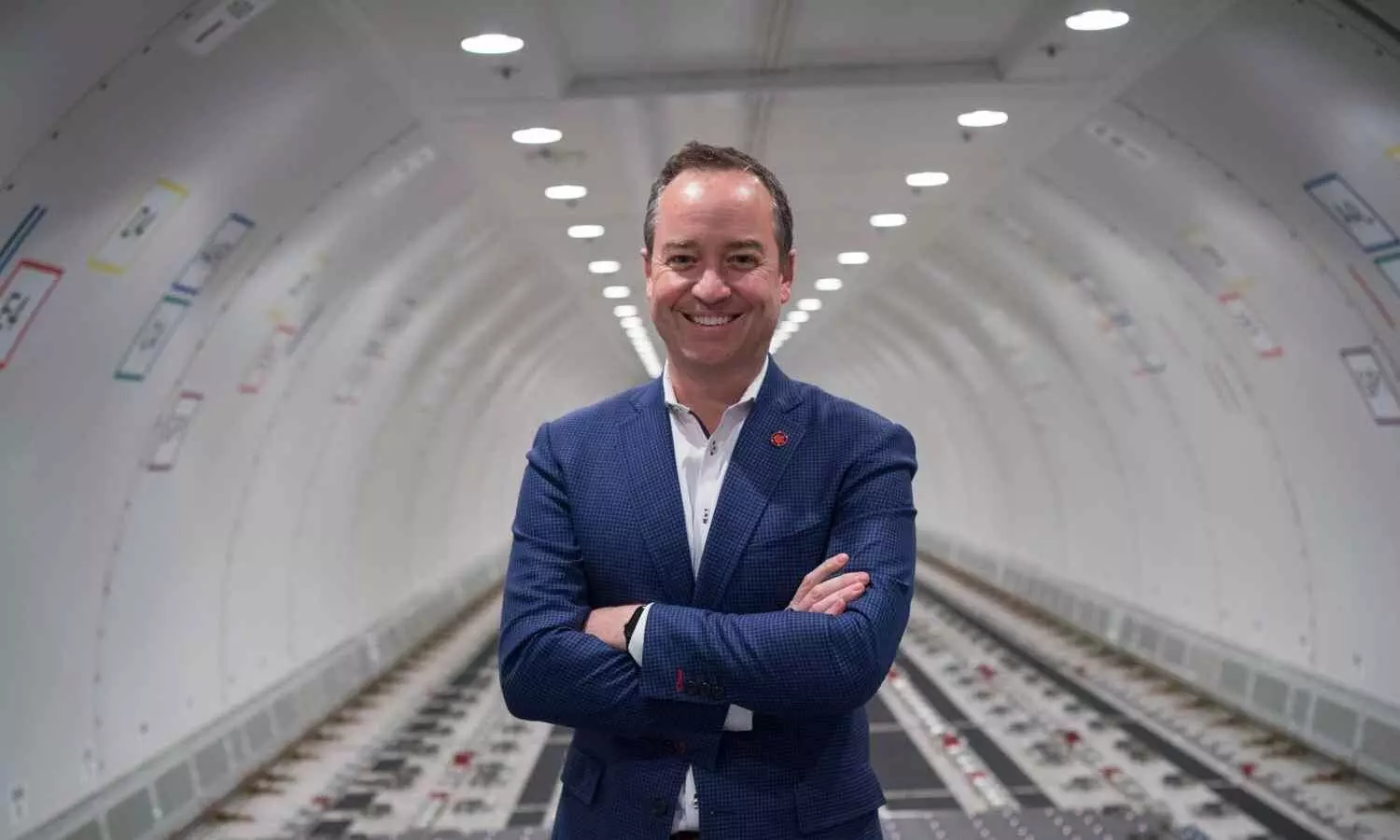 The air cargo demand in 2021 rose by 6.9 per cent, according to IATA's recent global air freight market report. Just at the peak of capacity demand, Air Canada Cargo saw this moment as an opportunity for growth and began expanding its fleet by converting the passenger aircraft to freighters.
On January 3, the cargo service subsidiary of Air Canada, inaugurated the operation of its first converted Boeing 767-300 freighter aircraft that is capable of carrying 58 tons.
Until last year, Air Canada Cargo operated cargo-only flights to over 30 cities worldwide, operated on Boeing 777 and 787, as well as A333 aircraft. This includes some Boeing 777 and A333 aircraft with seats removed from passenger cabins to allow transport of more light weight cargo.
In November 2021, the cargo division of Canada's flag carrier reported a 58 percent increase in revenue to C$1.05 billion for nine months ended September 30,2021 compared to C$634 million in 9 months of 2020.
In this interview, Matthieu Casey, Senior Director, Cargo Global Sales and Revenue Optimization, Air Canada Cargo, gets into a conversation with Zinal Dedhia about the expected converted freighter deliveries in 2022 and 2023 and their deployment into commercial operations. He also puts forward his thoughts on the increasing cargo demand and explains the reasons for a splendid cargo revenue growth in 2021.
Can you give us a sense of Air Canada Cargo's activities in 2022? Any changes that you think will change the course of cargo growth significantly different from last year?
There will be a lot of announcements this year. The key word for us in 2022 is investment. We continue to stay focused on not only our new investments that we have planned for 2022, but some of our ongoing investments too. We are going to be onboarding another four freighters this year and another three the following year. So that's really going to increase our capabilities and our capacity quite a bit. Also, as ground handling has been challenging, we continue to make some significant investments in our own facilities.
Air Canada Cargo crossed the C$1 billion revenue mark at the end of the first three quarters of 2021. What is the reason for this impressive performance during the pandemic?
There is no one single reason for this; I would say it's the perseverance and nimbleness of our teams. 2020 was a marathon where everybody sprinted to save the day. I think we were able to properly balance the short term reality, focus on our pre-pandemic strategies and some of the nimbleness that was needed to keep things going and be successful, but also pivot back towards making sure we were on track with our long term goals and objectives.
How many cargo-only flights did you fly in 2021? And how many do you plan to fly in 2022?
In 2021, we flew around 10,000 cargo-only flights using a variety of our aircraft and around 11 P2F converted aircraft. We used around 11 aircraft with the seats removed and utilized the main cabin for cargo. And then we also used some of our 787s and our 777s that were just belly and where we didn't have the seats removed. So of those we did just a little over 10,000 in 2021. In 2022 it's difficult to predict but I am hopeful that we can return these planes back for passengers to start flying again and I know the number will come down from those aircraft. But of course, we are extremely excited about getting our freighters that we are going to be flying a lot of them.
"I think we were able to properly balance the short term reality, focus on our pre-pandemic strategies and some of the nimbleness that was needed to keep things going."
Matthieu Casey, Air Canada Cargo
What does the year 2022 look like for the air cargo industry?
I am quite certain that it is going to continue to be a robust year in terms of demand and that's what we are hearing from all of our industry colleagues i.e our customers and partners. Despite some traditional belly capacity being disrupted due to omicron (a covid variant), it is starting to return and we expect it to look a lot better by the time we get later into the year. So there will be some challenges without a doubt, but I think it's going to be quite a robust year. And there is going to hopefully be a lot more stability as time goes on as people have evolved throughout 2021. I think the market is going to remain interesting and challenging, but I believe all of us have evolved sufficiently to adapt and handle and continue to excel in the context. So hopefully by Q2, things will look a little more robust again and get back on track by the end of the year.
E-commerce cargo is increasing day by day, what are your thoughts on how the e-commerce cargo business will be going forward?
E-commerce will be a big buzzword on the airfreight side, it will keep growing. We have seen e-commerce growth in the last couple of years. And there will be a continued focus on improving some of the processes around how ecommerce travels in different streams in different modes, in the chain that we control the most, the airfreight side. It is very strong and very robust and continues to grow.
There is a lot of disruption on the ocean freight side and with the rate increase, there is a shift towards air freight. Have you observed any benefits with this?
Additional volume is always welcome. So that is a benefit, I couldn't really deny that. Some of it is a benefit to the people that have shifted the mode, from ocean to air, they are seeing that they can condense some of their processes, in terms of the logistics chain. But other than the volume and the benefit is also a challenge because the volume has already been short of spectacular in 2021.
And I think some of the players from the logistics, shipping and supply chain industry have also started to see benefits with the shift from ocean to air. This could be a long term benefit for our industry.
Digital transformation is becoming an important part to meet the on-going demand. What are some of your robust strategies to implement digitalisation in your cargo business?
We started our API development a few years ago and really hit some important milestones this past year. We have already published our first set of APIs that connect effectively with our partners and our customers. We have also made some significant improvements and functionalities to our online booking portal and we went live with cargo.one, which is the first of many of which we are going forward with our digitization initiatives coming forward. Our analytics and business intelligence unit, which is mostly an internal function for us, has a lot of external opportunities and benefits.
We rolled out a couple of initiatives in the past. One was to better predict the capacity of our onboard aircraft so that we can maximize the capacity and ensure that we offer up as much capacity as we can to the market. The touch points where we see a lot of potential for challenges are data quality, we want to improve that and make sure we really don't have any data quality issues and keep things rolling quickly.