Qatar Airways Cargo partners with iNOMAD
South Korea customers will have enhanced visibility of rates and capacity when booking shipments on Qatar Airways Cargo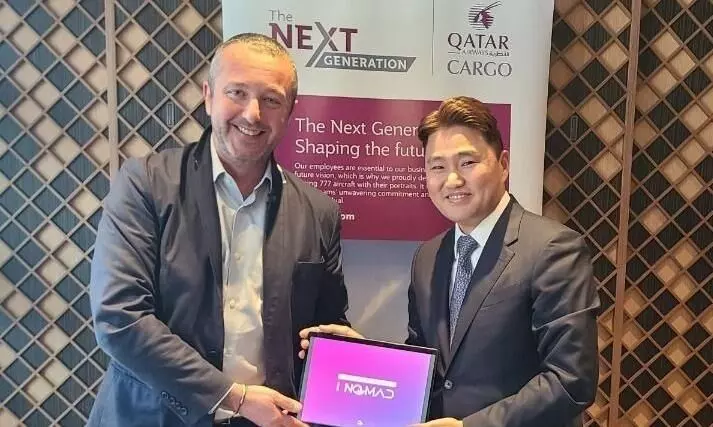 Qatar Airways Cargo has partnered with iNOMAD, a Korea-based cutting-edge air cargo platform.
The partnership with iNOMAD will enable better connectivity for Woojung Air, a prominent consolidator and one of the airline's major customers in South Korea, and also help the airline increase its footprint in South Korea as SMEs operating with Woojung Air will be able to compare Qatar Airways Cargo's offerings on the iNOMAD portal, says an official release from Qatar Cargo.
"Digital transformation is high on our agenda as part of our Vision 2027 and Next Generation Strategy," says Guillaume Halleux, Chief Officer Cargo, Qatar Airways. "The integration and partnership with iNOMAD brings multiple benefits to our customers in South Korea such as enhanced visibility of our capacity, rates as well as real time confirmation of their shipments. Customers can benefit from instant access to these features at their fingertips and that is the huge advantage digitalisation brings in."
Joon-suk Yim, CEO, iNOMAD adds: "Its strength is to promote the accessibility of air cargo service by optimising extensive logistics data for clients and providing boundless service and information to both IATA/CASS members and non-members in real-time. Developing this business, we are grateful and proud to start a new partnership with Qatar Airways, a top-tier airline, that can provide us with vital information in expanding our logistics service.
"We aim to become a search engine for the air logistics field in which clients can check the information they need in real-time, regardless of time and place. We thus plan to do our best to nourish our customised services to build a stronger partnership, cherishing the meaningful opportunity to join Qatar Airways Cargos' digital transformation."
Starting from South Korea, iNOMAD has expanded business to Hong Kong (established in 2022) and Vietnam (to be launched in 2024), the release added. iNOMAD is expecting the opening of a logistics centre of 20,000 square metres in September 2023 as an air cargo platform terminal in the Incheon International Airport equipped with various smart devices and a security x-ray inspection system to provide safe and advanced logistics services.
Qatar Airways Cargo serves a network of more than 70 freighter destinations and 150 passenger destinations. The airline's freighter fleet includes two Boeing 747-8 freighters, two Boeing 747-400 freighters, 26 Boeing 777 freighters and one Airbus 310 freighter.