'Moved by People' is more than a slogan in the Americas
Since the first dedicated Boeing 777 freighter service took off from Doha (DOH) to Chicago-O'Hare (ORD) in the U.S. on 18 August 2010, Qatar Airways Cargo network has expanded across 8 countries on the American continents: Argentina, Brazil, Canada, Chile, Colombia, Ecuador, Mexico, and the United States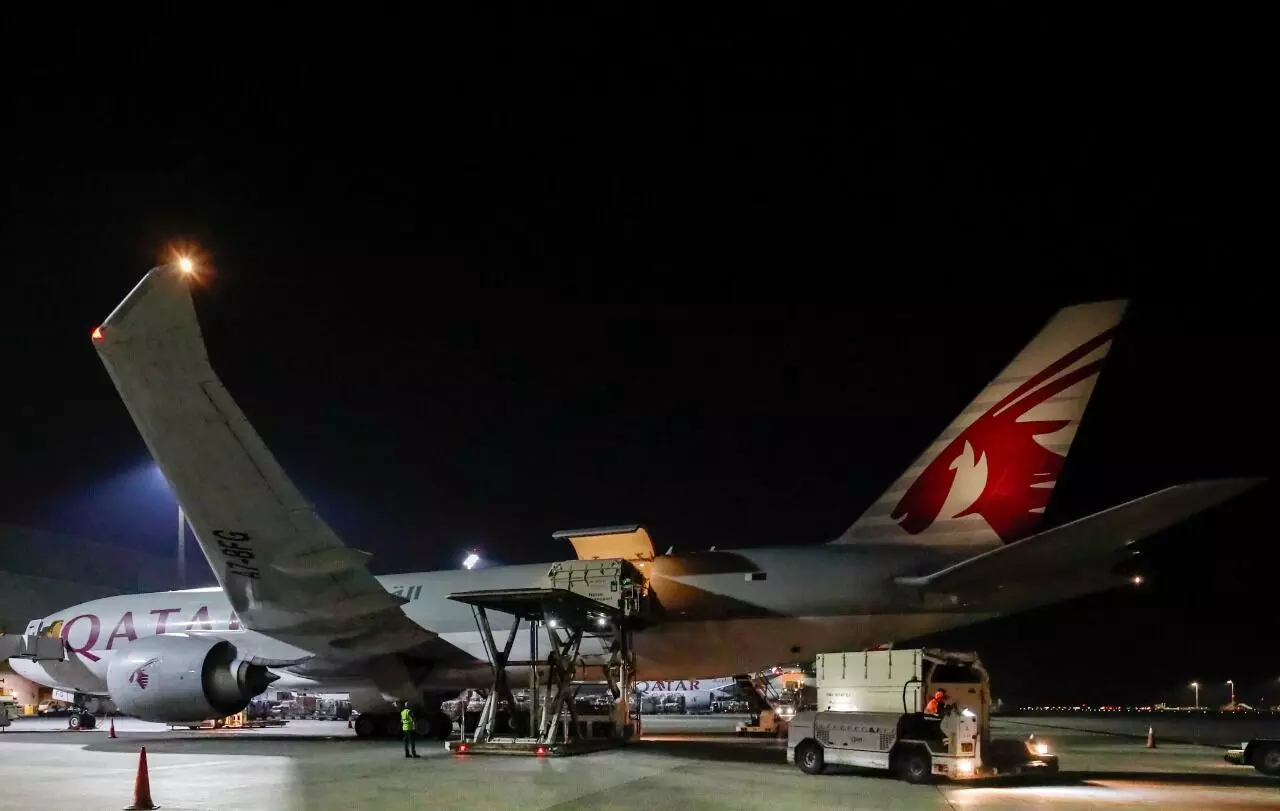 "No two days are the same," Ian Morgan, Vice President Cargo, The Americas, says. "You could also say that of the different stations in our vast region. Each has its own specialties and cargo make-up. The U.S. alone is, in effect, 50 separate countries. And then, looking to South America, the developments we have seen and been a part of over the past years, are what make working in air cargo so fascinating, exciting, and worthwhile."
Since the first dedicated Boeing 777 freighter service took off from Doha (DOH) to Chicago-O'Hare (ORD) in the U.S. on 18 August 2010, Qatar Airways Cargo network has expanded across 8 countries on the American continents: Argentina, Brazil, Canada, Chile, Colombia, Ecuador, Mexico, and the United States.
A total of 23 online and a further three offline stations are regularly served via freighters, Qatar Airways' passenger network, and a solid road feeder network. The cargo airline's top three routings include the once-weekly Boeing 777 freighter leaving Chicago (ORD) to Honolulu (HNL) and Melbourne (MEL), offering 100 tonnes of capacity, and the five-weekly service (with over 400 tonnes of capacity per week) from Quito (UIO)- to Panama (PTY), Maastricht (MST) / Liege (LGG) / Ostend (OST), and on to Doha (DOH), and the twice-weekly operation from Bogotá (BOG) to Doha (DOH), with a similar routing providing more than 180 tonnes of uplift every week. Overall, 145 flights with a combined cargo capacity of more than 4,700 tonnes of cargo capacity take off from the Americas each week.
Yet, it is the people working for Qatar Airways Cargo, who are the true driving force of the company. Ian Morgan explains "Fostering a company culture where your team enjoys coming to work and naturally assuming responsibility for the overall image of the entire air cargo industry, as well as the individual success of its customers, clearly reflects externally and attracts more business. I believe that this is what sets us apart and has earned us our position as the world's leading cargo airline in recent years. That said, we remain as humble and approachable to our clients as to when we were ranked 14th in the world."
Most employees have been with the company since the start of each station operation, and many from the teams can boast high double or even triple figures when it comes to counting the combined years of air cargo experience. Diversity is another success factor, Ian Morgan believes: "Our teams are as international as our network and, in some of our stations, we offer more languages than there are team members!"
The cargo, too, is highly diverse. Whilst general cargo makes up just over half of what is transported, the second-highest commodity is perishables: much of this from the South American flower markets, though these markets, too, are expanding into other areas: "We're seeing a diversification in the types of perishable cargo; flower markets are also starting to move fruits and vegetables. There is growth in pharmaceuticals, and a very diverse range of commodities including automotive, footwear, bovine leather, aircraft engines, oil and gas equipment, hatching eggs, and exotic fruits," Ian Morgan details.
Animals feature strongly across the entire region, though most prominently out of Miami, which refers to its unusually broad mix of land, sea, and air creatures as a "Rainforest on a Plane". Whereas Miami regularly ships monkeys, over in Houston, for example, the focus is on monkey boards, drill bits, and other essential equipment related to oil rigs. One commodity that has seen much movement across most of the region's stations recently, is Covid-19 vaccines.
"The past two years were certainly highly challenging for us," Ian Morgan concludes. "However, our air cargo market is constantly changing, and we have always adopted an adaptive approach to every aspect of our business. We listen to our customers and make certain to provide what the market requires. 'Moved by people' is more than just a slogan over here in The Americas. We make things happen."