Mixed signals for cargo charter operations
Challenges abound in the space but it is also attracting new players. So, what's happening? An industry-wide report.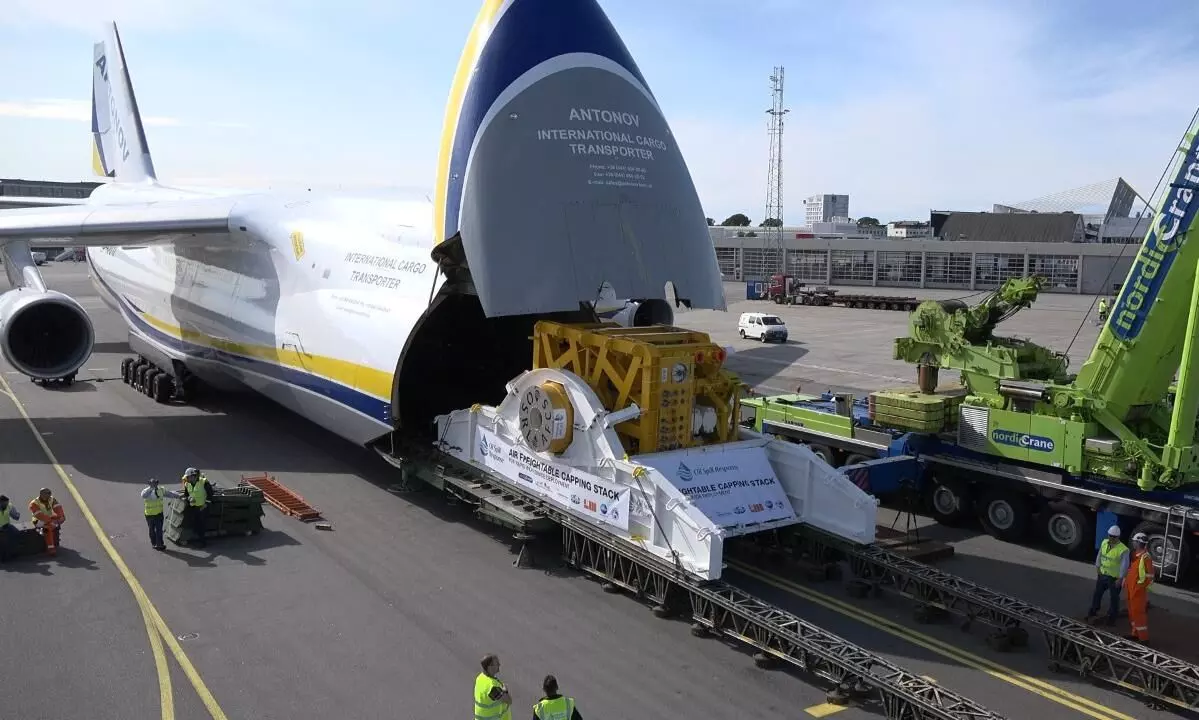 The pandemic period has brought into focus another business for airlines and freight forwarders - cargo charters. While charter business was always a part of operations, the Covid period pushed chartering to the centre stage as passenger planes were grounded, shipping faced blockages and demand zoomed for all products.
"Globally, the air cargo industry has really been put on the world map," says Neil Dursley, Group Chief Commercial Officer, Cargo Solutions, Chapman Freeborn. "At Chapman Freeborn, we are heavily involved on a global scale in supporting governments around the world. During the pandemic, firstly it was in the movements of PPE and then vaccines to multiple countries and multiple continents.

"Previously, there were the traditional freighter operators including our in-house airline Magma Aviation in conjunction with Air Atlanta Icelandic. But what we saw in the pandemic was the grounding of the passenger aircraft and, for survival, those passenger airlines modified their aircraft by removing seats. This was the P2F scenario - the passenger to freighter aircraft - and we worked on literally thousands of P2F flights throughout the pandemic. We filled up those aircraft, say from China to Europe or China to the United States, with commercial cargo as well as with Covid-related cargo. That was a real game changer for the industry. It kept the airlines flying and the crews employed, and it really helped the supply chain, which was under huge constraints and restrictions. It also helped the ocean freight business, as ports were shut down because of Covid, which created huge issues with cargo and staffing.
"In 2022, as the pandemic got under control with vaccinations across the globe, the passenger industry once again picked up. People were travelling again both for business and pleasure, and this summer we've seen a return to normality in the majority of countries. So, the passenger aircraft has returned to passenger configuration.
"Then we saw the conflict in Ukraine, which also created issues, such as the grounding of the Russian fleet including many of the widebody 747 freighters as well as Antonov 124s, both Russian and Ukrainian. So it's been a real challenge especially for the oversized cargo industry."
The latest to join the bandwagon is DB Schenker, which launched its first-ever transatlantic charters to Latin America.
The weekly freight charter flight provides 50 tonnes of capacity and expands DB Schenker's growing intercontinental flight network. Every Sunday night, the flight leaves Amsterdam and stops in New York City and Miami on Monday before reaching Viracopos near São Paulo the same day. "On Tuesdays, a direct connection can be made to Buenos Aires, and Santiago de Chile (SCL) can be reached on Wednesdays."
LATAM Cargo will be operating the new transatlantic route with Boeing 767 freighter jets.
"We already have extensive flight operations in place for Europe to Asia Pacific (APAC) and also on the Transpacific," says Asok Kumar, EVP, Global Air Freight, DB Schenker. "Building on this network we are constantly looking for further opportunities to expand our exclusive service offering for our customers globally."
Is DB Schenker late to the market? Did it miss many opportunities during the last couple of years? "DB Schenker has always been active in the charter market even before the onset of Covid," says Kumar. "In 2019, we recorded 210 full-charter freight flights. In 2020, it was 2,100 and then in 2021, DB Schenker had as many as 2333 full-charter flights.

"Around half of these were between Asia and Europe, 25 percent between Asia and the U.S., and 25 percent between Europe and the U.S. We made a strategic decision early on to extensively expand our network of full-charter connections. In the meantime, we know that this has proven to be the right decision to secure capacity on the market for our customers."
Swing up and down"We have seen huge impacts from the pandemic both during and after," says Emir Ozdabak, Regional Freight Manager - Turkey, Middle East & C.I.S, Air Partner. "During the pandemic, many companies had to close and manufacturing production lines stopped due to lock downs and this directly affected the airfreight and charter sector negatively. At the same time, there was high demand for PPE and vaccination flights. Air Partner successfully operated more than 2,000 flights all over the world.
"Once the vaccination programmes were rolled out, restrictions were lifted and a sense of normality started to return to the world and the PPE charter flights slowed down. But online shopping had become integrated into our lives and e-commerce boomed. We then started to see container shortages with sea freight, and an increase with customers using airfreight more and more as their only solution to distribute their products.
"Operators started to focus more on increasing the frequency of their scheduled flights to provide additional cargo space for their clients due to high rates and capacity shortages on air charters.
"After this period, while the market was recovering from the effects of the pandemic, sanctions were placed against Russia which have caused the rise in fuel prices, which has directly increased the costs on flights."
"The past few years have been somewhat of a roller coaster in the air charter business: during the height of the pandemic, there was a big push to source any available aircraft to distribute not only PPE and vaccines but also consumer goods, including items that would ordinarily move by sea," says Liana Coyne, Director and COO, Coyne Airways. "Certain older aircraft came out of retirement and passenger planes were used as preighters. At one point, operators could name their price and some felt little shame in setting aside contracts if they could command more money in spite of longstanding business relationships or multiple flights.

"That operator heyday waned a bit as supply deadlines were met, the appetite or ability to pay premium rates reduced and because periodic restrictions in China began to bite. However, it is still a good time to be a cargo operator: clients are interested in contracting capacity for multiple flights, and there is now less competition from belly space, preighters and Russian fleets.

"Before the pandemic, charter was very much a premium bespoke service reserved for the most pressing, high value shipments where we and other brokers would bend over backwards to make sure the customer got exactly what they wanted. The major considerations on the ground were probably runway length and the serviceability of ground handling equipment. Now, some charters are more 'standard' with cargo that would previously have gone with scheduled lift, and we have to have more of a discussion with the client to marry up their requirements with the realities on the ground: we have to look more closely at human factors - how will the crew be affected? What requirements are there for them? Will there be sufficient manpower for loading and unloading? If something is not loaded through human error, what recovery options are available? If trucking is required, are there sufficient drivers? What is the risk of lockdown? Would a secondary or alternate airport provide a better solution, given those human factors at play?"
Business challenges, tough assignments
Aircraft availability and price escalation are the key factors affecting charter business, says Ozdabak. "In any normal year, pre-pandemic, carriers and charter providers like Air Partner could plan for low/high season traffic. It seems right now, that it's hard to distinguish between the traditional freight seasons affecting all traffic lanes."
Coyne agrees and adds that the key challenges for charters are finding the right aircraft for the load, securing the best economics by finding two-way freight, making sure all the correct permissions and traffic rights are in place.. "There is also quite a lot of coordination involved to ensure that everything arrives and is loaded in time, particularly when a charter is a one-off flight and there may be limited options for recovery in the event of hiccups."
Ozdabak listed out a project executed by the Dubai team of transporting oil & gas equipment from Shanghai to Istanbul. "The cargo was oversized (especially long) and all other parties were focused on offering B747F for this cargo but the Air Partner team worked on the packing list very closely with B777F loadmasters for loadability and offered the best solution to the client.
"After confirmation, the client requested a date change on the flight due to a manufacturing delay. Shanghai airport permits and slots are very hard to get and change due to Covid-19 restrictions. Besides, availability is very tight on such widebody freighters and not easy to change after confirmation. Due to our good relations with airlines, we managed to match the client's needs and solved the problem. With support from the Air Partner Istanbul office, we also arranged permits and handling in IST locally. It was a very difficult operation in terms of loadability, date changes, permits/slots and high competition but with great teamwork between Dubai and Istanbul offices, the flight operated successfully and all parties were satisfied with the service."

Coyne had another challenge: cancellation by the forwarder: "During the height of the pandemic boom, we secured a contract with a freight forwarder to move cargo between Asia and the U.S. on a 747 freighter. We knew the operator well and had a good relationship with them but not well enough to stop them from dropping us last minute for a (significantly) better offer. It put us in a very tricky situation with the client but we were able to source 777 preighters. It was not ideal but it was workable given the client's freight profile and the skyrocketing prices for factory-built freighters. The original flights were scheduled to arrive in Chicago O'Hare airport where pallets could be easily unloaded. However, given the labour-intensive loading and unloading of preighters, we rerouted to Chicago Rockford where this would be less challenging. Thankfully, the flights went smoothly. Lately, we have found operators more willing to abide by the terms of signed contracts where cleared funds have been received."
Dan Morgan-Evans, Group Cargo Director, Air Charter Service (ACS) said challenges include meeting client expectations in the midst of "client shopping". High rates, obviously, was a reason for clients to go shopping, Evans said, "and our clients were shopping too for good rates, and in such a market, we also got some good clients."

Evans spoke about multiple challenging assignments handled by ACS recently including the "one recently when 20-30 widebody charters were to be handled from Shanghai in April, and the city went into lockdown... because we have 29 offices globally, we could manage the shift and meet the requirements of the client."

Another challenging assignment for ACS last month was transporting a telescope from the U.S to Europe for an observatory project.
Dursley of Chapman shares a challenging assignment: "Almost exactly one year ago, after 20 years in Afghanistan, NATO forces withdrew, leaving a population starving and without medication. Chapman Freeborn has almost five decades' experience in supporting various NGOs around the world with humanitarian movements and relief goods. So, shortly after the withdrawal of U.S. and NATO forces from Afghanistan, we started to operate flights into Kabul, which was under the leadership of the Taliban, which of course brought its own issues.

"But a huge humanitarian requirement meant that we were operating daily flights from multiple origin points both in Europe and also in the Middle East in support of the population in Afghanistan. It was at a time when freighter capacity was in huge demand because of Covid test kit movements and PPE. So, securing capacity was very challenging but we managed to do it working with our long-term partners that we've worked with for many, many decades. We provided a fantastic service to our clients and ultimately to the people in need in Afghanistan."
Demand may slow down
Jens Ludwig, Vice President, Global Air Logistics, Fullcharter Services, KN Airlift, Kuehne+Nagel, has a different take on the issue. "Short-term, I don't see air cargo charters gaining significantly more relevance. Coming from a relatively stable peak demand over the last two years under the Covid-19 environment, we see charter demand decreasing in 2022 on most relevant trade lanes. Returning belly capacity combined with fuel pricing increases are adding pressure.
"Charter capacity will still remain an integral part of the air cargo capacity for all major freight forwarders. In such unstable and volatile times, charter services are vital to stabilise supply chains and ensure business contingency for the world wide economy."

Sector story
"Automotive will remain a stable contributor to air charter demand but will most probably not exceed the numbers from the last two years," says Ludwig. "Also you should differentiate between real charter demand and forwarders shifting commodities into the cargo mix on their self-controlled charter network. High value and attention goods like pharma, hi-tech and semiconductors obviously will be key verticals in future charter demand."
What next?
After automotive, pharma and hi-tech, which other sector will be dependent on charters? "'Electronic chips will be essential in many supply chains of the future and this relevance will make them a suitable product for charter transportation. I do see it as a fitting commodity to be transported on the self-controlled charter network within the forwarders portfolio rather than being regular full charter demand on its own," says Ludwig of K+N.
Ozdabak of Air Partner adds: "The pandemic was a learning experience but it mostly highlighted to the world that freight plays a significant role for everyone. We rely more and more on fast logistics, the role of charter companies like Air Partner has been elevated and in high demand because of the ability to respond and deliver innovative solutions."
Overcapacity is also something to bear in mind as over 400 freighters are being ordered by many different carriers from B737-800F to the B777F and A350F, Ozdabak concluded.
"I think that the pandemic reminded us all to not take anything for granted – least of all our ability to predict the future," says Liana Coyne of Coyne Airways. "It is easy to say that capacity will continue to be an issue over the next 5-10 years as new freighter conversions come online and passenger flights resume but managing capacity is at the heart of the industry and nothing new.
"A global slowdown seems inevitable with rising inflation, higher food and energy costs and a cost of living crisis in many countries. Consumers will have less available resources to spend on non-essential items and this will dampen the demand for ecommerce, fast fashion and airfreight. I think that there will be greater enthusiasm for reducing, recycling and reusing, and a greater move towards conscious consumerism.
"The stakes of a global recession are high. The United Nations estimates that an additional 71 million people globally will be pushed into poverty. Added to this, there is the impact of climate change which threatens to undo 50 years of progress in development, global health and poverty reduction and which could push more than 120 million into poverty by 2030.
"I am quite sure that if and when a humanitarian crisis calls, the air cargo industry will answer. However, I think that there will be an onus on the industry to show not only how they can help in a crisis, but how they do not contribute to it."
On the outlook, Evans was guarded: "A lot will depend on fuel cost, inflation moves and consumer sentiment. ACS continues to go ahead with growth plans, and cargo will be a focus area. ACS is doing everything it can including hiring freshers to train them for the industry."

Dursley offers a very positive outlook. "We have literally just opened a new office in New York on 25 August, right in the centre of Manhattan, both in support of our cargo products but also our passenger products, which are expanding rapidly around the world.
"We have created four regions within our organisation - the Americas region, Europe region, India, Middle East, Africa region and Asia Pacific region. Within those regions, we are recruiting additional staff to expand our business and support our customers.
"Moving forward, we will see more of that collaboration as well as additional aircraft in our fleet be that Magma Aviation's 747s and transitioning to additional aircraft and potentially 777s to the likes of Bluebird Nordic and their 737-800 freighter fleet."