IndiGo appoints Mark Sutch Chief Commercial Officer CarGo International
Mark Sutch, who was earlier heading cargo business for Cathay and CMA CGM Air Cargo, is the new chief commercial officer CarGo International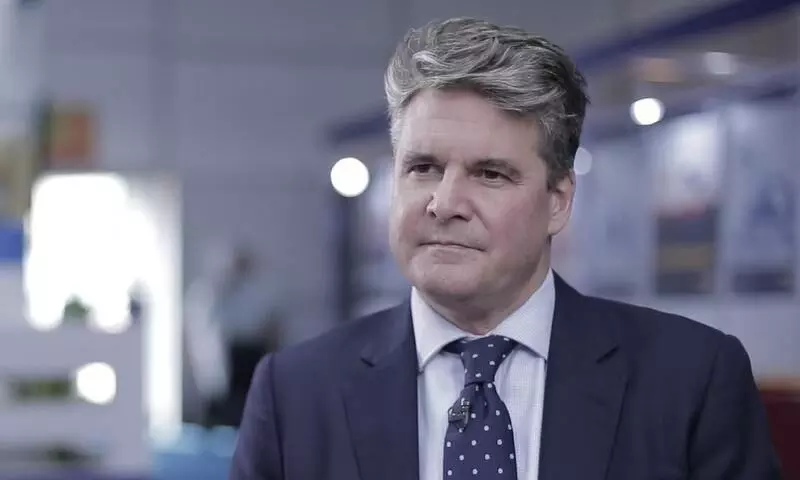 Exactly a year after quitting Cathay Pacific and leaving India to join CMA CGM Air Cargo, the new French cargo airline by shipping giant CMA CGM, as its chief commercial officer, Mark Sutch has returned to India to join IndiGo, India's largest airline, as its chief commercial officer CarGo International. He took charge on March 1 and is based in New Delhi. Sutch reports to Pieter Elbers, who became the CEO in September last year.
Sutch brings with him 25 years of airline industry experience across different verticals, including extensive cargo experience Sutch's most recent assignment was as Chief Commercial Officer with CMA CGM Air Cargo based in Marseille. Prior to that he was with Cathay Pacific Airways based for 5 years in Mumbai as the airline's regional general manager for South Asia, Middle East and Africa. He also previously ran all commercial aspects of Cathay Pacific's cargo division in their Hong Kong head office.
Starting March this year, IndiGo has restructured its cargo business by having two business Leaders for cargo, focusing on the domestic and international business, respectively. Mahesh Kumar Malik, who was appointed in May last year as chief commercial officer, will now be responsible for IndiGo's domestic cargo business while Sutch will head the international cargo business.
"I am very excited with this opportunity at IndiGo. As the airline's international network and frequency grows, there is an opportunity for IndiGo to build world class cargo products and solutions using both its A321 freighters and extensive belly capacity. This will support India's growing air cargo export and import demand. I look forward to being part of the great IndiGo success story," Sutch said in a statement released by IndiGo.
Commenting on the new appointment and the rejigging of the cargo business Elbers said, "Mark brings a wealth of industry experience that will support IndiGo to further expand our cargo business. I would like to thank Mahesh for filling in the two cargo roles combined for the past period." IndiGo CEO hopes that the latest change will take IndiGo CarGo to even greater heights.
Over the last few years, IndiGo has been slowly and steadily building its cargo business and growing its cargo volume carried in the bellies of its passenger aircraft. In fact, as per the International Air Transport Association's (IATA) World Air Transport Statistics for 2020, IndiGo was among the top 25 carriers in the world in Scheduled Freight Tonnes carried and Scheduled Cargo Tonne kilometeres for domestic freight.
After a successful makeover of some of its passenger fleet to carry cargo in cabins during the pandemic and in the prolonged lockdowns in 2020 and in 2021, the InterGlobe Aviation-operated carrier decided to add freighters to its fleet. The first A321 passenger to freighter converted aircraft joined the fleet in September 2022 followed by a second one in December. Commercial operations began in November between Delhi and Mumbai largely carrying general and ecommerce cargo. Its first international flight was between Kolkata to Yangon in November 2022.
The converted freighters offer 24 container positions and support a payload of up to 27 tonnes. The aircraft are converted by ST Engineering and Airbus with their joint venture, Elbe FlugzeugWerke (EFW) in Singapore. IndiGo has leased the aircraft from funds serviced by Castlelake Aviation Holdings (Ireland) Limited. Two more freighters are expected to join the fleet; however the timelines for their delivery are unknown.
According to an earlier release from IndiGo, the A321 converted freighters are capable of servicing markets between "China in the east and the Gulf in the west, not forgetting the CIS (Commonwealth of Independent States) countries to the north".
As part of IndiGo's renewed focus on cargo, Malik was appointed chief commercial officer of IndiGo CarGo by the then chief executive Ronojoy Dutta. Before Malik, it was Willy Boulter who held the responsibility of cargo business for IndiGo for more than four years besides being the airline's chief commercial officer. Boulter retired in July last year.
IndiGo has a codeshare agreement with Turkish Airlines and the partnership allows IndiGo CarGo to access important international cargo markets in Europe. IndiGo CarGo now connects to 16 airports in Europe. As IndiGo plans to extend the partnership with the Turkish carrier to the US and Canada, IndiGo CarGo is strengthening its cargo value proposition to Indian exporter and importers.
Recently, IndiGo also wet-leased two wide-body Boeing 777 aircraft from Turkish Airlines to operate Istanbul passenger flights connecting Mumbai and Delhi. IndiGo started operating the first B777 on Delhi-Istanbul route last month. These flights also offer considerable belly cargo capacity to IndiGo. Depending on the type of cargo, these aircraft can carry cargo weighing up to 30 tonnes.
In a recent interview Elbers said that IndiGo's cargo operations are still in a "start-up phase", which he said will "stabilise" in the coming months. "It is a relatively new business for us," he was quoted in a recent report.
Perhaps, by picking Sutch, Elbers has made the wise decision and found the right person to grow and stabilise the cargo business in the coming months and years, despite the current headwinds in the global air freight industry.
Sutch has deep connections in India and has an extensive network of shippers and freight forwarders spread across the world. He has been very vocal about his desire to come back to India in some role following his decision to quit CMA CGM Air Cargo three months after joining the company which he thought, at the time of recruitment, had promised him a runway to build a commercially successful start-up cargo airline with its hub in Paris Charles de Gaulle Airport.
However, following CMA CGM's decision to go for a 10-year-long strategic partnership with Air France-KLM in the air cargo market and a commitment to take up to nine percent stake in Air France-KLM, announced in May last year, Sutch found his role redundant. The agreement allowed partners to together to operate the full-freighter aircraft capacity of the respective airlines consisting initially of a fleet of 10 full-freighter aircraft, and an additional combined 12 aircraft on order.
Suth left CMA CGM Air Cargo in early July last year. Since then he was looking for exciting opportunities in aviation and air cargo. He was approached by some but he was quick to take up the IndiGo offer as he has always been very optimistic about India and the country's potential in aviation and air cargo.
Indian airlines are augmenting their cargo capacity as air cargo emerged as a crucial and promising revenue stream during the pandemic years. The freighter fleet in India increased further as established airlines like IndiGo, SpiceJet, and Bluedart inducted more aircraft for carrying freight.
In fact, late last year and early this year India saw the launch of two more new all-cargo carriers. Pradhaan Air Express launched its commercial operations from Delhi in October 2022. Pradhaan operates the world's first A320 converted freighter. It will add the second aircraft to its fleet very soon followed by two more later this year. Within three months of its launch the cargo carrier had completed more than 100 flights. Most of these flights are for international cargo connecting Delhi with Hanoi in Vietnam.
Early this year, QuikJet Airlines was relaunched, now as part of ASL Aviation Group and AFL under a new Air Operator's Certificate (AOC), and the Bangalore-based cargo carrier began operating for Amazon. Amazon in India will use the full capacity of a Boeing converted 737-800 freighter, painted in Amazon Air livery and operated by QuikJet, hauling ecommerce giant's packets linking Delhi with Mumbai, Hyderabad, Bangalore and Coimbatore.