How innovation led digitalisation revitalised the air cargo industry?
Digital transformation and sustainability became the two megatrends of 2021 as a response to the pandemic and the wider supply chain crisis. However, it was the efficiency and reliability of digital processes and innovations, where human error is reduced and which presented great cost savings and risk reduction for businesses worldwide that seemed to have caught on when it comes to the air cargo sector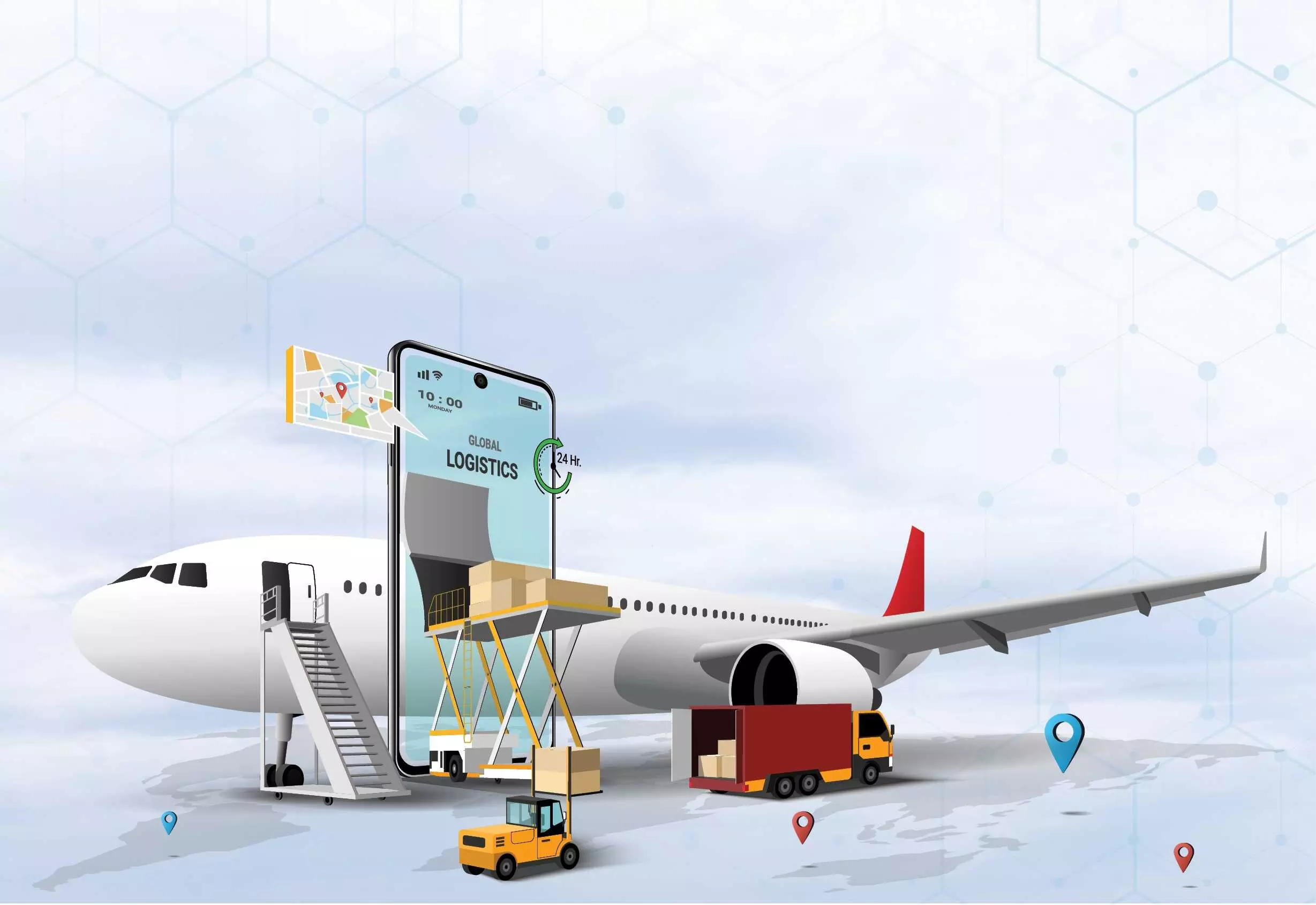 For years the air cargo logistics industry has remained marred with inefficiencies, paperwork, and opaqueness in the supply chain with several of its important stakeholders working in information silos.
While many systems and processes are still manual, this lack of innovations can be attributed to regulatory oversight, resistance to change, large legacy infrastructures, differing standards, and or lack of capital.
However post the outbreak of the Coronavirus pandemic in March 2020, the grounding of air travel globally, the subsequent momentum in the fortunes of the air cargo industry, the enormous task of vaccine distribution, the spurt in e-commerce, and the recovery of the transportation and logistics industry is what has characterized this period till now.
With the world having witnessed a cascading supply chain crisis, rising fuel and input costs, and an uncertain macroeconomic environment, the air cargo industry withstood both acute constraints in supply and an unprecedented increase in demand. This coupled with disruptive technological advancements has led to a mindset shift among the air cargo industry towards the adoption of technology and digitalisation to narrow the gaps existing in supply chains and service their customers efficiently.
"Some of the recent innovations include the adoption of dynamic pricing by airlines which allows them to maximize revenue and also provide quicker quotations for the forwarders that require them at a moment's notice. - Matthieu PETOT, CargoAi
Innovations that may have taken years to roll out were adopted within days or months across the value chain in many areas. From sensors capable of tracking location and condition of shipments to digital tags, 3D scanning, digital identification, innovative, interfacing legacy systems with open architecture-based software, AI-led machine learning to analyze swathes of real-time data, improving track and trace via Bluetooth, or electronic devices, to wearable robotics, air cargo logistics went digital in a multitude of areas. Incidentally, the leading trade body International Air Transport Association (IATA) also hosted its first ever 'Innovation Day' at its Geneva, Switzerland office on 31 May 2022.
Making cargo interactive
The power of technology and data has ensured today that cargo can today communicate things about itself even before leaving the source and breaking information silos.
Cathay Pacific Cargo, for instance, deployed the Descartes CORE Tracking Bluetooth Low Energy (BLE) readers, tags, and network to several airports worldwide as part of its Ultra Track cargo tracking service. With near real-time visibility into shipment status and location for airport-to-airport moves of high-value goods, Cathay Pacific transformed the customer experience while reducing operational costs.
"In terms of first and last mile shipment tracking, innovative cloud-based technology can provide the air cargo industry with real-time visibility/ETA for ULDs and shipment status updates. Customer expectations have moved from "Where's my stuff?" to also include "How's my stuff?" The condition of goods in transit has been especially critical for high-value goods and pharma shipments in particular. This particular technology innovation has been enabled by the advancement in next-generation equipment tags and readers to monitor the location and condition of ULDs and their contents, including temperature, humidity, light, movement, security, and chain of custody of goods," shared Scott Sangster, General Manager, Global Logistics Service Providers at Descartes.
"This innovation has also increased the ability for asset owners to charge detention and demurrage on assets not being properly returned to owners, which has led to increased revenue," Sangster added.
Previously an average air cargo shipment had 30 types of documents, over 124 copies of paper, and was supposed to stay on the ground for about 85% of the total transportation time for paperwork. The efficiency and reliability of digital processes, where human error is reduced, present great cost savings, and risk reduction for businesses have been a game-changer for the industry.
Amar More, CEO & Co-Founder of Kale Logistics Solutions, told the publication, "Cargo Community Systems, which connect the motley group of stakeholders in the air cargo industry on a common platform are changing the industry forever and for the better. These act as a true "Air Cargo Single Window" system that eliminates duplication of data entry (in the air cargo value chain the same data is entered at least 6 times if not more), reduces unnecessary paperwork, addresses airport congestion issues, enhances the security of the air cargo supply chain and bring the shipment visibility to all stakeholders. An airport being an anchor of such a platform will transform the whole industry as the airport is a neutral strong player in the supply chain. In Kale's estimates, the air cargo community systems can unlock a value of at least over $9Bn annually and save around 120,000 trees a year thereby contributing to the environment."
In fact, Kale has signed up for implementation of its Airport Cargo Community System (ACCS) with over 40 airports globally and the adoption is growing significantly.
Sam Gould, Head of Cargo, Ramp and Baggage Services, dnata Singapore, told the publication about the deployment of SPEEDCARGO Technologies modular solution 'Cargo Eye' which has been working in combating among other things, the classic cargo problems of 'revenue leakage' and 'under declaration' of cargo.
Operational at dnata Singapore for 8 months with trials on at dnata's other stations, 'CargoEye' captures accurate dimensions and images of incoming cargo in real-time, and seamlessly integrates data into existing warehouse management systems.
"Cargo Eye is an intuitive tool that improves accuracy during the cargo acceptance process by reducing the need to physically measure cargo dimensions and calculate the volumetric weight. In addition, it saves and analyzes data and is linked to our cargo handling system. It allows us to map customer behavior and monitor trends. It provides us with highly accurate data that help our customers enhance operational efficiency and increase revenue. The value the system brings to dnata and our customers are quite unique to the industry," Gould said.
He added, "We've received very positive feedback from our customers on the system and its impact on their commercial performance. With the data Cargo Eye provides, our customers can make informed decisions, optimise their operations, and maximise the value they offer to their customers. In Singapore, we have already successfully launched the system after an extensive trial period. Our teams plan to gradually roll out the tool at additional dnata stations globally."
"Air cargo community systems can unlock a value of at least over $9Bn annually and save around 120,000 trees annually contributing to the environment."- Amar More, Kale Logistics
When it comes to enabling connectivity to other sectors that could benefit or service the industry, the founder of Airblox Edip Pektas has hit upon a solution.
"Airblox is a one-stop shop for worldwide visibility of available capacity, that can be bought and sold, and allows for not only freight payments to be transacted but also to be financed, enabling better cash flow and risk management for all parties involved. It provides digital air cargo capacity booking and payments via a standardized electronic block space agreement (eBSA) that provides transparency and gets rid of red tape hence reducing cost. By creating a standard 'buy and sell' protocol through digital contracts, the world of finance understands how aviation cargo works. In addition, the CFOs and financial decision makers in air cargo now can hedge their capacity risk," Pektas said.
A data-driven culture
When manual processes are automated, employees can harness their skills and industry know-how to consider how the business can be further improved. Further, the deployment of connected devices has shifted the air cargo industry into a data-driven culture. And with a flow of tremendous amounts of data and its analysis available, this 'digital first' move is promoting lean and process improvements.
Matthieu Petot, CEO of CargoAi, told the publication, "Some of the recent innovations include the adoption of dynamic pricing by airlines which allows them to maximise revenue and also provide quicker quotations for the forwarders that require them at a moment's notice. This is linked to the ability to obtain multiple quotations at the same time by having search engines that scan all the possible options available. These have improved the sector for the better as the digitalization of these processes has allowed employees to spend more time on customer service, which fosters customer loyalty. In addition, these automations also reduce human error related to providing inaccurate quotations or the fatigue that comes with having to contact airlines individually for quotes. From an ecological perspective, Co2 calculations can be derived more quickly by automating the formula calculations. This allows business owners to make informed decisions on how to move forward with their sustainability mission."
Traditionally, quotes and bookings had taken place over the phone but the Covid pandemic, national lockdowns, working from home, and skeletal staff levels in the industry due to Covid accelerated the migration from phone to email enquiries. The acceptance of automated quotes and booking through software platforms has been transformative for the air cargo industry, changing the way businesses are run. The process of manual inventorying assets is also expected to soon become a thing of the past.
In 2021, Awery's research and analysis of market studies revealed that between 70 and 80 percent of cargo quotes, pre-bookings, space checks, and bookings were still processed using emails. With hundreds of email enquiries per day, airlines and GSAs were having to allocate both human and financial resources to complete time-consuming and costly manual data interrogation.
Tristan Koch, CCO, Awery Aviation Software said, "Awery developed eMagic which can read different types of content including emails, text, and images and convert them into instant air cargo quotes using standard data formats such as JavaScript Object Notation (JSON) and the IATA ONE Record. The information is carried through to bookings, payments, and track and trace services, enabling Awery's air cargo booking platform CargoBooking to provide an end-to-end fulfillment solution. A quote request is then created on the CargoBooking platform, where users can review possible routes and prices, select options for the end-customer quote, and check capacity. Once the information is selected, the end customer receives a quote offer email with the contents of the original request now in a standard format. Confirmed bookings are created within the system of the airline or General Sales Agent."
"The next big step is that while many airlines have streamlined their booking (and quotation) processes, they can now also improve their bottom line through smart use of data, for example."- Nathanaël de Tarade, Wiremind Cargo
According to Koch, the take-up of eMagic has exceeded Awery's initial forecasts with a 400 percent growth in transactions between October 2021 and March 2022. Airline customers are seeing a 54% conversion rate from email to eMagic quotations and eMagic is widely used throughout the US, Asia, and Europe. Currently CargoBooking and eMagic software process over 20,000 transactions a month.
Nathanaël de Tarade, CEO of Wiremind Cargo, also agrees that connectivity and interaction between stakeholders are vital for improving efficiency and the utilization of all air cargo capacity.
He said, "From a software perspective, in the last few years, the possibility of booking a cargo shipment within minutes is certainly a major innovation. Making a booking is something that tends to use a lot of resources. Both on the forwarder's and airline's side. All these resources, in the context of staff shortage, are much better used if they are devoted to making better decisions, rather than to executing transactional tasks in a system that is not user-friendly. The efficiency gain is therefore obvious. The next big step is that while many airlines have streamlined their booking (and quotation) processes, they can now also improve their bottom line through smart use of data, for example. That was not possible before, simply because you did not have the right data."
Shippers or customers who are constantly in need of efficient cargo movement by air require better planning, enhanced visibility of the shipment's movement, flexibility, and reliability that the cargo will arrive at its destination in the required condition.
Lothar Moehle, executive director, Cargo iQ, spoke to the publication about how the company is developing a system to enhance and digitally monitor the journey of a shipment, with an additional, innovative feature that we call 'Care Mapping'.
"This feature will enable shippers, forwarders, airlines, and ground handlers to plan for specific shipment-related requirements, which will help to protect time-critical or temperature-sensitive shipments from spoiling and prevent unnecessary waste in the supply chain while making operations more efficient. For example, a pharma shipment might be routed – based on the GDP lane validation proposal – via a transit airport in a very warm country. By applying the Care Mapping feature, the shipper will be able to book a specific pharma product and also request specific "Care" features, such as "re-icing at transit airport", "storage in cold store at 2° C – 8° C", or whatever specific requirement is necessary for the shipment at a location and/or while on board the transport vehicle. This new shipment planning and monitoring feature from Cargo iQ, together with the GPS shipment tracker that can also monitor temperature, humidity, and other variables, will bring shippers, airlines, and forwarders full visibility of their cargo's journey."
Digitalisation and such innovations are crucial to air cargo signaling the way forward for how the air cargo ecosystem needs to integrate, share, and exchange quality data so that all solutions can perform at their optimum, bringing true process efficiencies.
Simply put, the more technology solutions become seamlessly integrated, the faster and error-free the processing will be. Moreover, SLAs (Service Level Agreements) will be maintained, and all supply chain members will enjoy higher margins.
Yuval Baruch, Chief Executive Officer of Hermes Logistics Technologies, drives this point home as he told The STAT Trade Times, "Innovation is not in a single piece of software or hardware but rather in the collective integration of various solutions to create a seamless flow of data. Our recent integration between Hermes and CargoEye, a volumetrics solution that enabled our customer in Singapore to operate its doors with the highest efficiency, and the implementation of Hermes with Nallian's Landside Management solution that digitalises the Truck Visit Management (TVM) solution and the cargo management system. As a result, slot booking and cargo reception have been transformed to be the most efficient processes possible, operating completely in sync with the terminal."
Pharma forward
With a focus on temperature-controlled supply chains during the Coronavirus outbreak and the steady growth of the biotech industry in the 2000s, along with other sectors like pharmaceuticals, active pharmaceutical ingredients (APIs), life sciences, mRNA vaccines and drugs and more recently ​​cell and gene therapy has led to a spurt of innovations in cold chain and temperature controlled technology and in shipment visibility.
IoT devices that offered visibility of temperature excursions, real-time alerts, ETA, storage and transit conditions of medicines and drugs, active and passive containers for transporting pharmaceutical products, shipment visibility system for active containers, temperature-controlled container solutions with the launch of 24/7 real-time shipment visibility and sensors capable of tracking location and condition were some innovations that picked up steam in the pre and post-pandemic period.
"By applying the Care Mapping feature, the shipper will be able to book a specific pharma product and also request specific "Care" features, such as "re-icing at transit airport", "storage in cold store at 2° C – 8° C" at a location and/or while on board the transport vehicle."- Lothar Moehle, Cargo iQ
A slew of innovations and solutions from companies like time:matters, Tagbox, CSafe Global, Envirotainer, DoKaSch Temperature Solutions, Unilode Aviation Solutions, Va-Q-Tec, and PLUSS Advanced Technology (PLUSS) among many others found greater acceptance and deployment in air cargo logistics.
Tracking devices improved the air cargo sector, especially during the pandemic. Precision-based temperature and location were provided to shippers in near-real time by companies like Unilode to help ensure very valuable vaccine cargo was shipped safely and on time to millions. And at times when a problem arose, it allowed the handlers to mitigate the risks quickly.
"Unilode itself is nearing the completion of tagging the world's largest ULD fleet with multi-sensor IoT tracking tags for our pooling customers. When complete we will have the backbone set up to innovate our processes to ensure we have the right ULD in the right place at the right time. Further, in some areas of the world, the data quality of standard type-B messages is as low as 70-75%. If you compound this at scale throughout all shippers the ability to rebalance and forecast needs become difficult. We will also soon deploy an upgrade in our tracking systems to verify, confirm, update, and block bad information," Joseph Jensen, Chief Technology Officer, Unilode said.