Ground handling- up and ahead!
As airport development became a priority globally, one sector that grew by leaps and bounds was ground handling. Buoyed by privatization and investments and now arming itself with rapid digital transformation, the sector is evolving to accommodate the high demand seen in verticals like perishables, pharma, and e-commerce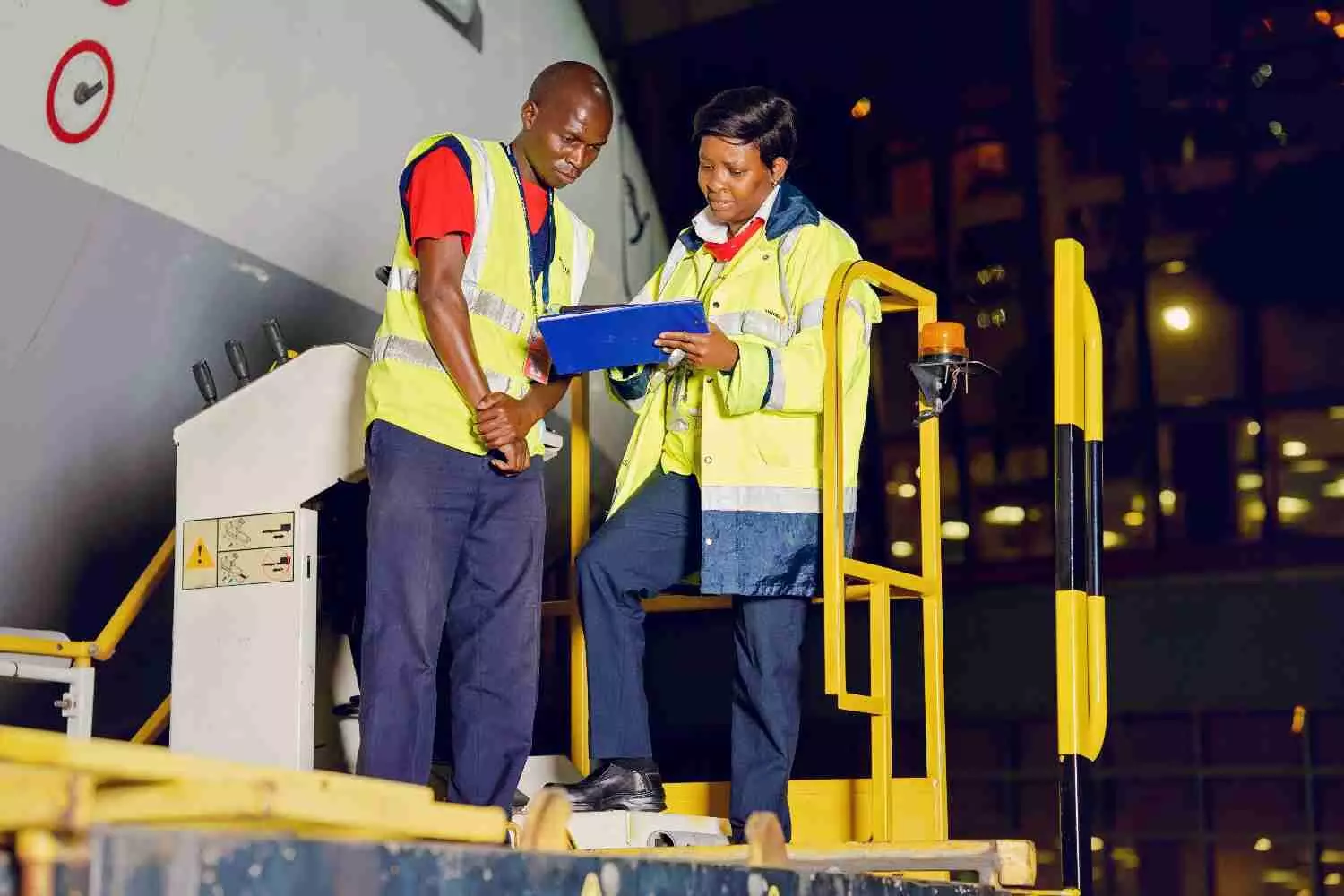 According to a recent report by Research and Markets the global aerospace ground handling systems market is expected to reach US$182.4 Billion by the year 2026.
The report titled 'Aerospace Ground Handling System- Global Market Trajectory & Analytics' cites that amid the COVID-19 crisis, the global market for Aerospace Ground Handling Systems which was estimated at US$135.4 Billion in the year 2020, is projected to reach a revised size of US$182.4 Billion by 2026, growing at a CAGR of 5.1% over the analysis period.

According to the report, some high-growth markets include the US, China, Japan, Canada, and Germany in Europe.

Airport Development gives a fillip to the sector
Extensive airport privatization and investments have boosted this sector and with such new investments in certain airports, driving up the need for all auxiliary services, (airport) administrators have quickly availed the services of ESATAs (Air Transport Auxiliary Services Companies) after realizing their advantages.
In the year 2021, the aerospace industry recorded a slow and largely unstable recovery from the adversities brought on by the COVID-19 pandemic and the ensuing economic uncertainties.

However, as per the report, the coming years will continue to see steady demand recovery for MRO(Maintenance, Repair & Operations) and ground handling services led by the fact that grounded planes cannot be re-deployed without maintenance and services.

Cargo and Baggage Handling, one of the segments analyzed in the report, is projected to grow at a 6% CAGR to reach $86.1 billion by the end of the analysis period.

After a thorough analysis of the business implications of the pandemic and its induced economic crisis in the report, growth in the Aircraft Handling segment is readjusted to a revised 3.8% CAGR for the next 7-year period. This segment currently accounts for a 31.6% share of the global Aerospace Ground Handling Systems market, cites the report.

Some changes that came post-pandemic in the ground handling domain were overhauls that took place in resource management and planning, the sector becoming less labor-dependent, and initiating investments in new technology-related training and rapid acceleration in the shift towards e-commerce.

This shift towards e-commerce also ended up forcing airports to adopt new processes such as pre-customs clearance, supply chain corridors, and digitalization and automation.

Growth areas
Dubai, located in the Middle East is a vital stop for commercial routes connecting Europe and Asia. Aside from fashion clothing, goods move through a sea-air mode, owing to Dubai's hub and spoke model. Here, the airport, seaport, and free zones all work together to accelerate the procedures and create this one-of-a-kind product.
According to data shared by leading global air and travel services provider dnata, perishables handled in 2020-21 was 154,558, which grew to 175,966 in 2021-22 and was pegged at 200,215 in 2022-23. Meanwhile, for courier service, it was 58,734, 58,886, and 62181 while it was 5,449, 7287, and 7873 tonnes for FY 2020-21, FY 2021-22, and FY 2022-23 respectively.

Guillaume Crozier, dnata's Senior Vice President of UAE Cargo and Global Cargo Strategy told the publication, "dnata Cargo has experienced an increase in temperature-sensitive goods such as perishables, pharmaceuticals, and courier services. Macro factors for the momentum in growth include the fact that in Dubai, we have developed strong synergies with all stakeholders including authorities, Dubai Airports, airlines, and seaports, to ensure a smooth flow of information and processes. Because of competitive pricing, evolving aircraft fleets, and shorter transport times, air cargo has gained popularity. This has spurred the growth of ground handling services, which are important to providing customers with a quality experience."
Meanwhile, the African continent is also undergoing rapid development in many areas, and the aviation industry is fundamental to this process. Thanks to the modernization, economic reforms, and the development of the airport network, offering both intra-African connections and better direct links- there is increased trade facilitation and potential for economic growth. Africa plays a vital role in the export of fresh produce from fish and meat to vegetables, fruit, and fresh-cut flowers, while imports include e-commerce, pharmaceuticals, and others. The air cargo industry is also undergoing significant development.

"The East and Central African region has seen the most rapid growth of low-cost carriers, serving both domestic and international flights, and it is expected that their networks will expand widely. For example, Swissport in Tanzania handled record tonnages of fresh meat at Dar es Salaam (DAR). The fresh-cut flowers corridor between Nairobi (NBO) and several European locations maximized supply chain efficiency and contributed to the extended shelf life of flowers. It is clear that the air cargo industry in Africa has been growing steadily to become one of the most important markets. Our focus remains on expanding the Swissport network and portfolio of services across the continent," shared Dirk Goovaerts, CEO of Swissport CEMEA, and Global Cargo Chair.

The Digital push
Digitalization of airport ground operations and auxiliary services have increasingly become data-driven, customer-focussed and new technologies are rapidly being trialed and embraced by ground handling agents in a bid to amp up efficiency and cut down costs.
Following its ambitious digitization plan in 2021, last year saw dnata accelerate the readiness for the launch of its new Cargo Management System called OneCargo system which is slated to take place later in 2023.

Crozier called it 'the backbone of dnata's digitization plan' and said, "OneCargo automates key business and operational functions, including safety and quality monitoring, reporting and ULD management, with an integrated, cloud-based platform. AI-driven tools and analytics provide enhanced visibility on sales and business performance, allowing customers to match real-time demand with available capacity for maximum profitability. In addition, OneCargo eliminates all redundancies and manual check sheets, substantially improving operational efficiency. We will continue to invest in the latest, digital technologies to maximize efficiency and consistently deliver the highest value for our customers globally."

Crozier added, "dnata Cargo has implemented an innovative 'Just in Time' terminal handling platform in the Dubai: Appointment and Dock Management (ADM). This is a cloud-based software platform that enables freight forwarders, agents, and airlines to plan all land transport processes with us more efficiently. This solution is the first of its kind in the aviation cargo industry. We have also taken initiatives to improve product handling. Our UAE operations have been awarded IATA's Centre of Excellence for Independent Validators in Pharmaceutical Logistics (CEIV Pharma)."

The global air and travel services provider is also in the process of upgrading its current Calogi system to the next-generation community platform which will deliver additional benefits for the cargo community. Calogi is a Business-to-Business (B2B) portal that allows agents, airlines, GSAs, and freight forwarders to do business transactions online.
Crozier added, "It will connect partners with their customers and authorities on one platform, sharing information in real-time among all users. Customers will be able to integrate the platform into existing workflows through APIs (Application Programming Interface) and take advantage of all innovative functions while interfacing with their own system. The platform will also help customers simplify existing processes quickly and efficiently, without investing in multiple systems."

Max Philipp Conrady, VP of Cargo Development at Fraport told the publication that one of the main drivers for the ground handling segment will be continued digitalization, which entails "Successfully increasing the level of digital maturity across the board by deploying innovative digital solutions and technologies with a focus on optimizing and accelerating ground service for customers and employees."
Conrady added, "We are consistently working on networking the cargo community even more closely with each other through digital solutions. One example of this is the FRA-OS digital data exchange platform. With the first module of this, we are one of the first major European cargo hubs to fulfill a comprehensive, customs-compliant solution for the import of consolidated shipments. Since then, the platform has increased the speed, transparency, and resilience of cargo handling processes."

Emphasizing the importance of digital tools for improving ground handling processes, Amar More, CEO of Kale Logistics told the publication, "The utility of an IT solution could lead to effective management, end-to-end visibility of cargo movement, and overcoming revenue leakage. The intervention of Artificial Intelligence is predicting demand supply rise, slump, or mismatch or predicting operational delays is the best example to quote. Our flagship Air Cargo Management System – GALAXY is equipped with next-gen technology interventions. It is the most sought-after solution that we offer and is live in 100+ air cargo stations worldwide. It helps in reducing nearly 40 percent of operational delays and ensures 100 percent data accuracy and moreover, zero revenue leakage. Even with fewer staff, a ground handling system like GALAXY can make the process smart and efficient. With the combination of our handling and community systems, some of our customers can now process almost twice the amount of cargo in the same warehouse space at the airport which is almost a 100% increase in throughput."
Automating the ground handling process
At a time when labour shortages owing to low wages and physically demanding work continued to affect airport and terminal operations across the industry last year, autonomous vehicles have come as a boon to the industry.
Embedded with ground support equipment(GSE) optimization software and technologies like Machine Learning(ML), Artificial Learning(AL), and algorithms, autonomous vehicles have a number of uses cases ranging from security, aiding in passenger transport, crew shuttle to providing input via data to airport community systems, people movement systems, checked baggage management system, autonomous aircraft-towing vehicle among others. They help reduce human error and vehicles related accidents as well.

However, they also require airport infrastructure that supports their functions and several airports across the world are either testing out or already using autonomous systems for different functions.

Conrady revealed that based on recent trials undertaken, autonomous vehicles could provide significant support in daily ground-handling operations."Autonomous vehicles in particular are a very promising future option for us as airport operators. We've already trialed self-driving vehicles in some areas. Recently, we had a trial run of a self-driving electric cargo tractor here at Frankfurt Airport. The electric vehicle operated on an eight-kilometer-long test route within Frankfurt Airport's secure area. The aim of the trial, which took several weeks, was to determine whether and under what conditions an autonomous vehicle can support regular baggage and cargo operations on the apron."

Crozier shared that dnata Cargo is also addressing manual warehouse inventory checks through innovative technology and that the usage of drones is one of the key significant initiatives towards this purpose.
He said, "We are actively deploying Automatic Dimension Scanner and Build-up Planning systems. These provide solutions for Instant Accurate Dimensions, Flight Capacity Management, Global Cargo Acceptance, Optimized Flight Build-up, and Efficient Material Handling. These solutions will assist us in increasing revenue realization and capacity utilization while offering operational productivity advantages."

Cargo ground handling agents and carriers face many challenges like rising costs, the need to improve their operational efficiency, reduce mishandling, and require faster and more accurate information exchange to enhance customer service along with the all-important aim of increasing profits.

Racheal Ndegwa, Managing Director of Swissport Kenya told the publication, "Automating the cargo ground handling process has become necessary to reduce operational costs without compromising the quality of services and provide better and safer working conditions for all employees. The Cargo customer portal is an innovative tool that allows tracking of the cargo shipments and provides reports and statistics, which are later used to better understand the service delivery to our customers and mitigate any risks, to use of the handheld terminals in the cargo warehouses that eliminate manual data entry and thus the human error factors. Swissport focuses on constant digitalization for operational excellence and best-in-class delivery. Furthermore, our cargo warehouses are equipped with an integrated weighing solution and ULD tracking programs, while cargo kiosks allow self-check-in and reduce waiting time for the trucking companies."
More added, "As someone who is working with 7 out of the top 10 cargo handlers in the world, we can vouchsafe that the levels of automation is on the rise in this industry. For the cargo handlers, we have 3-4 layers of automation services and we see a large percentage of our customers signing up and using the same effectively. In the first layer we provide, the end-to-end internal process automation involving automation of exports, imports, transit, and domestic processes with added automation around invoicing, SLA management, ULD Management, resource management, visibility management, etc. In addition, these enterprise systems need to work closely with different devices such as X-ray machines, robots, dimensioning machines, automated storage and retrieval systems, tracking devices, etc. Our global leader GALAXY system helps our customers in achieving digitization in these 2 layers.
More further explained, "However, optimization of processes in the handlers' business is not entirely dependent on internal automation; in fact, a large percentage is dependent on how the handler integrates with customers and stakeholders such as airlines, forwarders, truckers, regulators, etc. Our Airport Cargo community systems come to the rescue of handlers here. Without the handler having to invest capex in community integration our ACS systems provide the framework for handlers to effectively integrate with the community and optimize documentation, security, and traffic management processes. Our innovative AI-based truck slot management system optimizes traffic management and helps handlers move the trucks and cargo faster. Our ML-based pdf to EDI converter service which has seen wide acceptance across continents, helps reduce export documentation costs by around 80% for the handers and eliminates significant counter wait time."

Important developments shaping up the sector
In an interesting development this year, Singaporean airport services provider SATS Ltd. announced the completion of its previously announced acquisition of global air cargo logistics provider Worldwide Flight Services (WFS) in April, for €1.3 billion (approximately S$1.8 billion) from an affiliate of Cerberus Capital Management, representing an enterprise value of €2,250 million. With the conclusion of the transaction, WFS became a wholly owned subsidiary of SATS, which is based in Singapore.
With a fairly large footprint of WFS in the US and Europe and in Asia for Sats, the combination will likely be able to leverage each other's networks and reportedly serve 201 cargo and ground handling stations in 23 countries, and have access to more than 50% of the global air cargo business.

Looking towards the future, Conrady opined, "While cheaper capacity returns on passenger flights, freight forwarders will probably continue full charters on trunk routes, securing more control over capacity and handling processes."
Due to the expanding number of airports and flights operating across the world, the industry's potential for future development is enormous. Crozier added, "Going forward, dnata Cargo will continue to see growth in its sea-air, perishable, courier, and pharmaceuticals products. This is due to our strategic location and growth in tourism and domestic demand for these segments."

Speaking about the most important 'human component' in ground handling operations that hold the most sway in this domain, Conrady spoke about the company's latest employee-facing policies and said that the company's employees will receive up to 14 percent more pay. "Salaries in our ground handling subsidiary have been adjusted effective July 1, 2022. This was the result of the latest negotiations with the labour union Verdi. Employees will receive up to 14 percent more pay. In addition, there will be one-off payments totaling €700 (Euros). The pay increases amount to between €1.64 and €2.74 per hour. Calculated monthly, that is between €250 and €425 more. Hourly salaries were previously between €12 and €16 and now between €14 and almost €18. Additionally, employees will receive a one-time payment of €300 with their paycheck in May."
He added, "Fraport offers a unique working environment at Germany's largest international aviation hub. Once on the job, constant development, training, and career opportunities are available. Additional benefits include a free job ticket for public transportation, subsidized meals in the airport canteens, corporate benefits with several partner companies, health services, and support for employees in need during a family crisis."