Brussels Airport in 2021 records best annual cargo growth in 15 years
In 2021, 843,140 tonnes in freight were transported, representing a 30 per cent increase compared to 2020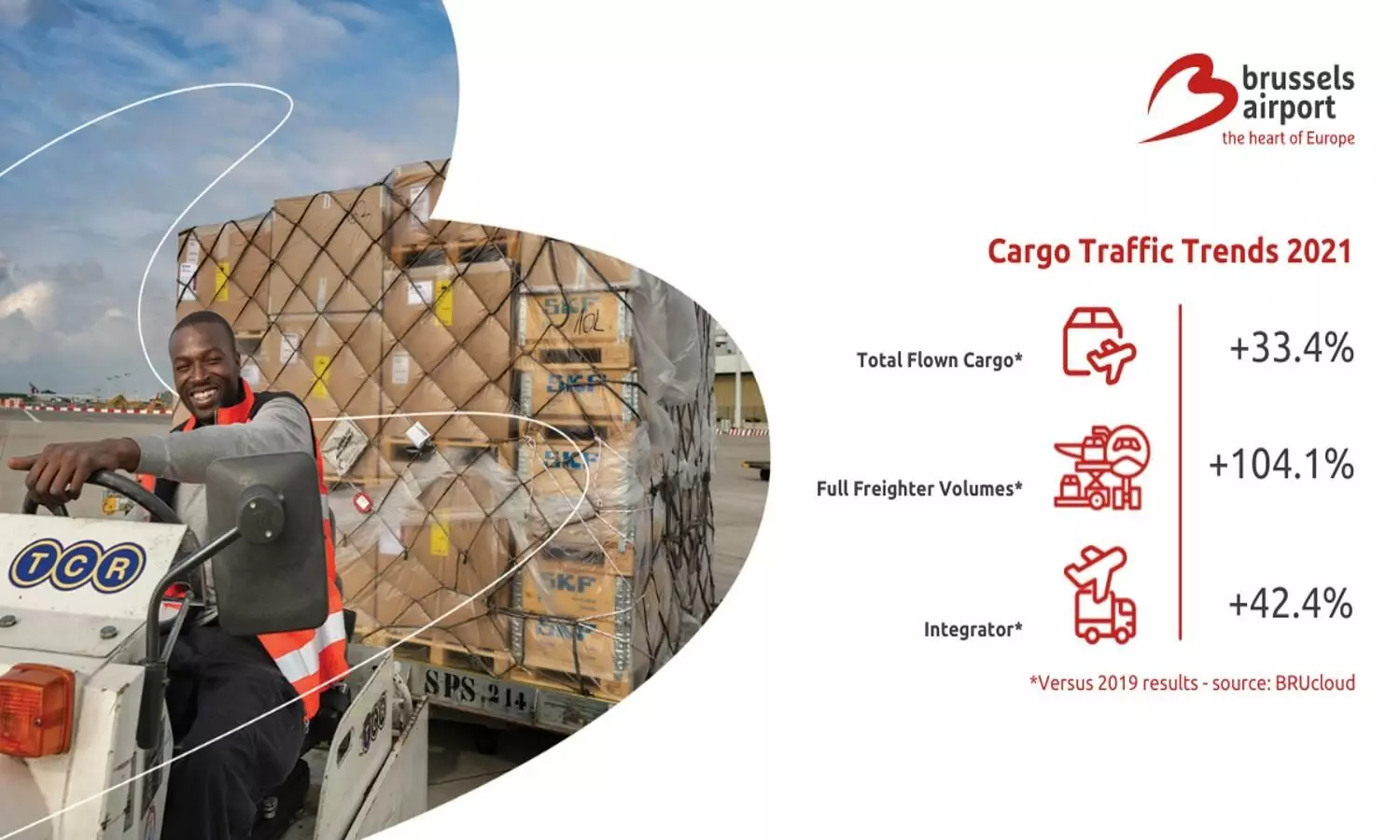 Brussels Airport announces that the cargo division of the Airport performed remarkably well in the past year. The total cargo volume rose to 843,000 tonnes, an increase of no less than 30 per cent compared to 2020.
There was a strong growth in all cargo segments and Brussels Airport is the important European hub for vaccine transport, with more than 800 million Covid-vaccines handled since November 2020 says the announcement.
"Our cargo division has seen an unprecedented growth, with an increase in volume of 30% compared to 2020. The demand for air cargo was exceptionally high, and thanks to our investments, digitisation and our strong cargo community, Brussels Airport was able to handle this growth with ease. With our expertise in the transport of pharmaceuticals, as the main hub for the export of vaccines in Europe, we could do our part in the battle against Covid with more than 800 million vaccines transported, and we will undoubtedly continue to do this in the year ahead," Arnaud Feist, CEO of Brussels Airport.
Cargo: record growth of 30 per cent compared to 2020
In 2021, 843,140 tonnes in freight were transported, representing a 30 per cent increase compared to 2020. For the air freight volumes, we see a rise of no less than 31 per cent compared to 2020 and 33 per cent more than in 2019, the best result since 2007.
This is the largest annual growth ever achieved at Brussels Airport and this makes Brussels Airport one of the strongest growing European airports in cargo volumes.
Growth was achieved in all segments: full freighter, integrator, belly cargo and trucked cargo. Especially the full freighter segment performed strongly, with a continuation of the growth with 43 per cent compared to 2020 and a growth of no less than 104 per cent compared to 2019.
In December freight transport at Brussels Airport increased by 21 per cent compared to December 2020. The growth of air freight is particularly strong in the full freighter segment (+49 per cent) and also in the belly cargo (+64 per cent) due to the steady growth of the number of regular passenger flights. The integrator services stabilised at a high level (-0.4 per cent), after the strong and continuous growth in recent months.
The transport of vaccines to and from Brussels Airport continued. Since the start of the ccine transport in November 2020, more than 800 million vaccines were transported, which more than ever confirms the position of Brussels Airport as the most important pharmahub in Europe.

"Since 2019 we have recorded a strong and sustained growth in air cargo volumes at Brussels Airport which continued through the year 2021. This great achievement over the past few years is only possible thanks to the strong collectiveerformance of the entire Brussels Airport cargo community, with integrators, forwarders, handlers, airlines, truckers and all other stakeholders contributing. This outcome is also the result of the investments made in the expansion of our first line capacity by delivering new buildings such as Brucargo West and the new Swissport Cargo handling building, and as a community, in standardizing and digitizing various operational processes into the open data sharing platform BRUcloud," said Geert Aerts, Director of Cargo and Logistics, Brussels Airport on a LinkedIn post.
The number of cargo flights rose in 2021 by 55 per cent compared to 2019. These additional flights were operated during the day, often using passenger aircraft; the share of night flights did not increase.
In December there were 12,584 flight movements at Brussels Airport, a decline of 28 per cent compared to December 2019. Cargo flights increased by 58 per cent, mainly due to an increase in the number of cargo flights operated with passenger aircraft, flights that were operated during the day. These flights remain necessary to meet the large demand for air cargo capacity and are often deployed from Brussels Airport for vaccine transports.