Alaska Air Cargo to carry 50,000 pounds recyclable waste out of Nome
Pallets of recyclables will fly from Nome to Anchorage regularly during the spring-fall seasons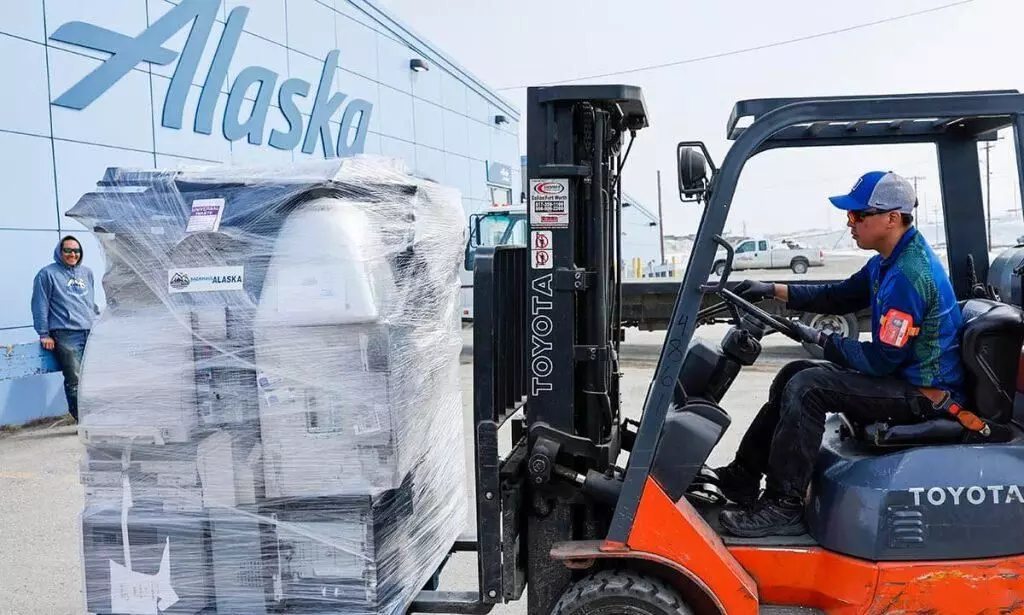 Alaska Air Cargo has launched a programme to carry up to 50,000 pounds of recyclable waste each year out of Nome, Alaska, supporting clean-up efforts in rural communities along the Bering Sea and saving valuable local water resources.
"The recyclables — electronic waste items left over from used consumer goods — are collected from 16 communities around the Seward Peninsula Bering Strait region and packed onto pallets by employees of Kawerak, a native non-profit corporation in Nome that is partnering with Alaska Air Cargo in the project. Kawerak also supports the region through programmes ranging from education to natural resource management to economic development," says an official release.
The pallets of recyclables will fly from Nome to Anchorage regularly during the spring-fall seasons, replacing pallets of water that have been used as ballast to level out the aircraft, the release added. Air cargo services around the world use ballast after their aircraft drop off cargo and fly back empty, "and our aircraft carry much more cargo into Nome than they carry out."
"Empty planes fly much better with ballast but instead of moving water and throwing it away, we're going to use clean electronic scrap as ballast and really do something good for the community," says Jeff Olver, Director, Cargo Operations for Seattle and Alaska, Alaska Air Cargo. "Because the recyclables will replace water jugs that had been filled in Nome to create the ballast weight, this programme will also save more than 6,000 gallons of local water each year — the equivalent of 20 days of water used by an average American family household."
The new recycling programme joins initiatives across Alaska Airlines to reduce environmental impact including replacing the top five waste-producing items in onboard service by 2025, and allows a small station like Nome to contribute to the company's larger recycling efforts in a big way.
"Our rural terminals don't have the same resources as our bigger terminals companywide," says Caitlin Auktweenna "Auk" Tozier, ramp agent, Alaska Airlines. "We are responsible for bringing a lot of consumables into the community, and this is a way of taking responsibility, so they don't all end up in the landfills, which are running out of space."
Anahma Shannon, Environmental Programme Director, Kawerak adds: "By creating a system to get recyclables out of our communities, we're helping them maintain a clean environment which improves human health. People save their recyclables so they can be backhauled. They want to protect their environment here because they know how essential it is to their livelihood and the subsistence way of life."
Alaska Air Cargo is open to working with other community organisations to expand the programme to carry recyclables out of other regions across Alaska, the release added.