Air freighting outsized cargo challenging but rewarding
Outsized cargo is a tough nut for airlines, forwarders & customers. Here's a look at the ever-developing story...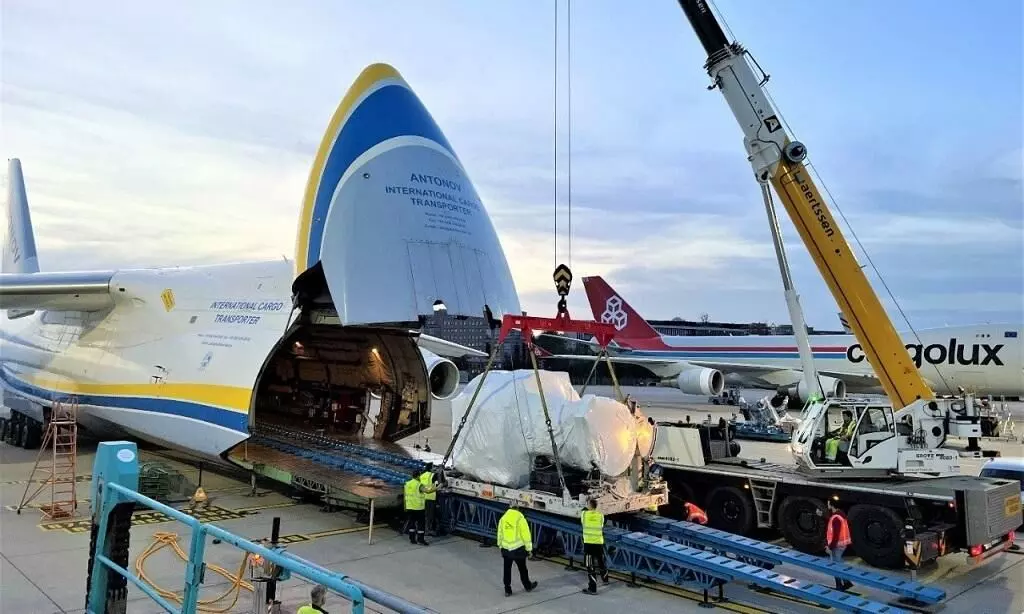 Antonov Airlines, the world leader in oversized and superheavy cargo transportation, recently transported a heat exchanger weighing about 90 tonnes on board its AN-124-100-150 aircraft from Italy to Saudi Arabia. Weight of the cargo including additional accessories reached 105 tonnes.
"The external cranes, in conjunction with the onboard winch of the AN-124-100, were used to load and unload the HP steam superheater on the stand specially designed and manufactured for air transporting as well as special loading equipment designed and manufactured by Antonov's in-house engineers," says Olha Danylova, Commercial Executive, Antonov Airlines.
That was just an example of air transport of outsized cargo or oversized cargo...there are many executions, almost on a daily basis, across global airlines and forwarders. Air Charter Service (ACS), for example, recently transported four helicopters from Europe to West Africa.
Air Partner ensured transport of oversized aircraft engine and critical tooling from Luxembourg to Lajes, Portugal, a remote island in the Azores, on board one of Antonov's AN-124-100M aircraft. The cargo weighed about 75 tonnes. In the absence of suitable mobile lifting equipment on Lajes, Air Partner sourced a 48-tonne mobile crane which was also loaded onto the AN-124-100 along with the driver and rigger.
Cathay Pacific Cargo uplifted five cars on a single freighter flight to Hong Kong and onward connections in the middle of 2022. The five cars were all securely loaded in either open or boxed format, all contributing to a total gross weight on the flight of 70 tonnes – 93 tonnes of chargeable weight as each pallet occupies two positions on five 20-foot pallets.
Key challenges
"There are many challenges and each request has its own unique challenges but in general they are the obvious – size – what aircraft can physically accommodate the cargo, weight and its distribution on the aircraft floor," says Dan Morgan-Evans, Cargo Director, ACS Group.
"But there are also the ancillary services – the handling equipment, how the cargo is physically loaded – cranes, trailers, airport infrastructure – the list goes on. This is exactly why using ACS will facilitate a smooth operation. There is a vast amount of experience and knowledge in our 100+ cargo specialists around the world, and not many scenarios one of us hasn't seen before. The outsized market is just one of many charter markets that require specialist knowledge. It is more than feasible to have a piece of cargo that, on paper, doesn't load in a certain aircraft – plugging the dimensions into an online system will eliminate some smaller, cheaper aircraft. It is our team of experts that work with customers personally to understand the cargo and perhaps find ways of saving money by using smaller, more cost-effective aircraft – there is no substitute for people's collective knowledge."
Pierre Van Der Stichele, Vice President, Global Cargo, Air Partner Group adds that they are often asked to transport outsized cargo when the manufacturing is still taking place. "The final weight and dimensions do occasionally vary and may offset all loading plans based on the initial blueprint information received at the beginning of the enquiry.
Other issues that may impede the use of large aircraft are:
*runway length
*apron dimension due to large wing span; and
*general accessibility to smaller airports as well as the availability of a mobile crane at both airports (This allows the outsized cargo to be transferred from a flatbed truck onto the aircraft loading ramp.)
Moving odd-sized or heavy shipments by air freight is not only time-bound but also requires the right expertise to handle these unique shipments, says Rajesh Menon, Regional Head of Cargo, South Asia, Middle East and Africa (SAMEA), Cathay Pacific Cargo. "Transporting odd-size cargo involves having efficient and careful planning, a streamlined communication process, specific packaging and the right equipment to lift such cargo, without which transporting them becomes a challenge. Additionally, congested infrastructure and limited space at certain ports make moving the odd-size cargo logistically difficult.
"At Cathay Pacific Cargo, we have been known to provide expertise in transporting such shipments. We understand special cargo requires a distinctive approach to handling and shipping and have a specialised and customised freight service - Expert LIFT that caters to the demand for this segment. The solution provides personalised logistical support for storage, transportation and delivery of unusual cargo including vehicles and precision machinery that are exceptionally heavy, oddly sized, unusually shaped or vibration sensitive."
It all comes down to the equipment you have at your disposal, says Tyler Porteous, Senior Director, Charter Sales & Business Development, Cargojet. "Aircraft size: can it fit through the door? Weight limitations and, of course, load ability based on length.When it comes to oversized cargo, an often-heard phrase is "load ability". Proper equipment for loading becomes an essential - be it main deck loader, forklifts, cranes and manpower: all play an important contributing factor. It's a real weight & balance game."
Feeling Russian blues
Stichele of Air Partner feels the lack of many Russian-built aircraft operated by Russian carriers due to sanction "has significantly reduced the size of the pool of aircraft that were available before the conflict. Equally, the large, outsized cargo aircraft such as the Antonov 225 which was destroyed is not available, and the AN124s are now in very short supply."
Morgan-Evans of ACS adds: "Of course, taking a large fleet of rear loading heavy lift aircraft out of the market is going to have an effect, there's no denying this. We just have to work harder on solutions that may be outside the box or a little left field. It would be lazy to not look at all angles. We also have to remember there are plenty of Soviet built aircraft still in the market that are not Russian registered as well as heavy lift western built aircraft."

Big market, growing market
"Globally, it is a fairly sizable market," says Morgan-Evans. "ACS has offices on six continents. So, we see heavy lift opportunities all around the globe. In terms of growth, we expect to see an increase in the amount over the past couple of years – Covid did have an effect on this market."
It's difficult to quantify the size of the market as it varies from year to year "but generally it is on the increase," says Stichele. "Over time, there has been a reliance on outsized aircraft cargo airlift, from humanitarian airlift to supporting the energy and renewable energy industry. Outsized cargo aircraft remain a major lifeline. Presently, there are no plans by aircraft manufacturers to build new aircraft apart from the rumoured reconstruction of the AN225 to replace the only airworthy prototype that was destroyed during the conflict. Whilst demand is on the rise, there won't be any aircraft replacement. So, the gap in the industry will get bigger, and therefore longer planning times will be required."
India is known to be one of the leading manufacturing hubs, and with the support of government schemes such as Make in India there has been further growth in this sector, says Menon of Cathay. "Increasingly, with the automobile, aerospace, oil & gas and energy industries setting up base in India, this not only puts India on the map for its manufacturing capabilities but also widens the Indian logistics market for this segment as well. I am optimistic that in years to come this market will grow, particularly with government-friendly initiatives, launch of new airports and their handling capabilities as well as with expertise offered by logistics players.
"Transporting outsize shipments is one of strengths at Cathay Pacific Cargo and given our proficiency in this segment, we are considered as a preferred carrier for special cargo. We particularly see demand from South Asia and the Middle East to Asia and America. Over the years, we have transported cargo ranging from cars, to engines, ship spares, turbines, engine stands, automobile, aircraft parts as well as helicopters.
"With the support of 20 modern freighters across our network and a schedule of 25 freighters per week from South Asia and Middle East, we are able to capture this unique segment. However, we believe our USP is our fleet that not only has the capability to handle odd-size shipment efficiently but also make use of the nose door feature, which allows us to load outsized cargo that otherwise cannot be loaded through the side cargo door. Additionally, safety is of utmost priority at Cathay Pacific Cargo and particularly for such shipments. We ensure all necessary requirements are in place when accepting and loading big, long or heavy pieces of cargo onto our freighters. Moreover, these are thoroughly inspected and approved by our team of experts for safe carriage. With the increasing demand and our expertise in odd size cargo, we have recorded a healthy tonnage in 2022 under the Expert LIFT and look forward to it growing in the coming year."
Oil & Gas is the bread & butter of oversized cargo followed by manufacturing equipment, says Porteous of Cargojet. "When we hear oil & gas, it's usually long and awkward pieces which take some manoeuvring to build up and manpower to load on the aircraft. Manufacturing equipment can range greatly but usually it's either very big, extremely heavy or both!
Growth over the next few years, even with the uncertainty of the year ahead, looks positive. (O&G) industry has earned record profits in 2022 and we've seen it first hand with the number of requests + flights operated.

"Cargojet's fleet has been getting more and more robust as we grow with our customer base and long-term contracts. Currently, we operate an all-Boeing fleet of 757 & 767s. We are excited to be stepping into the 777 market, which will give us longer range & more opportunities to carry oversized cargo globally."