Air Canada's B767 production freighters in new cargo livery to go commercial in Q123
Air Canada Cargo will operate a fleet of 7 cargo planes by Q123 that include five converted and two production freighters.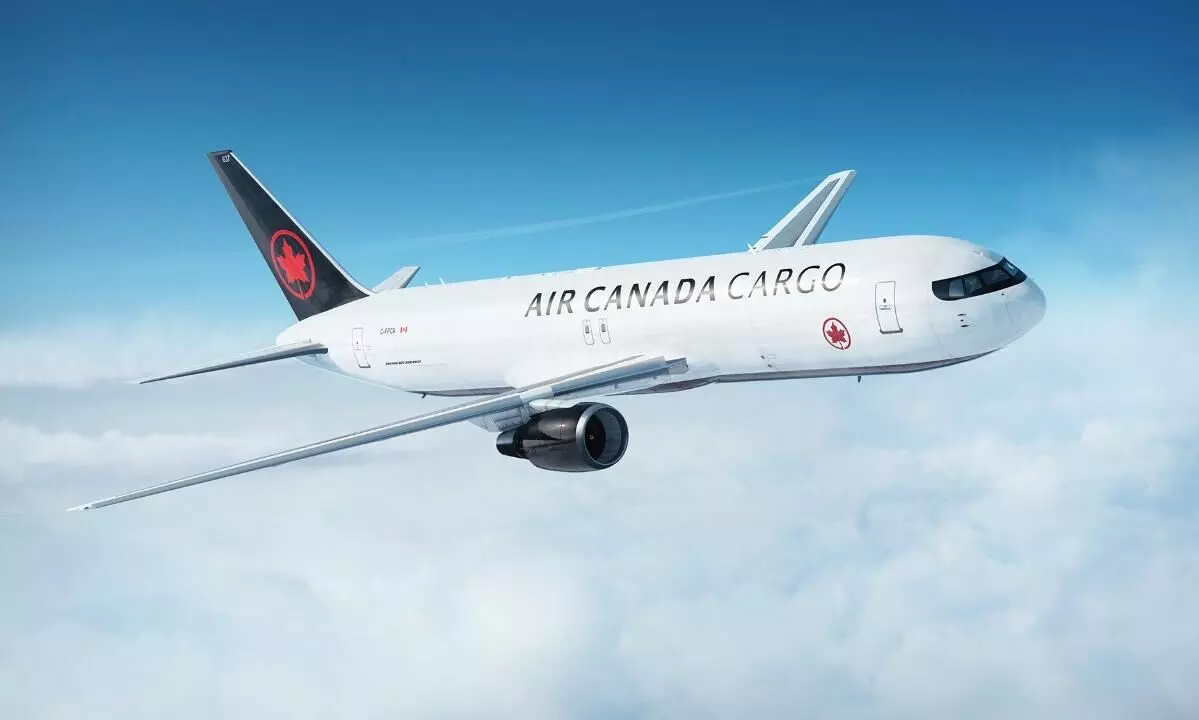 Air Canada will begin commercial operation of its brand new Boeing 767 production freighters in the first quarter of 2023. The two factory-built B767-300 freighters will also feature a new Air Canada Cargo livery. This was confirmed by Jason Berry, vice president of cargo at Air Canada.
"We are making final configurations on the aircraft and prepping them both for their scheduled paint visits. We hope to have them in commercial operation by early Q1," Berry told The STAT Trade Times.
Air Canada revealed its order with Boeing for two B767-300 freighters in April this year while announcing its first quarter of 2022 financial results. The decision to buy two new production freighters was prompted by the spectacular and consistent climb in cargo revenue.
Air Canada Cargo' first quarter 2022 revenue was up 42% to C$398 million (US$310 million) from the first quarter of 2021. Its operating capacity in the first quarter, measured by Available Seat Miles (ASMs) also increased about 3.4 times from the first quarter of 2021.
"These additional factory-built 767-300F aircraft will allow Air Canada Cargo to speed up the expansion of its freighter fleet, helping provide reliable, dedicated service to key cargo routes around the world, further bolstering the capacity provided by Air Canada's mainline fleet," Berry said when the announcement was made in April this year.
Recently, Boeing hosted the Air Canada Cargo team, including Berry and Matthieu Casey, managing director, Commercial – Cargo, for a delivery event. According to Berry, both aircraft are delivered to Air Canada and "they are now undergoing final preparations for service".

The Boeing 767-300 freighters allow Air Canada Cargo to offer five different main deck configurations, increasing the overall cargo capacity of each aircraft to nearly 58 tonnes or 438 cubic metres, with approximately 75 percent of this capacity on the main deck.
With the aircraft that had been temporarily converted to carry cargo in the cabin returning to passenger service, Air Canada Cargo now operates two converted Boeing 767-300BDSF freighters.
The two factory-built freighters will be in addition to the eight Boeing 767-300s that are being converted for Air Canada Cargo operations.
According to Berry, two more converted B767 freighters are expected to be delivered this year. "We are expecting one in August and another in October. By the first quarter of 2023, we will have five converted and two factory-built freighters flying. That's a big jump from the two we are operating now. We'll be announcing our new routes shortly." Passenger to freighter conversion is done by the Israel Aerospace Industry (IAI).
The addition of freighter aircraft to Air Canada's fleet allows Air Canada Cargo to provide consistent capacity on key air cargo routes, which will facilitate the movement of goods globally. The freighters also increase Air Canada Cargo's capability to transport goods such as automotive and aerospace parts, oil and gas equipment, pharmaceuticals, perishables, as well as handling the growing demand for fast, reliable shipment of e-commerce goods.